Turner, Father Robert Lee, S.S.
2004, May 30
Date of Birth: 1934, June 5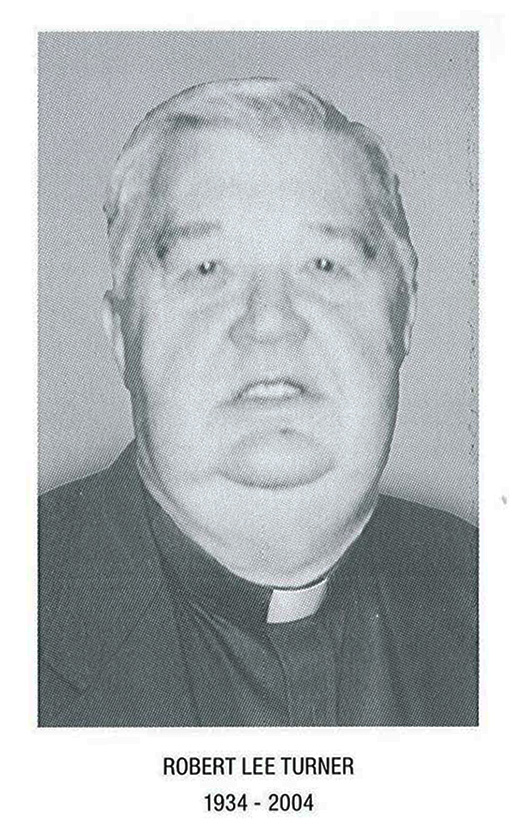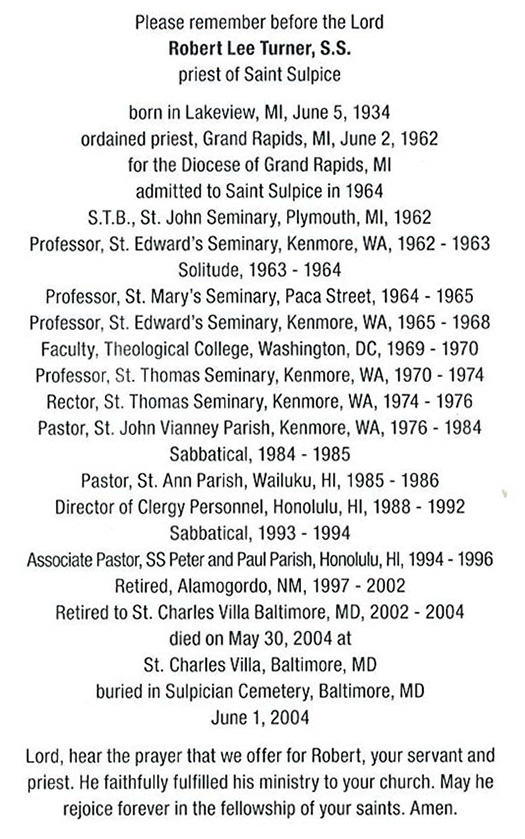 Robert Lee Turner (Bob) was born on June 5, 1934 in Lakeville, Michigan, to Staley and Elizabeth Isenhart Turner. While little is known about his family or his early upbringing, Bob attended Lakeville Community School for his primary and secondary education. He studied pre-med at Aquinas College. During these years at Aquinas, Bob converted to Catholicism and discerned his vocation to the priesthood. Consequently, he chose to leave Aquinas before completing his degree, and entered St. Jerome College in Kitchener, Ontario to study philosophy. After earning his B.S. in philosophy in 1958, Bob entered St. John's Seminary in Plymouth, Michigan where he received his S.T.B. in 1962. Bob was ordained on June 2, 1962 for the Diocese of Grand Rapids.
Bob's first assignment as a Sulpician was to St. Edward's Seminary in Kenmore, Washington, where he taught history, physics, and general science. At the end of that year, he moved to Baltimore for his Solitude year. His evaluation from Solitude noted that he was "a good community man, steady, generous and charitable, and outspoken but respectful." He was admitted to the Society of St. Sulpice in 1964.
Assigned to St. Mary's Seminary, Paca Street, Bob taught biology. In 1965, he returned to St. Edward's, to teach the sciences and direct drama. In 1968, Bob moved to Theological College to study psychology at The Catholic University of America and in 1969 took on responsibility for the pastoral program at the seminary.
In 1970 Bob was transferred to St. Thomas Seminary, Kenmore, Washington to teach psychology and communications. He became vice rector of St. Thomas Seminary and President of St. Thomas Seminary College in 1971, a post he held for four years. Located on the grounds of the seminary was St. John Vianney Parish, and in 1972 Bob became its pastor. When the seminary closed, the parish became financially responsible for the building. Bob initiated, developed and established activities located within the former seminary building that would fill needed ministries and remove the financial burden from the parish. Thus St. Thomas housed a conference center, a program for lunch and socializing for the elderly three times a week, a rehabilitation program for young men with drug and alcohol problems, and a home to a number of diocesan organizations.
After a well-deserved sabbatical in 1984-85, Bob sought a pastoral assignment within the Diocese of Honolulu and was appointed pastor at St. Ann Parish, Wailuku. He was not there long before his talents and efforts spread beyond the boundaries of the parish.
In July 1986, he founded Maui Catholic Charities, which established a shelter for Maui's growing homeless population. The organization also founded counseling services, lay ministry training programs, a food bank, a housing alliance, and youth programs.
During his years in Hawaii, Bob became active in the American Association of Marriage and Family Therapists and in the American Association of Pastoral Counselors. In 1988, he was appointed the Clergy Personnel Director for the Diocese of Honolulu, a post he held until 1992. As he approached his late 60s, Bob's health deteriorated forcing him into early retirement. When he left Hawaii, Bishop Francis Xavier DiLorenzo of the Diocese of Honolulu wrote to the provincial, "Bob has been a real asset to the pastoral life of our diocese and most especially by way of his pastorate at St. Peter and Paul and as former director of clergy. We will miss his talents and are grateful to him."
In 1997, for health reasons, Bob retired to Alamogordo, New Mexico. The air quality enhanced his breathing. After declining in health even further, Bob moved to St. Charles Villa in 2002. On May 30, 2004, a few days shy of his 70th birthday, Bob died of a heart attack. Throughout his life Bob's superiors recognized in him both a zealous spirit and an eye for new possibilities wherever he found himself. Bob was not one to quote poetry, but just at that point in his life when his poor health began to limit his ministry, he sent these words of Maya Angelou to a friend. They capture the spirit of his ministry.
Here on the pulse of this new day
You may have the grace to look up and out
And into your sister's eyes, into
Your brother's face, your country
And say simply
Very simply
With hope
Good morning.
Father Robert (Bob) Lee Turner, S.S. died early in the morning on May 30, 2004 at St. Charles Villa, Baltimore, Maryland. On June 1, 2004, Fr. Ronald D. Witherup, S.S., Provincial, presided at the funeral liturgy. Bob's cremated remains were later placed in the Columbarium in the Sulpician Cemetery in Catonsville, Maryland.
Gerry Lardner, S.S.