Tucker, Father James Stephen, P.S.S.
2018, March 23
Date of Birth: 1943, April 14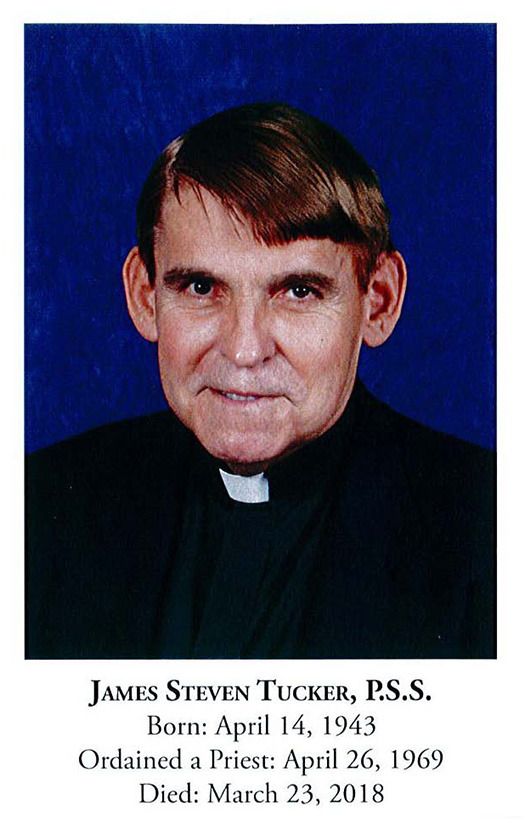 "He received them, and spoke to them about the kingdom of God, and healed those who needed to be cured" (Luke 9:11). This quote from the Gospel of Luke is a fitting caption for one who used his skills as a clinical psychologist to bring the healing grace of God's love to so many, especially the priests and religious who sought his services.
James Stephen Tucker was born on April 14, 1943 in Detroit, MI to Joseph and Mary (Perinovic) Tucker. His brothers, John, Charles, and Robert, and his parents are deceased.
Fr. Tucker was ordained for the Archdiocese of Los Angelis, CA on April 26, 1969. He did both his undergraduate studies in philosophy (1961 – 1965) and his theological studies (1965 – 1969) at St. John's Seminary, Camarillo, CA. He went on to do an M.A. degree in psychology at California State University, Sacramento, CA in 1977. From 1979 – 1983, he earned the M.S. and then Ph.D. in clinical psychology at the Pacific Graduate School of Psychology, Palo Alto, CA. Even though Fr. Tucker was not trained in a Sulpician seminary, he was drawn to the Society for its ministry of formation. He was admitted to the Society in 1979.
His first Sulpician assignment was to the college faculty of St. Mary's Seminary, Catonsville, MD, from 1975-1977. There he served as the coordinator of the liturgical and spiritual life program and was Director of Recruitment. He then went west to what was then St. Patrick's College, Mountain View, CA, from 1978-1981 to serve as Director of Recruitment, Director of Admissions, and Director of Public Relations.
He was in residence at St. Joseph's College, Mountain View, CA (1981- 1984), formerly St. Patrick's College, while completing his doctorate in clinical psychology. After completing his doctorate, he became a part-time faculty member of St. Joseph's College from 1983-1991 to serve as the staff psychologist and Director of Admissions. During these years, he also served as therapist for the priests on sabbatical attending the Vatican II Institute at St. Patrick's Seminary.
While at St. Joseph's College, Fr. Tucker established a clinical office to serve the needs of priests and religious within Northern California. This office, along with all its contents, was totally destroyed by the Loma Prieta earthquake on October 17, 1989. Following the eventual destruction of St. Joseph's College as a result of the earthquake, he was invited to become the Director of Pastoral Services for the Diocese of San Jose, CA from 1991-2004.
From his work in San Jose, he went to serve the growing church in the Southwest by assuming a position on the formation faculty of Assumption Seminary, San Antonio, TX from 2004-2012. While there, he also taught pastoral counseling at the Oblate School of Theology in San Antonio. He won the respect of the Hispanic community at the seminary for his efforts to learn their language and culture.
Fr. Tucker made his mark in the Society not so much as a classroom teacher but as a formator, spiritual director, and therapist. In those roles, he not only assisted many seminarians, but he was also instrumental in assisting many priests and religious with psychological services and in serving as a consultant to many bishops around the country during the early years of the crisis of sexual abuse in the church.
While at Assumption Seminary, he began to experience a series of strokes that affected his ability to carry out his ministry. Recognizing that he couldn't meet the demands of the seminary program, Fr. Tucker retired in 2012. He moved from the seminary to his private home in San Antonio. In time, he needed the daily assistance of a care-giver. He found that help in Mr. Ray Montelongo, who provided faithful and competent care for six years. During those years with Ray's assistance, Fr. Tucker managed to attend community retreats and convocations and to travel widely throughout the world. Not until liver cancer overcame his strength did he curtail his travel and remain in his own home under hospice care and with Ray's faithful attendance.
Fr. Tucker is well remembered as a person who lived life fully, even when constrained by the increasing limitations of his strokes. He experienced great joy in visiting with his confreres, having them to his home for dinners, and traveling to exotic as well as ordinary places. Such enjoyment will remain his lasting witness to those whose lives crossed paths with his.
Fr. Tucker died on March 23, 2018 in his own home in San Antonio. His body was flown back to Baltimore where the Mass of Resurrection was celebrated in the chapel of Villa Olier on March 28 with the Provincial, Father John C. Kemper, P.S.S., as celebrant, and Father Mel Blanchette, P.S.S., as homilist. He was buried in the Sulpician Cemetery, Catonsville, MD.
Richard M. Gula, PSS
Director of Personnel