O'Keeffe, Father William Thomas, S.S.
2000, November 22
Date of Birth: 1920, January 3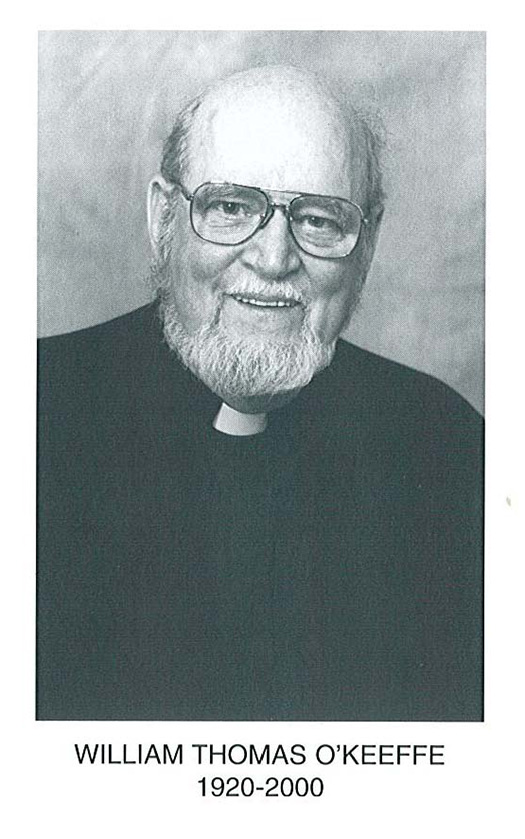 William Thomas O'Keeffe entered into eternal rest on November 22, 2000 at St. Joseph's Hospital in Towson, Maryland. Bill had been in intensive care after undergoing heart bypass surgery and subsequently suffered cardiac arrest. He is survived by several nieces and nephews.
Born in Akron, Ohio on January 3, 1920, Bill was the son of William T. and Mary (Reynolds) O'Keeffe. Bill came from a good family, English not Irish he would emphasize. His mother, Molly, was a no-nonsense woman of sparkling wit and humor, his stepfather, Ralph Kurtz, was a kind and affectionate father to Bill and his brother Jack and sister Rosemary. Their parish in Akron was a fertile source of vocations to St. Charles College and priesthood.
He attended parochial school at St. Martha's in Akron, and entered St. Charles College, Catonsville, Maryland. He returned to St. Mary's Seminary, Cleveland Ohio (1940-1945) to study philosophy and theology.
Bill was ordained a priest in the Diocese of Cleveland, Ohio on May 26, 1945 by Most Rev. E. F. Hoban. He was admitted to the Sulpicians in June, 1952.
From 1945-1949, until his release from the Bishop, Bill served as assistant pastor at Immaculate Conception Church in Willoughby, Ohio. In 1949 his first Sulpician assignment was to St. Charles College in Catonsville, Maryland teaching Latin, Greek, German and religion. After his Solitude year (1951-1952) at St. Mary's Paca Street, Bill returned to St Charles College where he taught until June 1961.
Assigned to St. Joseph's College, Mountain View, California, Bill taught there until it closed in 1968. With the closing of the minor seminaries, he found his way into a parish career. He ministered part-time at St. Lucy Parish, Campbell, California, served as Director of the Newman Apostolate and taught part-time at St. Joseph's College Seminary. In 1972 Bill was assigned as Parochial Vicar at Transfiguration Parish in San Jose, California and Pastoral Vicar at St. Martin of Tours in San , California from 1981-1992.
During these years, Bill began working both locally and nationally in the ministry of separated and divorced Catholics. When Father Jim Young died Bill was chosen as National Chaplain for the North American Conference of Separated and Divorced Catholics. From 1982-1992 he served as the Associate Director, Diocesan Family Life Office, Diocese of San Jose.
In July 1992 he retired to St. Charles Villa, Catonsville, Maryland. He was appointed Director/Superior of the Sulpician Community in 1995, a post he maintained until his death.
Like the dry bones in Ezekiel's field of vision, the curriculum vitae of Bill O'Keeffe needs a little spirit to enliven it. Bill was a lively personality, full of exuberance with a welcoming and cordial nature, open, kindly and outgoing in every way. Oh, he could bluster and growl at times, but it was all bark and no bite. To say he was a good talker would not be an exaggeration. He was never in a hurry to terminate conversation. He was a good trencherman with emphasis on Chinese take-out and a king size slice of prime rib, "A part of the hundredfold in this life."
With a heart skipping beats and generally worn out, he retired to the Villa, only to be appointed Director. Who among us does not remember, "I'm exhausted." Bill died on November 22, 2000 at St. Joseph's Hospital in Towson, Maryland.
On November 29, 2000, Very Rev. Ronald D. Witherup, Provincial Superior, presided at the funeral liturgy at Our Lady of the Angels, Catonsville, Maryland. Rev. Leo J. Larrivee was the homilist. William Thomas O'Keeffe was buried at the Sulpician Cemetery in Catonsville, Maryland.
Rev. Gerald V. Lardner, S.S.
Rev. John H. Olivier, S.S.