McHugh, Father Joseph Carroll
1988, July 18
Date of Birth: 1913, December 18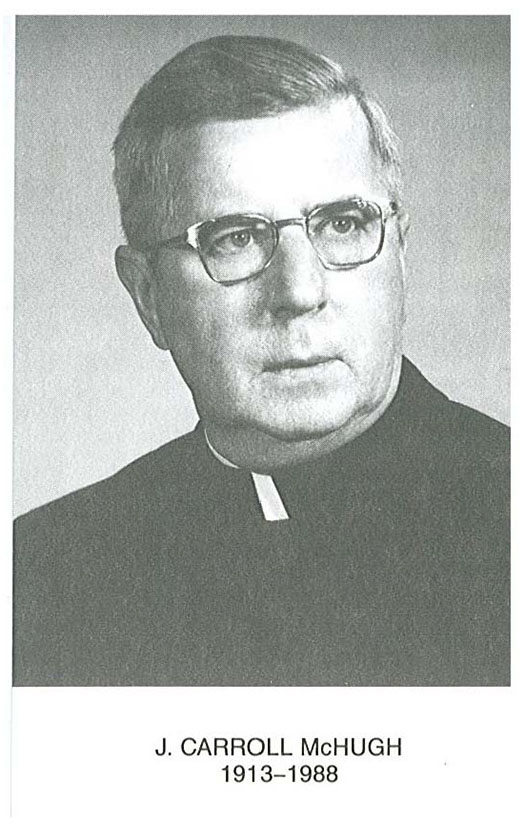 August 16, 1988
Dear Confrere:
Although he never had an appointment outside of Baltimore after finishing his studies and although universally regarded as a quiet and self-effacing man, Joseph Carroll McHugh enjoyed extraordinary esteem and popularity among his colleagues during his forty-eight years of Sulpician ministry. His death on July 18, 1988, closed a tragic period for him when he succumbed to the mysterious ravages of Alzheimer's disease.
Carroll was the second of three sons of Lawrence Ignatius and Bessie Marcella (Leathering) McHugh, who along with their daughter, Margaret, had the happy fortune of a very supportive family environment graced with the Christian values proclaimed by Star of the Sea parish in south Baltimore. Vocations to the priesthood and the religious life found fertile ground there. Bessie, a convert, would see two of her sons ordained priests, Lawrence entering the Society of Jesus, eventually serving as president of Wheeling College, and Carroll also choosing a teaching career with the Sulpicians. Lawrence and the third son, Thomas, both served in the United States Navy in World War II. The death of Lawrence in April was another heavy family sorrow this year.
Carroll was born on December 18, 1913 and received his early schooling at Star of the Sea. He entered the high school of St. Charles College in 1927, a training ground for seminarians that was already familiar to him from parts of several summers spent with his uncle, Joseph, who was the engineer and maintenance manager of the College, and with his aunt, Sis, whose husband worked on the grounds. After graduating from the college division as a candidate for the Sulpicians, Carroll entered Basselin College in Washington but withdrew because of illness, took some courses at Loyola College, and completed his seminary studies at St. Mary's Seminary. He received priestly ordination in the Cathedral of the Assumption on May 14, 1940.
Father McHugh was encouraged by his provincial, Father John Fenlon, to pursue an interest in economics, a field in which Father John Cronin was already attracting notice. A two-year program at Georgetown University led to an M.A. in 1942. Father McHugh then returned to Baltimore for the year of Sulpician formation, was admitted to the Society in 1943, and taught for a year at St. Charles College. In the summer of 1944, when Father Cronin undertook a special assignment in New York, Father McHugh was a natural replacement for him.
He was also being eyed as a financial man for the Society. Indeed, that same year he was appointed an assistant to the provincial treasurer and in 1948 assumed the duties of treasurer of the Paca Street seminary. In 1952, when appointed academic dean, he was also told to learn more about the provincial treasurer's books. But it was not until 1966 that he moved into that provincial position for nine years. From 1976 to 1978, he served the whole Society as the general treasurer.
Father McHugh won unusual respect from his confreres in his treasurer's role, which in later years required him to deal with some enormous problems as seminary costs soared, enrollments declined, and the Province shifted from a posture of paternal care for its members, especially in financial matters, to paying them allowances which provided much more opportunity for individual judgment in spending a modest income. His personal greetings that accompanied each member's salary check created an unusual bond and also elicited a great amount of trust. He was always ready to take time for a few stories, usually laced with droll humor and a generous courtesy for a member's financial concerns. From the time that the Province turned to provincial assemblies as the principal governing body, beginning in 1967 and every three years thereafter, sometimes more frequently, Father McHugh regularly received among the highest number of votes as an elected delegate. He was also elected to the 1966 general assembly in Paris, and he attended the 1978 general assembly not only as general treasurer but as an alternate replacing an elected delegate. He played a key role in the reorganization of provincial finances and investment policies in the 1970s.
This emphasis on the material concerns of the Sulpician organization ought not overshadow another aspect of Father McHugh's priestly ministry. Initially he often assisted at his native parish and then for many years at St. Bernard's church. He served as a devoted chaplain for daily Mass for several years at the Sisters of Bon Secours motherhouse and novitiate and on Sundays at the House of the Good Shepherd. A man of solid faith and prayer, he was a steadying influence for the seminary faculty, never more so than as rector of the school of philosophy on Paca Street from 1953 to 1966. Though not a dynamic speaker, innovator, or risk-taker, he was a consistent, soft-spoken, eminently fair, and disciplined priest who kept the seminary on an even keel with a minimum of disturbance and unrest. Even as pressures multiplied for a massive sea-change in curriculum and formation programs in seminary education, Father McHugh held to a calm and ever so slight adaptation to changing times. Yet he led what was a very stable and happy house at Paca Street, even as he began to doubt his capacity to keep control of the situation as the Second Vatican Council came to an end.
Father McHugh found some difficulty in accepting all the changes that shook the church and its seminary programs, which occurred only partly as a result of the Council. After leaving the rector's office in 1966, he never regretted his decision to concentrate on financial matters. When he was appointed director of St. Charles Villa in 1975 and liaison between retired Sulpicians and the provincial office, the feeling was expressed by some that he was being shunted to the sidelines. In fact, he was finding the financial office a growing burden. On the other hand, at the Villa, which had been constructed during his tenure as treasurer, he was in the words of a confrere and close friend, "a blessing to the fathers in residence, kindly, gracious, understanding, helpful and at their service."
The first indications of a physical problem were memory lapses noticed by his associates when Father McHugh was still in the provincial treasurer's office. In 1978, when he was in Paris for the general assembly of the Society, an incident of memory loss created significant concern for some colleagues, but a thorough physical examination revealed nothing to cause alarm. By 1981, however, his condition had been correctly diagnosed and the following year he retired as director of the Villa. The deterioration of his mind and body was gradual but relentless. Hospitalization and specialized nursing care became necessary. Father McHugh's final two years as a patient, however, were spent in the infirmary of St. Martin's Home where he was blessed with the selfless and loving care of the Little Sisters of the Poor. He died in his sleep.
Those last years were eased by the devotion and constant help of his brother, Thomas, who survives him, as do his sister, Mrs. John (Margaret) Burns, and four nieces and three nephews.
A wake service on July 20 was led by the Rev. Charles P. Dillon, S.S. A Mass of Christian burial was celebrated on July 21 in Our Lady of the Angels chapel at Charlestown Retirement Community, with the Most Rev. William D. Borders, Archbishop of Baltimore, the principal celebrant, and the homily was given by the Rev. Raymond F. Hesler, S.S. Graveside prayers were led by the Rev. Msgr. Joseph A. Law.
May Father McHugh live forever in the joy of the Resurrection.
Sincerely yours in Christ,
William J. Lee, S.S.
Provincial Secretary