Konkel, Father Eugene John, S.S.
2012, September 14
Birth Date: 1931, March 7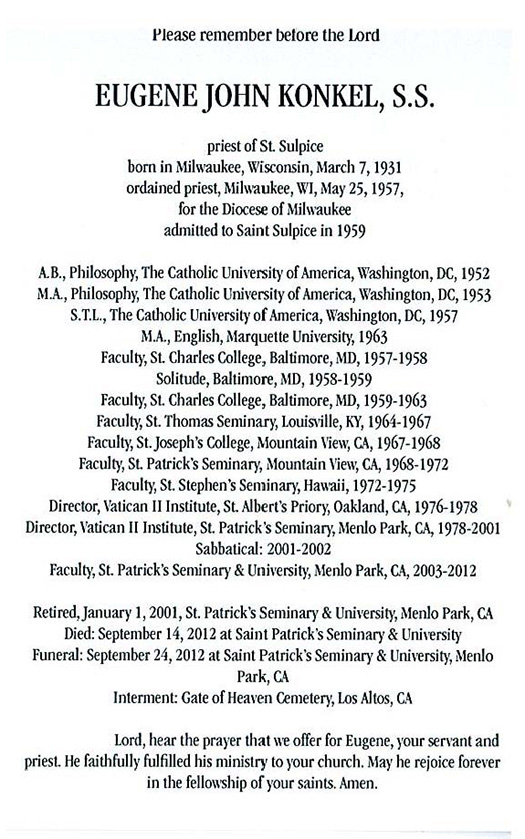 The opening chapter of John's Gospel tells us that Jesus, upon seeing Nathanael coming toward him, declared: "Here is a true Israelite. There is no guile in him." A similar declaration could be made of Fr. Eugene J. Konkel, S.S., who passed away on September 14, 2012 at his home, St. Patrick's Seminary & University in Menlo Park, California. His priesthood was characterized by a deep integration of and practical devotion to the Sulpician charism, which he lived in a humble, generous, trustworthy, and guileless way.
Fr. Konkel was born on March 7, 1931 in Milwaukee, Wisconsin to Elizabeth (nee Paczocha) and John Konkel. He grew up with his sister Eleanor, known as "Dolly," and his brother Richard, both of whom preceded him in death. He attended St. Anthony's Elementary School in Milwaukee before entering St. Francis de Sales Preparatory Seminary. In 1950, while at Theological College, he entered the Basselin program of The Catholic University of America. Fr. Konkel studied Philosophy and received a Bachelor's degree in 1952 and a Master's in 1953. He also received an S.T.L from The Catholic University upon completion of theology in 1957.
On May 25, 1957, he was ordained to the priesthood for the Archdiocese of Milwaukee.
After ordination, Fr. Konkel was assigned as a Sulpician candidate to the faculty of St. Charles College in Baltimore, MD. He was admitted to definitive membership in the Society of St. Sulpice upon completion of his Solitude in 1959. He continued to serve at St. Charles College for four more years, during which time he attended summer courses at Marquette University, receiving a Master's degree in English in 1963.
In 1964, Fr. Konkel was transferred to St. Thomas Seminary in Louisville, KY, where he taught English and other courses as needed. In 1967, he joined the faculty at St. Joseph's College in Mountain View, CA. In 1972, he moved to St. Stephen's Seminary in Honolulu, HI, where he served until the seminary program closed in 1975.
After returning to the San Francisco Bay area in 1975, Fr. Konkel assisted Fr. Dan Danielson (Diocese of Oakland) with the recently established Vatican II Institute for Clergy Formation.
In 1976, he was appointed the Director of the Institute. In the course of his 26 years as Director, Fr. Konkel welcomed over 2,000 priests to the Institute's widely acclaimed sabbatical program. As he had done so effectively with high school and collegiate seminarians in Baltimore, Louisville, Mountain View, and Honolulu, Fr. Konkel warmly and compassionately attended to the priests who participated in the program. The sabbatical program anticipated the emphasis on the four pillars of priestly formation (human, spiritual, intellectual and pastoral) in Pastores Dabo Vobis by nearly 20 years and inspired a growing commitment to ongoing formation of priests within the U.S. Province of St. Sulpice.
Fr. Konkel remained at St. Patrick's Seminary & University upon his retirement in 2001, serving as spiritual director for scores of seminarians and for numerous priests, permanent deacons, and laity in the area. He continued to assist in parishes in the region and gave retreats and days of recollection for priests in various dioceses. In recognition of his commitment to the welfare and renewal of priests, Fr. Konkel was granted the National Federation of Priests' Council's Touchstone Award in 2004. He was also granted the Patrician Award from St. Patrick's Seminary & University in 1998 and Theological College's Alumnus Lifetime Service Award in 2011.
On September 24, 2012, Reverend Thomas P. Demse, Fr. Konkel's nephew and a priest of the Archdiocese of Milwaukee, was the presider of the Mass of Resurrection. Bishop John C. Wester served as homilist. Fr. Konkel was interred at Gate of Heaven Cemetery in Los Altos, CA, following the funeral liturgies held in the chapel of St. Patrick's Seminary & University.
The large congregations that assembled for both the Vigil Service and the Funeral Mass served as a testimony to the impact that Fr. Konkel had upon the lives of seminarians, priests, and laity, to his effectiveness as a formator both within and beyond the seminary, and to his remarkable capacity to establish and maintain friendships across a lifetime. The funeral rites offered a fitting tribute to "a true Sulpician, in whom there was no guile."
Rev. James E. Myers, S.S.
Third Consultor
Society of St. Sulpice, Province of the United States