Haggerty, Father Thomas Francis
1987, April 6
Date of Birth: 1902, May 24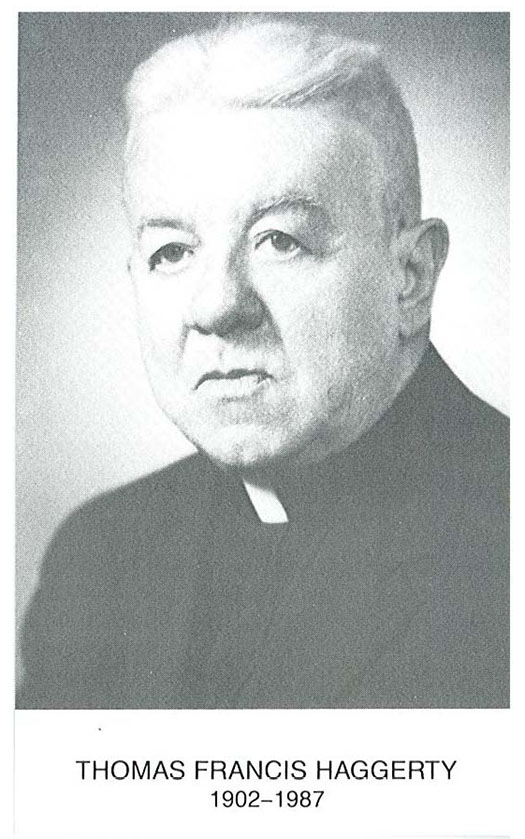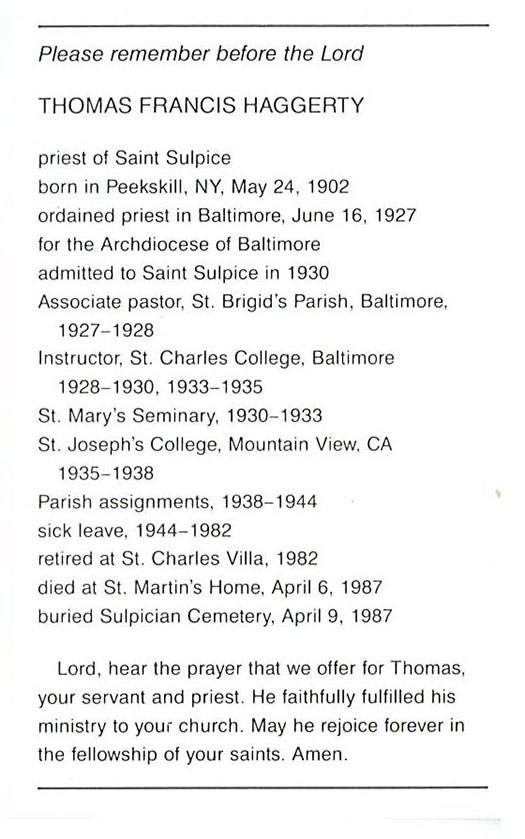 July 17, 1987
Dear Confrere:
For many priests the ministry is an almost constant opportunity to serve others in preaching, teaching, and celebrating the sacraments. But for some others there is a constant reminder that priestly ministry can also be a call to suffering. A life so full of promise on ordination day can in mysterious ways become the burden of carrying the cross. There was much of the cross in Father Haggerty's sixty years of priesthood.
Thomas F. Haggerty was born on May 24, 1902, the first of two children of Thomas F. and Elizabeth Agnes (nee Reilly) Haggerty of Peekskill, New York. There he received his elementary education at Assumption School. From 1915 to 1921, he took high school and college courses at St. Charles College in Baltimore, completed his seminary studies at St. Mary's Seminary, and was ordained a priest of the Archdiocese of Baltimore on June 16, 1927, having earned B.A. and M.A. degrees.
For two years Father Haggerty did parish ministry at St. Brigid's Church, Baltimore, and began graduate studies in English literature at the Johns Hopkins University. Invited to teach part-time at St. Charles College, he showed an aptitude for seminary teaching and applied for membership in the Society of St. Sulpice, entered the year of Sulpician formation, and was admitted to the Society in 1930. While continuing studies at Hopkins for the next two years, he lived at St. Mary's Seminary in Roland Park. He then returned to St. Charles, where he taught English and history until 1935, followed by a similar assignment at St. Joseph's College, Mountain View, California, for another three years.
Then began a prolonged illness for Father Haggerty. He returned to Peekskill for medical care while living with his mother and sister. He spent the next several summers in the Adirondack Mountains at Camp St. Mary's, where he helped in the management of that popular resort for priests that was owned by the Sulpicians. 
During the rest of the year Father Haggerty, when his health permitted, assisted in various churches and chaplaincies in his neighborhood and did occasional lecturing at religious institutes on a variety of subjects that were the object of his many intellectual interests. There was a brief interlude in 1943, when he returned to Baltimore and was assigned by the Archbishop to the administration of a small parish until another breakdown occurred after several months.
Becoming increasingly dependent upon his sister following the death of his mother in 1945, Father Haggerty acceded to the urging of his provincial to take up residence in 1955 at Via Coeli in New Mexico, where he would have care from and the companionship of priests. He adjusted well to the nurturing environment provided there by the Servants of the Paraclete, and he found it conducive to an exemplary practice of daily spiritual exercises along with endless opportunity to discuss the many topics in which he was interested. He generally visited his sister in Peekskill for a month each summer or fall.
A change of focus in the ministry at Via Coeli prompted a change of residence for Father Haggerty in 1982, when he became a member of the Sulpician retirement community at St. Charles Villa. Shortly before he was to celebrate the sixtieth anniversary of his priestly ordination, he succumbed to cancer on April 6, 1987, in the infirmary of St. Martin's Home. A wake service was led by the Rev. Lawrence A. Bender, S.S., on April 8. A Mass of Christian burial was offered for Father Haggerty with the Very Rev. Gerald L. Brown, S.S., as principal celebrant, and the homily was delivered by the Rev. Raymond F. Hesler, S.S. Burial was in the Sulpician cemetery on April 9. He is survived by his sister, Miss Elizabeth A. Haggerty.
May Father Haggerty live forever in the joy of the Resurrection.
Sincerely yours in Christ,
William J. Lee, S.S.
Provincial Secretary