Gavin, Father Robert Vincent, S.S.
2005, April 27
Date of Birth: 1927, August 27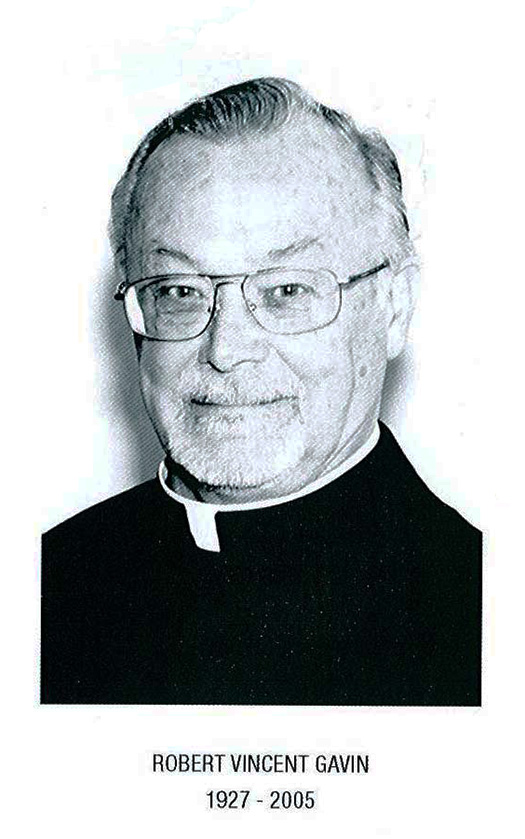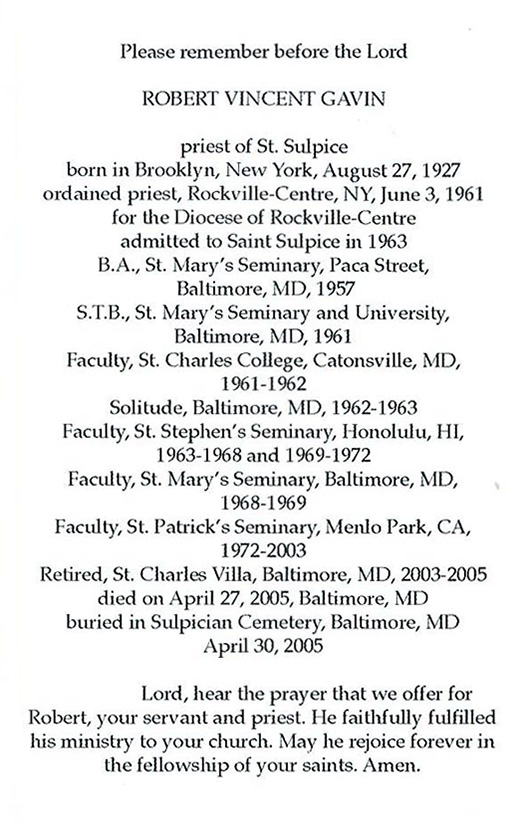 At his Mass of Christian Burial at the Parish of Our Lady of the Angels in Catonsville, Maryland, on April 30, 2005, an ancient Latin saying was cited, nil magnum nisi bonum — there is no greatness without goodness. This epithet summarizes well Bob Gavin's life.
Bob was a native of Brooklyn, New York. After attending Holy Rosary Grammar School from 1933-1941, he went on to Bishop Loughlin High School, graduating in 1945. He then attended New York State Community College from 1947-1949, New York University (NYU) from 1949-1951, and St. Francis College from 1953-1955. At NYU he studied chemistry and was employed as a chemist for three summers. After realizing, as he put it, that he was "not a very good scientist," he joined the military. It was during this time that Msgr. Ted Melenoski, a military chaplain, encouraged him toward his priestly vocation. He then studied for the priesthood at St. Mary's Seminary from 1957- 1961 and was ordained by Bishop Walter Kellenberg of the Diocese of Rockville Center at St. Agnes Cathedral on June 3, 1961.
It is impossible to underestimate the effect of his family on him and his priestly vocation. He said that "the reason that I fell in love with the Sulpicians was that it was sort of a throw-back to family. They, too, were an 'educational community." 'Nicknamed Bip,' Bob was the fifth of seven children, two sisters and five brothers. His parents were Raymond Gavin and Ann McFeeley Gavin. He often spoke of his family years as "fun." When his sisters and brothers learned that he decided to go to the seminary, they said, "Oh, yeah, we always knew that Bobby would be a priest!"
Bob entered the Society of St. Sulpice in 1963, having earned his B.A. degree in 1957 from St. Mary's Seminary, Paca Street, and his S.T.B. degree from St. Mary's Seminary & University in 1961. He completed Solitude in 1962-1963. His early Sulpician assignments included St. Charles College, Catonsville (1961-1962) and St. Stephen's Seminary, Honolulu (1963-1968 and 1969-1972). During the 1968-69 school year, he was assigned to the faculty of St. Mary's Seminary, Baltimore. Bob then served on the faculty of St. Patrick's Seminary & University in Menlo Park from 1972-2003. He finally retired to St. Charles Villa where he lived until his death from congestive heart failure, complicated by pneumonia, on April 27, 2005. The Very Reverend Ronald D. Witherup, Provincial of the U.S. Province, presided at a funeral Mass of the Resurrection on April 30, 2005, at which Gerald D. Coleman, S.S., president-rector of St. Patrick's Seminary, preached. The Mass was attended by a few family members and many Sulpicians, including Very Rev. Lawrence B. Terrien, S.S., Superior General of the Society of St. Sulpice, who officiated at the graveside service. At the conclusion of the service, Bob was laid to rest with his Sulpician confreres at the Sulpician Cemetery in Catonsville, Maryland. A memorial Mass was celebrated at St. Patrick's Seminary & University on May 4, 2005, at which Father Eugene J. Konkel, S.S. presided and preached. A large number of priests and laity attended, including five bishops.
In the article "In Memoriam" in the province's publication Update (Summer 2005), Bob was heralded as "one of the U.S. Province's most esteemed members." This tribute recalled his "deep personal holiness and genuine love of people.
He was an outstanding spiritual director for seminarians, priests, religious women and men, as well as for lay people. Many people will remember his habit of canonizing other people by describing them as 'St. Peter,' 'St. John,' 'St Ann,' or Saint whomever."
In recognition of his thirty-one years of service at St. Patrick's Seminary & University, the seminary faculty bestowed on him its Patrician Award on November 25, 2003, honoring his consistent spiritual presence and profound humanity to the seminary community and multitudes of others, especially priests and religious sisters.
On his departure from St. Patrick's, The Patrician magazine recognized Bob as "an icon," the first person who comes to know who you are, knows your name, and remembers the minutiae of your life. He was so present to people, he gave the impression that he had been waiting for your arrival and this specific conversation all of his life! His humility regarding his tremendous work in many communities and his lifelong dedication to priestly formation could be frustrating to those who appreciated all that he did and accomplished. He once said that "my call was not to the classroom." True enough; Bob knew that teaching was not his gift. Bob's call was much more universal, as he touched so many people in the depths of their lives and hearts. He possessed a natural tendency to both observe and acknowledge the beauty and purpose within each individual. He became enmeshed in the souls of everyone who met him.
Close friends recall that material things meant nothing to Bob. Rather, "he affirmed people and always saw the good in them. In doing this he helped to form community and build up the Body of Christ wherever he was." Others remarked that "his Sulpician charism shone brilliantly in a parish setting. He was wise, gentle, positive, challenging and welcoming to all. He affirmed the crying babies, the awkward adolescents, the weary parents, and the struggling senior citizens with equal love and warmth. His homilies were gems of incarnational theology which made the love of God palpable in daily life." In his seminary ministry, he "brought insights, balance, wisdom, humor, and even, behind closed doors, occasional righteous anger to the joys and stresses of the project of priestly formation." Bob lived "in great faithfulness and simplicity. He knew what was important and what was not: He had tremendous patience and compassion." He truly believed what George Eliot wrote, "It is never too late to be what you might have been."
In the 2001 novel, Life of Pi, there is an extraordinary description of a "good man." It is an apt appraisal of Bob Gavin: "He is filled with a sense of peace ... He is there — open, patient — in case someone, anyone should want to talk to him: a problem of the soul, a heaviness of heart, a darkness of the conscience. He would listen with love. He is a man whose profession it is to love, and he would offer comfort and guidance to the best of his ability."
Gerald D. Coleman, S.S.