1981, October 15
Date of Birth: 1922, February 5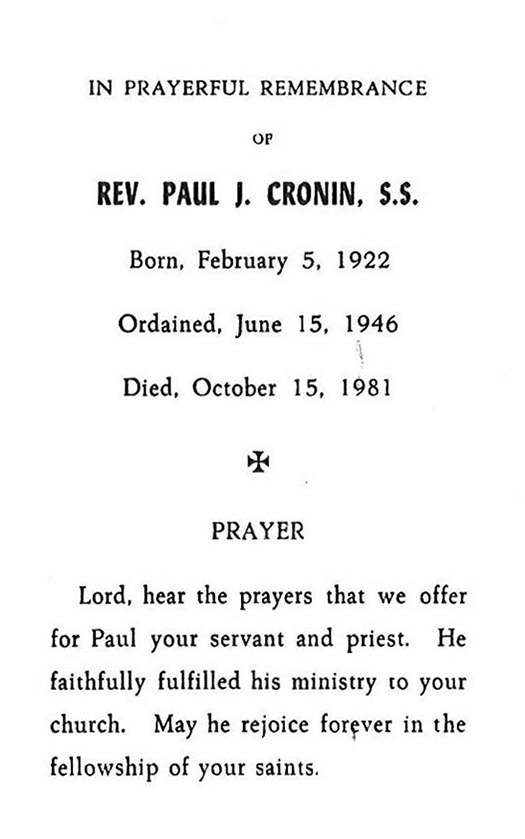 October 29, 1981
Dear Confrere:
The Cronin family has been part of the Sulpician family for many decades. They hail from Glens Falls, New York, a community that also gave the late John Bazinet and John Falcone to the Society. The former's father was once mayor of that city on the Hudson and brother, Bob Cronin, filled the same office in recent years.
All the Sulpician family will, therefore, feel keenly the sudden loss of Father Paul J. Cronin, who, at the age of 59, was found dead from a massive heart attack in his apartment in St. Charles Villa on October 15, 1981. The shock was somewhat blunted for the Cronin family because after Paul's severe first attack last April, they knew in their own hearts that they had a very ill brother. To each of them we Sulpicians offer our profound sympathy, to John, our Sulpician brother also in residence at St. Charles Villa, to Jim, pastor of St. Isaac Jogues parish in Baltimore, to Sister Noel Marie, SSJ, and to Bernard, Leonard, Robert, and Margaret, Paul's twin.
Paul was buried in the Sulpician Cemetery in Catonsville following a Funeral Mass in the Chapel of St. Martin's Home on October 19. Bishop P. Francis Murphy of Baltimore was principal celebrant. Other celebrants included Paul's seminary classmate, Archbishop James A. Hickey of Washington, Bishop T. Austin Murphy of Baltimore, his brothers John, who read the Gospel, and Jim, who gave the homily, Father Leo P. O'Brien of Albany representing Bishop Howard Hubbard of Albany, who was in Rome, and by a large number of Sulpician and Baltimore priests. Sister Noel Marie and her brother, Robert, did two readings from the Scriptures. The wake service the evening before, which I had the privilege of leading for my classmate and Solitude partner, was also attended by Archbishop Borders and many parishioners of St. Isaac Jogues.
Born on February 5, 1922, Paul was the sixth son of Bernard J. and Nora (nee Reardon) Cronin. It was a household of genuine Irish faith and piety, with eight children to care and provide for, which consumed most of their parents' time and energy. Education also had a high priority. Paul received his early schooling in St. Mary's Academy, Glens Falls. In 1939, he began a pre-med course at the Johns Hopkins University in Baltimore and also worked in the office of St. Mary's Seminary on Paca Street, where his older brother, John, was teaching and Jim was a student. Discerning a vocation to priesthood for himself while at Hopkins, Paul began philosophy studies at St. Mary's in 1941. Two years later he entered Theological College in Washington as an aspirant of St. Sulpice, from where he was ordained a priest of Albany by Bishop Edmund F. Gibbons in the Cathedral of Albany on June 15, 1946. While in Washington, he had also taken graduate philosophy courses at The Catholic University, which awarded him an M.A. in 1946.
Paul's first Sulpician assignment was to St. Joseph's College in Mountain View, California, which continued until 1965, except for the year of Sulpician formation taken in the "Solitude" on Paca Street in 1948-49. These were the "joyful years" of his life, as his brother referred to them in the funeral homily. Growing up in a large family, "somewhat spoiled" as the youngest, socially active, not overly studious, finding a happy priestly commitment in his teaching, counseling, and then in serving as dean of studies at St. Joseph's. He taught math, physics, history, religion, and civics there, but never philosophy. He also had a long stint as infirmarian.
 In 1965, Paul became superior of St. Edward's Seminary in Kenmore, Washington. This transfer, coming at a very difficult time for seminaries, immediately following Vatican II, began another period of life that his brother in a very intimate way termed the "sorrowful years" of Paul's ministry. After two years in the Pacific Northwest Paul resigned, feeling he had failed, and the following year as vice president of St. Charles College in Catonsville was another year of turmoil. He withdrew from seminary work and spent four years as an associate pastor of Holy Trinity Church in Glen Burnie, Maryland, from 1969 to 1973, productive but not satisfying years, further troubled by a malignant cancer that was successfully removed. Living in the shadow of two widely known priest brothers, Paul felt increasingly useless in the years that followed, even though he found a new interest during a prolonged program of Clinical Pastoral Education at Spring Grove Hospital.
Family ties were an essential support in these years which could otherwise have led to ruin. The devoted love of his twin sister was particularly significant. An especially rewarding and renewing experience was also provided by his Sulpician superiors through a residential period at the House of Affirmation in Massachusetts. Family support, a strong foundation in C.P.E., and a renewed sense of personal worth yielded a harvest of "glorious years", with which Paul's life came to an early close, as his brother's homily noted. Accepting a difficult and sometimes frustrating chaplaincy at South Baltimore General Hospital in 1978, he became a rich source of comfort and hope to many hundreds of ill persons and their families, in a ministry he truly enjoyed. He also accepted a chaplaincy for the Christian Brothers of Calvert Hall College, who gave further affirmation to that deep desire to be needed, which we all sense in the journey of life. Not to be overlooked is the strong fraternal support given Paul by two of his Sulpician confreres.
Paul's last weeks were unusually happy ones. A visit to Glens Falls, a trip to Long Island to celebrate Mass in memory of a priest classmate, a reunion with cousins visiting from the west coast, and a dinner at his brother's rectory the last night were among events that followed quickly upon one another. Among those who will miss him most is his brother, John, for whom Paul's admiration knew no bounds and whose company he enjoyed so much during these last years together at the Villa. May Father Paul Cronin whose life touched so many of us and all our brother priests who have died live forever in the joy of the Resurrection.
Sincerely yours in Christ,
William J. Lee, S.S.
Provincial Secretary