Brennan, Father James Henry, S.S.
2006, February 23
Date of Birth: 1905, June 7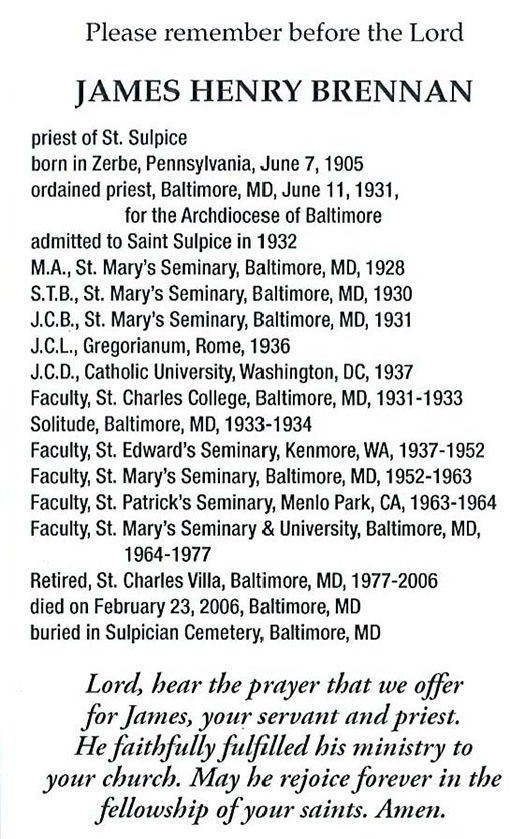 At the age of 100 years, James Henry Brennan (Jimmy) passed away on February 23, 2006 at St. Martin's Home for the Aged in Catonsville, Maryland.
Born on June 7, 1905 in Zerbe, Pennsylvania, Jimmy was the son of James Francis and Eleanor Sophie Brennan. One of five children, he had three sisters and one brother. He graduated from Reilly Trop High School in Branch Dale, Pennsylvania. Jimmy attended St. Charles Seminary in Overbrook and St. Francis Seminary in Loretto receiving a degree in Philosophy. Jimmy's Theologate was at St. Mary's Seminary in Baltimore, where he received his M.A., S.T.B. and J.C.B.
On June 11, 1931, Jimmy was ordained a priest for the Archdiocese of Baltimore. After joining the Sulpicians in 1931, his first assignment was to St. Charles College in Catonsville, Maryland. In 1933-1934 Jimmy completed his Solitude Year, after which he earned his J.C.L. from Pontifical Gregorian University in Rome and his J.C.D. from The Catholic University of America in Washington.
In 1937 Jimmy was transferred to St. Edward's Seminary, Kenmore, Washington, where he served as Rector and then President from 1948 until his departure in 1952. Subsequently he served on the faculty of St. Mary's Seminary (1952-1963) and St. Patrick's Seminary (1963-1964). After completing another assignment at St. Mary's Seminary, he retired to St. Charles Villa in Catonsville in 1977.
Jimmy was already, at 72, a senior priest, yet, once a week he would travel to Mt. St. Mary's Seminary in Emmitsburg (the Mount) to teach a canon law class. He enjoyed dinner with the other priest faculty; he especially enjoyed the table banter and priestly fraternity. He also continued working in the Tribunal of the Archdiocese of Baltimore.
Jimmy approached the academic discipline of canon law with the true heart of a Shepherd, filled with pastoral charity and care for others. His classroom mantras were "Gentlemen, be kind," and "Always err on the side of pastoral charity." His students remember him as a kind and gentle man, both in and out of the classroom. They also experienced him as a man with great devotion to Mary, and he often combined his devotion to Mary and faithfulness to his evening walk by walking the campus with his rosary.
In 1981 when he celebrated his 50th anniversary of priestly ordination, he concluded his homily with these lines: "Gentlemen, I liken my fifty years of priesthood to that of a sailor on a voyage; and I must confess, I have not always been a good sailor, but I must likewise tell you, I have loved the voyage!"
Jimmy and Fr. Bill Morris were honored at a joint 100th birthday celebration at St. Martin's Home on August 21, 2005.
On March 4, 2006, Very Rev. Ronald D. Witherup, S.S., Provincial, presided at the funeral liturgy at Our Lady of the Angels Chapel in Catonsville. Rev. John C. Kemper was the homilist. Jimmy was laid to rest in the Sulpician Cemetery in Catonsville, Maryland. May he rest in peace.
Rev. John C. Kemper, S.S.