Bitterman, Father John Lawrence, S.S.
2012, October 5
Date of Birth: 1942, April 16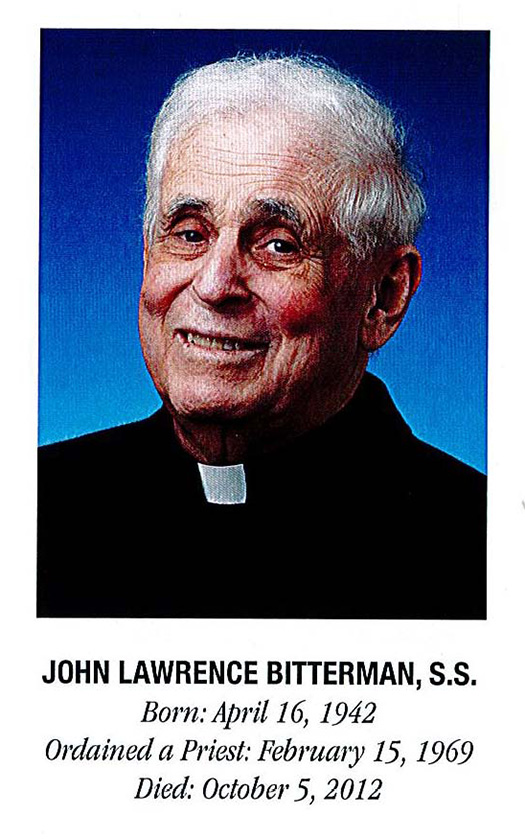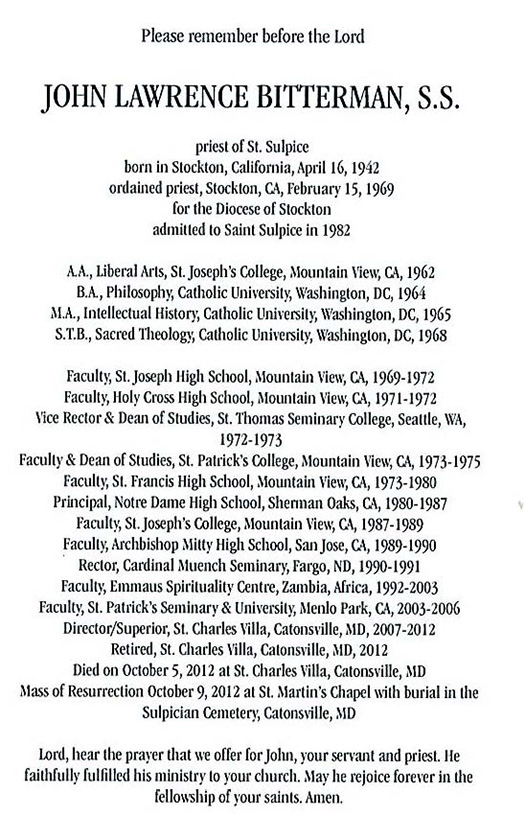 John Lawrence Bitterman was the first child born to Ferdinand L. and Minnie (nee Vienna) Bitterman on April 16, 1942 in Stockton, California. He is survived by his younger sister, Susan Johns Rigley and brother-in-law, John Rigley as well as a nephew, Gregory Johns.
During his years at home, Fr. Bitterman's life was connected and interwoven with that of the local parish. He attended Saint Agnes Grade School and St. Joseph College High School, Mountain View, and later graduated from St. Mary's High School, Stockton, in 1960. Following high school, Fr. Bitterman returned to Mountain View where he entered St. Joseph College Seminary.
In the summer of 1962, he and his parents traveled to our Nation's Capital, Washington, D.C., where he was to begin his studies at Theological College, the seminary program of The Catholic University of America. As a young Basselin Scholar and, later, as a theology student, university studies ignited John's intellectual life in a new and imaginative fashion. He received a B.A. in Philosophy (1964), an M.A. in Intellectual History (1965) and an S.T.B. in Sacred Theology (1968). All these degrees were granted by The Catholic University of America, Washington, DC.
He returned to the Diocese of Stockton and was ordained a priest on February 15, 1969. While he had been at Theological College, the Most Rev. Hugh A. Donohue, Bishop of Stockton, had given permission for Fr. Bitterman to enter the Society of St. Sulpice, Province of the United States.
Most of Fr. Bitterman's early ministry was in California high school education and administration. The list of high schools where he served include: St. Joseph and St. Francis (Mt. View), Notre Dame (Sherman Oaks) and Archbishop Mitty (San Jose). Later on, Fr. Bitterman also served in other capacities: Dean, Rector, Vice Rector and Director of the Sulpician Retirement Community.
Fr. Bitterman spoke about four assignments that gave him a special sense of accomplishment and pride: his years at Notre Dame High School, Sherman Oaks (1980-1987); his services as Academic Dean at St. Joseph's College during the Loma Prieta Earthquake (1989); his contribution to the Sulpician mission in Zambia (1992-2003); and his service to our senior Sulpicians as Director/Superior of St. Charles Villa (2007-2012).
One of Fr. Bitterman's gifts to the Society of St. Sulpice is his detailed chronicles of the early days of our U.S. foundation in Zambia. His attentiveness to the details of the day-to-day life is a real resource for the archives and future historians.
Appreciation for Fr. Bitterman's contributions to the Sulpician foundation in Zambia was seen during his Wake Service held in St. Martin's Chapel on October 8, 2012. Fr. Cale Crowley, himself a U.S. Sulpician who served in Zambia, led the Service. Fr. Victor Mwanamwambwa, S.S., a Zambia Sulpician and former student of Fr. Bitterman, delivered the reflection. Fr. Mwanamwambwa and Frs. Cliff Fumbelo and Royd Mweemba, two other Zambian priests currently studying in Baltimore, spoke affectionately of Fr. Bitterman's ministry in Zambia and his care for the Zambian students.
Fr. Bitterman's final assignment was to serve as Director/Superior of St. Charles Villa, the Sulpician Retirement Community. His generous and respectful care of the senior members was evident to all who visited St. Charles Villa. This final assignment was his first assignment on the East Coast and he had no connections in the area. He made himself totally accessible to the needs of the senior members. Often, this dedicated service went both unnoticed and un-lauded. On evenings when the night staff was absent, Fr. Bitterman would sleep on the couch near the nurse's desk so as to hear Fr. John Ward's call bell if he was in need or in discomfort during the night. This is just one example of the care that Fr. Bitterman showed to the senior men at St. Charles Villa during his five years as Director.
On October 5, 2012, Fr. Bitterman died at St. Charles Villa, Catonsville, Maryland. His October 9, 2012 Mass of Resurrection at St. Martin's Chapel was celebrated by Fr. Thomas R. Hurst, S.S. as presider and Fr. John C. Kemper, S.S. as homilist. Burial followed in the Sulpician Cemetery, Catonsville, Maryland.
During his 43 years as a priest and member of the Society of St. Sulpice, Fr. John Bitterman was a good and faithful servant of the Gospel. With creative and untiring energy, he faithfully undertook his various assignments for the building up of the Kingdom of God.
Rev. John C. Kemper, S.S.
Second Consultor
Society of St. Sulpice, Province of the United States