Vincent D. Bui, P.S.S
June 25, 1961 – June 9, 2020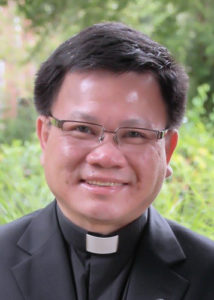 "The Lord had said to Abram, 'Go from your country, your people and your father's household to the land I will show you' " (Gen 12:1). With Fr. Vince Bui, it is as though he heard a call like that of Abram when he came to us in the wake of the Vietnam War. After graduating from high school in 1979, he attempted to escape the Communists in Vietnam but was captured during his thirteen attempts. His brother arranged a fourteenth attempt, which finally proved successful. He escaped Vietnam on Easter Sunday, 1981, a profound experience which gave the paschal mystery a deeper meaning of suffering, freedom, and new life for Fr. Bui ever after. After spending about eight months in refugee camps in Bangkok and elsewhere in Thailand, he arrived in the U.S. on February 4, 1982.
Vincent D. Bui was born on June 25, 1961 in Bien Hoa, South Vietnam, to Trinh Q. and Yen T. (Duong) Bui. He is the sixth of eight children, and he is survived by two brothers (one also a priest) and four sisters (one a Dominican Sister).
After getting settled at his father's cousin's house in Illinois in 1982, Fr. Bui spent two years studying English at Divine Word College in Iowa and then moved to Quincy, Illinois to join the Franciscans. He remained with them for only one year. For the next four years he lived in Champaign-Urbana, Illinois while working as a bilingual social worker with refugees through the East Central Illinois Refugee Mutual Assistance Center. In addition to working with refugees, he also held a variety of other positions in the local community and the local church. In 1989 he took a position with the Resettlement Program of Catholic Social Services of the Diocese of Peoria (Illinois). Out of this work, he gave himself another chance at official ministry by applying for studies to the priesthood for the Diocese of Lansing (Michigan) in 1990. He began his theological studies and priestly formation at St Mary's Seminary & University in Baltimore, MD in 1990 under the auspices of the Diocese of Lansing.
Fr. Bui was ordained for the Diocese of Lansing on June 10, 1995, while harboring an interest in perhaps joining the Sulpicians. He spent two years as an associate pastor at St. Robert Bellarmine Parish in Flushing, MI from 1995-1997. His trajectory with the Sulpicians began in an unusual way for his time in that his candidacy and years of Sulpician formation took place at Emmaus Spirituality Centre (Lusaka, Zambia), a mission seminary providing a propaedeutic program for young men interested in going to the major seminary. While in Africa he contracted malaria, a disease which he had also had in Vietnam, but which came back forcefully with negative ramifications for his health from then on. After his two years of candidacy in Zambia, he returned to the States and was admitted as a definitive member of the Society in 2000. He then spent a year at The Catholic University of America completing a licentiate degree in Canon Law (2001).
After completing the JCL, he was assigned to the faculty of St. Patrick's Seminary & University, Menlo Park, CA from 2001-2006. From there, he went off to do further studies in Canon Law at St. Paul University, Ottawa, Canada, but never completed the degree. He returned to St. Patrick's Seminary in 2009 and remained there until the Sulpicians withdrew from there in 2017. After a sabbatical year, Fr. Bui was assigned to Assumption Seminary in San Antonio, Texas, in 2018, where, in addition to regular formation duties, he served as the Director of Liturgy and Director of the College and Pre-theology programs.
Within the Sulpician community, Fr. Bui was generally perceived to live more interiorly than publicly. As a result, he could come across as distant and disinterested, or even a bit hidden or marginal from the larger community. Yet, in his own quiet way and with his gentle spirit, he was one whom colleagues and seminarians alike could turn to for strength. He had the reputation of being a gentle confessor, something clearly validated when he was named an extraordinary confessor during the Year of Mercy (2015-2016).
Among the Vietnamese community, by contrast, Fr. Bui was more public, integrated, and animated. He had a wide network of Vietnamese connections. He made great contributions to the Vietnamese community in the Dioceses of San Jose and Oakland, and he often taught theology to many Vietnamese Sisters. His relationships among the Vietnamese community benefitted St. Patrick's Seminary greatly. He was instrumental in the multiple successes of their fund-raising activities and in bringing the Vietnamese culture to the seminary community through festive multicultural events. In his last two years, while at Assumption Seminary, he was beginning to network with the Vietnamese community in San Antonio, and his reputation was growing as a substantive presence.
When the corona virus (COVID-19) pandemic forced the closure of Assumption Seminary in late March this year, Fr. Bui went to San Jose, CA. Unfortunately, he brought with him a compromised immune system from his past illnesses and so was an easy victim to the virus. He had to be hospitalized on May 13 in the San Jose Regional Medical Center, owing to complications from the virus. After nearly a month in the ICU and on a ventilator, Fr. Bui died on June 9, 2020, one day shy of his twenty-fifth anniversary of priestly ordination.
The family has asked that Fr. Bui be cremated and that the cremains be returned to Vietnam so that he can be buried in the family plot. A funeral Mass was celebrated at St. Francis Assisi Church in the Diocese of San Jose and a memorial Mass will be celebrated at Assumption Seminary in San Antonio when it can properly be arranged for the whole seminary community to be present.
Richard M. Gula, PSS
Director of Personnel