White, Father Joseph Leonard, S.S.
2000, September 27
Date of Birth: September 13, 1905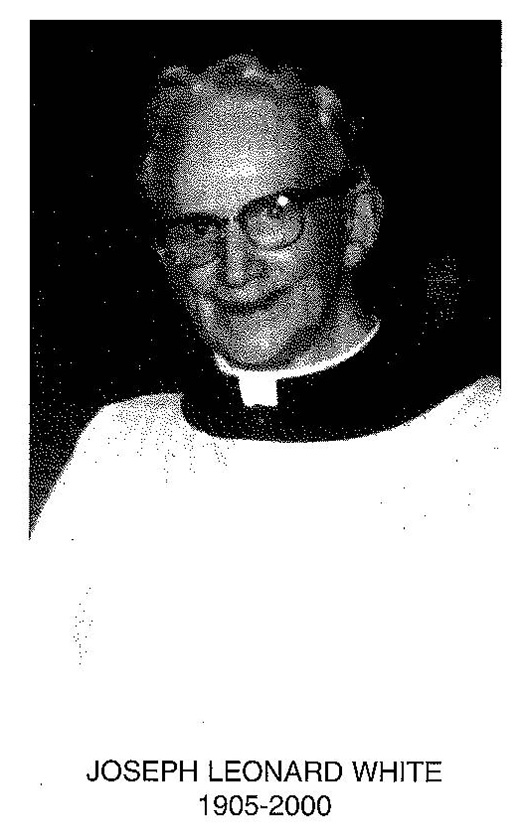 December 2000
Following the death of President Andrew Jackson, the old general's house slave Alfred was asked whether he thought Jackson had gone to heaven. His response, after a pause for reflection, was "I don't know; but if he wanted to, he did." This anecdote expresses an attitude of will and determination which on first thought would be characteristic of Joe White, the name by which he was almost universally known, as if it were one word. However, Fr. Joseph Leonard White was in character and personality more complicated than that, as his story reveals.
On September 13, 1905, Joseph Leonard White was born in Baltimore, Maryland, to Frederick Herbert White and Rose Irene Gibbons. Family relationships were complicated by multiple marriages and consequent siblings with only one parent in common – a subject which Joe White preferred to keep private or to share only with close friends.
From 1922 to 1969, young Joe's education was in a Catholic school: St. Andrew's and then the year 1919 –1920 in Baltimore Polytechnic Institute. The following academic year, he began his seminary formation at St. Charles College, where he spent the next six years before entering the Basselin College program for three years, 1926-1929, during which he acquired both the B.A. (1928) and the M.A. (1929) in philosophy. Thus well- prepared, he spent the next four years, 1929-1933, in the formation program at the Sulpician Seminary and the degree program at The Catholic University of America in Washington, D.C. The University awarded him the S.T.B. in 1933.
In the midst of his major seminary years, ill with tuberculosis, Joseph White spent four months in a sanatorium for rest and treatment. He resisted going away from the seminary, did not like the sanatorium nor his stay there, and returned to the life of the seminary as soon as possible. As a result of this hiatus, Joe's dates of steps towards ordination became crowded toward the end of his years at the Sulpician Seminary. Having received Tonsure in September 1929, and the first two minor orders in June, 1930, he found that further orders were delayed until June, 1932, when he received Exorcist and Acolyte at the National Shrine of the Immaculate Conception, where he had also been tonsured and ordained Porter and Lector. Later that same June 1932, at the Cathedral of the Assumption in Baltimore, he was ordained a subdeacon; a few months later in September, he was ordained a deacon, back in the National Shrine. At last, in the Chapel of the Sulpician Seminary in Washington, on May 4, 1933, Joseph Leonard White, joy-filled, was ordained a priest. Bishop John McNamara, Auxiliary Bishop of Baltimore, was the minister of Tonsure and the ordaining prelate for all of the minor and major orders.
With very little time beforehand to serve as a priest, Fr. White spent the year from September 6, 1933, to the same date in 1934 making his Sulpician Solitude in the old Solitude building on the grounds of St. Charles College in Catonsville. Afterwards, he remained at St. Charles, a faculty member with a variety of ministries and courses until 1949, when he left for St. Louis University to receive his final degree, a Ph.D. in the classics, which he was granted in 1951.
During those fifteen years at St. Charles College, Fr. White taught Latin, Greek, English, and religion, primarily to high school students; in addition, for a year or two, he taught courses in history and elocution while serving as assistant to Fr. George Gleason, who at that time was prefect of the junior side. The "junior side" was composed of the young seminarians in the first and second year of high school. The remainder of the seminarian community were on the "senior side" and were not to associate with the juniors. It was during this period that Frs. Gleason and White became friends, with Fr. Gleason serving as informal mentor and model. When Fr. Gleason became President of St. Charles, Fr. White stepped into the role of Junior Prefect, a position that he occupied with distinction from 1938 to 1948. In this period Joe White and John Thomas Franey became close friends. Father White considered Fr. Franey his closest friend. Their friendship survived the years, lasting until the death of Jack Franey and through their years together at St. Charles College, St. Thomas Seminary, and St. Charles Villa. Fr. White said quite clearly that there was "none other like him."
From 1942 to 1948, Fr. White provided the daily meditation, four years to the entire community, two years for the seniors only. Moreover, he was briefly principal of the high school, became celebrated among college alumni for Latin plays which he wrote and produced, and served his fellow Sulpicians during a couple of summers as superior of Camp St. Mary's on Lake George in New York State.
Although his years at St. Charles were immensely productive, he stressed later when he left St. Thomas Seminary, that he had no interest in returning to Baltimore and made strong efforts not to return there, even at the time of his retirement. Eventually, he did go back, not to St. Charles College but to St. Charles Villa, and at first not enthusiastically.
1949 to 1952 was one of the big transition periods in the life of Fr. Joe White. He was sent in 1949 to earn a doctorate in the classics from St. Louis University, preparatory to his becoming rector at the new St. Thomas Seminary in Louisville, which was intended to open in 1951, fulfilling the dream of Archbishop John Alexander Floersh of Louisville who had bought the property a couple of decades previously and was willing to wait until the Society of St. Sulpice could provide priests to operate the new seminary.
Graduating from St. Louis University after just two years, Fr. White found himself with a year's wait for the completion and readiness of the Louisville seminary. Somewhat disappointed, he spent September to January studying education at The Catholic University and January to June, 1953, as a substitute teacher at St. Charles.
In June 1953, he and the "other Sulpician," the writer of this paper, aged 26 at the time, arrived in Louisville, from Baltimore and Nashville respectively. Since the seminary building was not yet ready for habitation and remained unfinished, the two Sulpicians stayed at the Chancery residence of Archbishop Floersh, 1118 South Third Street. Fr. White had considerable input with the Archbishop and Fr. Charles Maloney, future auxiliary bishop, in charge of the construction, and still working on the details not yet completed regarding the seminary building, e.g. location of study hall, dormitories, showers, bathrooms, choice of lighting fixtures, etc.
When St. Thomas finally opened with thirty-nine registered first-high-school students in late September 1952, neither the high-school wing nor the college wing had yet been built; but their construction would take place while the main portion of the building was in use. Years later, a gymnasium, a chapel, and a fourth floor on the central building would be added. Meanwhile, the new young seminarians would reside in private rooms. Several of them were severely homesick. They had multiple siblings, were away from home for the first time, and/or had never been alone at night. The red brick, three-story building stood in the midst of muddy fields on what had been and continued in some areas to be a farm.
The interior was metal, terrazzo, and yellow tile. The young inhabitants needed discipline, attention and loving care, which they were supplied in abundance. They were made aware that they were the first class, pioneers like their Kentucky ancestors, in a new and strange environment. Each year a new class would be added until six classes filled the building and its addition. The number of students peaked eventually at a few more than 300. This was the scene of Fr. White's labors for thirteen years.
Before the arrival of the new seminarians, Fr. White had visited personally each of them in his home environment, a practice which he continued through the years for all of the incoming youngsters. Throughout his thirteen years at St. Thomas as rector, Fr. White celebrated the Community Mass, prayed the rosary with the students, gave the meditation each morning to either the whole community, the high school, or the college, presided at meals, monitored five to seven study-hall periods a week, and taught courses in Latin, the subject which had been his major and in which he was steeped. His bathroom was possibly unique in having the top of its water tank graced by a Greek Lexicon. He truly loved the classics and the classical period of history. During his study periods, the first-year students must study Latin; they had six Latin classes a week. If they needed extra time or personal help, they received it – as much as they wanted and more.
Beginning at least at the time of his bout with tuberculosis, Fr. White had suffered physically and would undergo an amazing number of operations during the remainder of his life. Even when he was in his forties at St. Thomas, we joked about his dresser top looking like an apothecary shop's display case. He managed somehow to have his operations during vacation periods. He was always "on the job" and never missed a day when the seminary was in session. Moreover, from the early days in Louisville onward, he was pained by the frustration, conflict and misunderstanding which he experienced, often depressed and seeking advice from superiors and from friends such as Frs. Franey and Gleason. In his own communicated self-understanding, he was not really a community man – only when he wanted to be, he said. For years, he was uncomfortable with himself as a Sulpician; but he remained faithfully a member of the Society and supported it in a variety of ways. At St. Thomas, where the faculty was about one half Sulpicians and one-half priests of the Archdiocese of Louisville, the rector began to experience also a split in authority and to question whether he should remain in position. Eventually, after thirteen years, in 1965, Fr. White tendered his resignation and was replaced under circumstances painful to him.
He went to Seattle. From 1965 to 1976, he served as a faculty member at St. Edward's Seminary. There he taught Latin, Greek, religion, history, and was spiritual director. As always, he became renowned for his teaching skills, his dedication to the work, and his love for the seminarians and for the priesthood, He was always referred to as a "holy man" and a prayerful man. He indicated in each of his assignments that he tried not to let the seminarians know how much he cared for them. In a few cases, he may have succeeded; but in most situations, he failed to achieve that goal. Many of his former students and their families expressed much affection for Fr. Joe White and sustained that attitude for decades. For as long as he was physically able, he continued to relate to them by mail, phone, and visits.
When St. Edward's was closed in 1976, Fr. White sought and received a chaplaincy at St. Joseph's Residence, a home for retired Sisters of Providence. He did not want to return to Baltimore; so with the Society's approval, he remained in the Archdiocese of Seattle, where he was a friend of Archbishop Hunthausen. In 1978, Father took up residence as associate pastor at St. Anne's Parish in Seattle. He had, during his years at St. Edward's, offered pastoral service at a variety of parishes; in 1965-1966 he had studied pastoral counseling at the University of Washington. Now at St. Anne's he was well known as a scholar, a teacher, and a homilist; many of the people found him a competent and caring confessor, spiritual director, or counselor. Father celebrated his fiftieth anniversary at St. Anne's; at that time, his sense of humor, his loving care for the sick, and his personal life of prayer, virtue, and devotion were also praised.
In September 1983, Fr. White returned peacefully to Baltimore and began his seventeen years of retirement as a contented member of the St. Charles Villa community. Gradually, he lost his hearing until the loss was total; as his sight also faded away, he continued his long struggle with pain from a variety of ailments, including colon cancer. When the time arrived that he needed total care, he moved into the St. John of God unit of St. Martin's home. Sr. Agatha and the other care-givers supplied him, for the remainder of his life, with loving concern, response to his needs, and as much comfort as they could give, and he would allow. As long as he was able, he was vested and in attendance at daily Mass with his Sulpician confreres and other members of the community at St. Martin's. In his last months, he was sometimes alert, sometimes not. About 1:45 A.M. on the Feast of St. Vincent de Paul, September 23, 2000, at age 95, Father Joe White died. The wake service and vespers for the dead were celebrated at St. Martin's.
The funeral Mass was celebrated by Archbishop William D. Borders on October 2, 2000, in the gloriously renovated Chapel of Our Lady of the Angels at Charlestown, the former campus of St. Charles College. Fr. Ronald D. Witherup, Sulpician Provincial, assisted the Archbishop and later presided at the burial in the Sulpician Cemetery. Fr. Louis M. Reitz, recently retired Sulpician Provincial Treasurer, former student of Fr. White's at St. Charles, former faculty member during his rectorship at St. Thomas in Louisville, preached the homily. Many of Fr. White's relatives from near and far filled four or five pews and were joined by a sizable gathering of Sulpician confreres, some former students, friends and directees, as well as some members of the Charlestown parish, and their Sulpician pastor, Fr. Leo Larrivee.
The writer is well aware that Fr. White had long grieved over his departure from Louisville after thirteen years as the founding rector of St. Thomas Seminary and over its closure five years later, after its having developed under his leadership into a community of more than 300. The closure of the other two seminaries in which he had offered time, energy, and effort, St. Charles and St. Edward's for which he also had affection, plus the Society's loss of interest in minor seminaries, the reduction of the classics to relative unimportance, the consequent scattering and hurt of friends and associates, as well as the multiple changes in seminary formation, priesthood, liturgy, the Society of St. Sulpice, and the Church itself, in addition to the departure from priesthood of those in whom he had invested so much of himself, the perceived "attitudes" of the new seminarians and priests, all added to the physical pain, the dependency, and other problems of old age. He was ready to die.
He has found peace, a life without tears, without sadness, without pain, with the compassionate Lord whom he served faithfully through ninety-five years of life on earth, sixty-seven of them as a priest.
Vincent de Paul McMurry, S.S.