1962, June 7
Date of Birth: 1879, May 29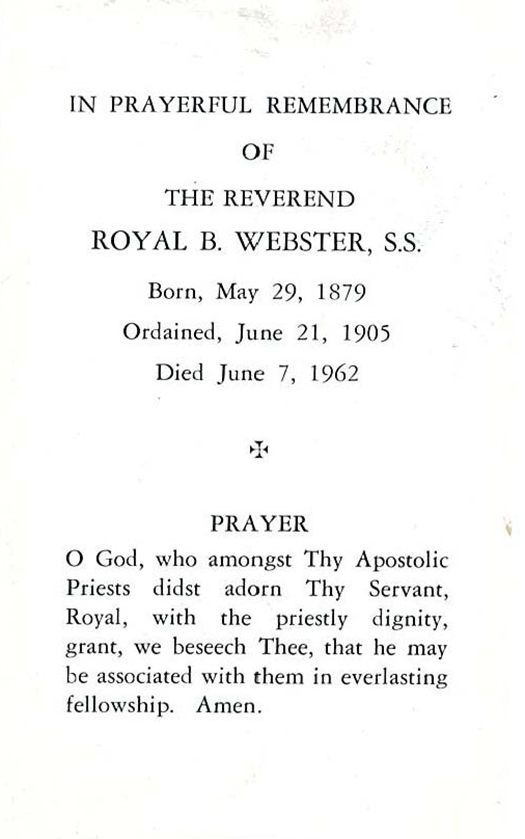 Royal Bertram Webster was born of Methodist parents in Stockton, California, on May 29, 1879. From 1886 to 1897 he attended public schools in Stockton. After graduating from high school, he taught school in Murphys, California, where he met a family whose influence led him into the Catholic Church. Soon after his conversion, in 1900, he entered St. Mary's Seminary in Baltimore, attained an B.A. in 1901 and an M.A. in 1902. After gaining an S.T.B. in 1905, he was ordained to the priesthood for the Archdiocese of San Francisco by Cardinal Gibbons on June 21, 1905. In 1905-1906 he made his Solitude at Issy. 
On his return to the United States, he taught from 1906 to 1908 at St. Charles College in Ellicott City, Maryland, but was then assigned to St. Patrick's Seminary in San Francisco. At St. Patrick's, he taught Latin and English for a brief time until ill health occasioned his retirement from the classroom. When St. Joseph's College opened in 1924, Father Webster moved with the minor seminary faculty to Mountain View. He was organist for liturgical services and raised flowers for the chapel. He died on June 7, 1962.
Adapted from The Voice, and from his "Personal Data" sheet, and from notes supplied by Father John Bowen.