1962, May 1
Date of Birth: 1928, October 6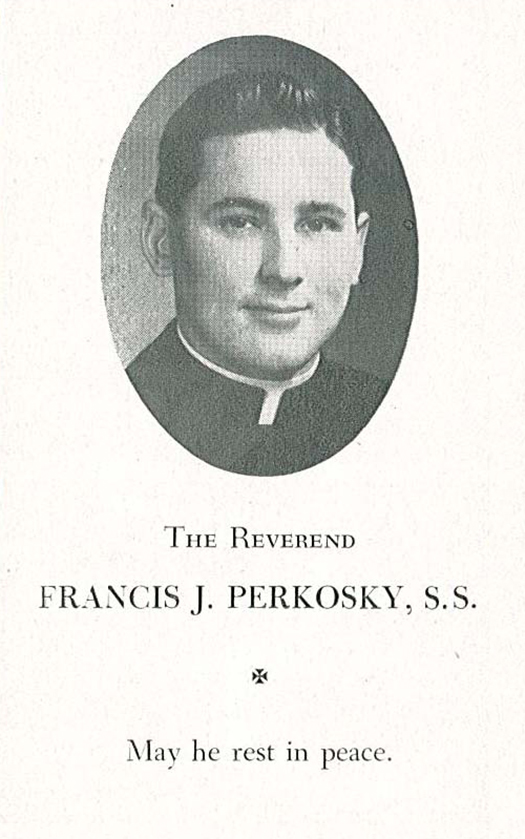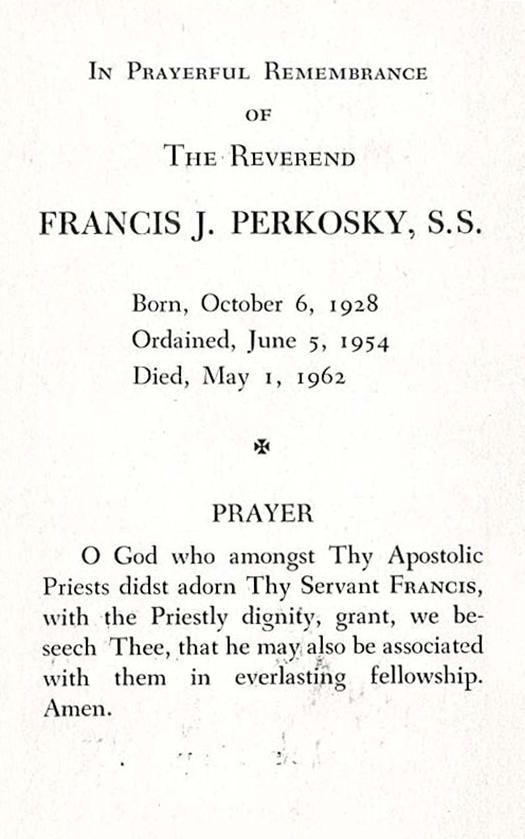 Issy
June 10, 1962
Feast of Pentecost
My dear Confreres:
In the sermon which he preached at the funeral of our confrere, Father Francis Perkosky, Father John Linn said: "He was able to say, in spite of the few years he had in the holy ministry, 'Father, I have finished the work which you gave me to do.'" Yes, this priest, called to God at the age of thirty after eight years of priesthood, has truly fulfilled his priestly vocation. He has, with Christ, drunk the chalice offered to him. You will have a better understanding of him from reading these pages written by our American confreres.
Lake Aeriel in Pennsylvania is a little farming area in the Diocese of Scranton. It was there that Francis Perkosky was born on October 6, 1928.
After his brother, Anthony, he was the second son of Anthony Perkosky, an emigrant from Poland to the United States, and of Anna Pruss, his wife. There were also two daughters.
In the sound and simple atmosphere of family life on the little farm, Father Perkosky learned the first practices of an active and pious life. As a young boy – and later as a seminarian on vacations – he always did his share of the demanding farm work. All recall the many signs which very early showed his religious bent. He always had the idea of being a priest. His brother and sisters remember his make-believe vestments and the desire he had of having them present at the "Mass" he was going to say for them.
Having finished his primary and secondary education near home, he took the first decisive step towards the altar by entering St. Charles College at Catonsville in September 1946. His piety was evident, and he showed himself an apt student.
In 1948 he entered St. Mary's Seminary in Baltimore. In two years, he earned his Bachelor of Arts degree in Philosophy, and went on to Theology. It was in the course of his Theology years that the proper field of his vocation became clear: he wanted to collaborate in the formation of diocesan priests in the Society of St. Sulpice. His Ordinary, Bishop William Hafey of Scranton, gave him leave to dedicate himself to that work.
On June 5, 1954, having achieved his Licentiate in Theology at St. Mary's Seminary, Father Perkosky was ordained priest. The next day he celebrated his first Mass – Mass, the dearest thing to his heart. His friends recall his deep love for the Mass, remembering the care he took in his travels to be sure of celebrating Mass daily.
While on his way to his first Sulpician assignment at St. Joseph's College in Mountain View, California, Father Perkosky accidently fell from the train, breaking a vertebra. Much nearer to Seattle than San Francisco at that point, Father Perkosky was brought to St. Edward's Seminary in Seattle. There he gradually recovered and resumed his work between 1954 and 1956. Although the vertebra had healed, he retained a permanent injury. The Lord's Cross weighed heavy on him and he carried it valiantly.
Having made his Solitude in 1956-1957, Father Perkosky was again appointed to St. Joseph's in Mountain View, California, where he taught for a year. During the summer of 1958, he finished studies undertaken several years previous at The Catholic University of America in Washington, D.C., and was awarded the degree of Master of Arts in Philosophy.
In September 1958, he sailed to the Eternal City where his superiors had sent him to study Canon Law at St. John Lateran. His confreres of the happy Procure days recall the pleasant ways and the piety of Father Perkosky. In June 1960, he earned his Licentiate in Canon Law at the Lateran; but everyone was struck by what his life in Rome had done to him – he looked worn out.
Assigned to remain in Rome another year in order to secure a Doctorate in Canon Law, Father Perkosky returned in the summer to officiate at the marriage of his sister, Florence. At that time all those who were familiar with him were of the opinion that he was ill. He decided to look into the matter seriously before going back to Rome. After many tests, the presence of a spinal tumor was recognized. An operation was performed at Georgetown Hospital in Washington, D.C. The tumor proved to be cancerous. Although the operation was successful, the doctors did not expect him to survive for more than eight months. To their amazement, the Father lived and even improved; that seemed like a miracle. Finally, another serious episode required another operation. From this time on, his health kept getting worse, and about eighteen months after the first operation, on May 1st, Father Perkosky died. He was buried in the Sulpician cemetery at St. Charles College.
Between the first operation and the death, there were at St. Mary's Seminary months of intense prayer and preparation for death. Regretful over not being able to do his work and saddened by his inability to say Mass during the last few months of his life, Father Perkosky must have merited great graces for Sulpician work in offering his spiritual – and also his intense physical – suffering for the sanctity of priests.
I recommend our confrere's soul to your prayers. Let us pray also for his family, and for our American province which is in distress.
I beg you to accept my sentiments of affectionate regard in Our Lord and Our Lady.
Pierre Girard
Superior General of the Society of St. Sulpice