Perez, Father Anthony Rivera, S.S.
2009, September 12
Date of Birth: 1952, February 13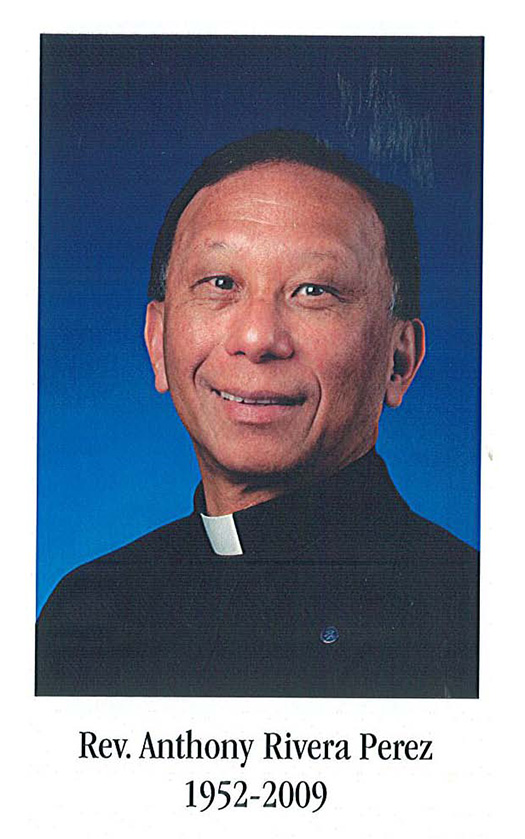 September 2009
On February 13, 1952 Anthony (Tony) Rivera Perez was born in Barrigada, Guam, one of eight children of the late Frank and Isabel Perez. He completed his primary and secondary education in Guam, and after earning his undergraduate degree at the University of Guam, he entered St. Patrick's Seminary in Menlo Park, California, where he earned a Master of Divinity degree in 1976. In 1977 he was ordained to the priesthood for the Archdiocese of Agana, Guam. His first assignment included three jobs: Archdiocesan Vocation Director, Rector of the Minor Seminary, and member of the faculty of Father Duenas High School, positions he held for eight years, leaving the Rector's position after four years to become Pastor of San Vicente and San Roke Church and Vice Officialis of the Archdiocesan Tribunal.
In 1985, Father Perez was invited to serve on the faculty of St. Joseph's College Seminary in Mountain View, California where he remained until 1991. During this time Father Perez was admitted as a candidate for the Society of St. Sulpice. He completed a Licentiate in Sacred Theology with a specialization in liturgical theology at the Katholieke Universiteit Leuven in 1993, the same year he was accepted as a member of the Society of St. Sulpice. After earning his Doctorate in Sacred Theology from Leuven in 1997, he was assigned to the faculty of St. Mary's Seminary & University in Baltimore. His entire time at St. Mary's was spent as Director of Liturgy and Assistant and then Associate Professor of Liturgical and Sacramental Theology. In that capacity he taught liturgy, theology, theology of ministry and ordained priesthood, and theology of the Eucharist/Mass practicum. In 2007 he was elected by the Ecclesiastical Faculty and confirmed by the Holy See as Praeses of the Ecclesiastical Faculty at St. Mary's. In January 2009, he was named Vice Rector of St. Mary's Seminary. Also, in January 2009, Father Perez was elected a Provincial Consultor of the Society of St. Sulpice, Province of the United States.
Father Perez will be remembered as a liturgist who celebrated and organized the liturgy with great love, exactness, and zeal; as a professor who sought to impart that same love of liturgy to seminarians whom he taught; as a mentor who stressed the need for personal configuration of the priest and seminarian to the priesthood of Jesus Christ; as a tireless, dedicated, generous, and caring spiritual director; as a hard-working and friendly colleague; as a good person, and most simply yet profoundly, a good priest.
From the moment Father Perez's untimely death was announced on September 12, 2009, there was a palpable grief that shrouded St. Mary's Seminary. On September 16, St. Mary's faculty and students, together with Father Perez's family and friends, received his body at Laubacher Hall with Solemn Vespers. The wake that followed was graced by the presence of Guamanians living in the DC area and headed by their two representatives to Congress and the wife of the island's Governor.
In the evening a Christian Wake Service was led by Fr. Thomas R. Hurst, S.S., Seminary Rector, after which the body was moved in procession to St. Mary's Chapel where seminarians and priests took turns keeping vigil until morning. On September 17, 2009 the funeral liturgy was celebrated by Archbishop Edwin O'Brien of Baltimore with three other bishops and more than seventy priests as concelebrants. In his homily, Fr. Michael L. Barre, S.S. put into words the thoughts and feelings of all: "Through his simple human goodness he showed us how eternal life truly begins on earth... Father Perez, you were never more of a priest to us than when you showed us the way to eternal life by living it yourself while you were among us."
Following the liturgy at St. Mary's, Father Perez's body was flown to Guam for additional funeral services and burial on September 22. Fr. Leo J. Larrivee, S.S., a close personal friend of Father Perez, represented the Sulpicians and was the homilist at the services in Guam.
May he rest in peace, and may we who mourn him, together with his seven brothers and sisters and numerous nieces and nephews both in Guam and in the United States, be consoled by the thought of a life well-lived both in wisdom and in grace.
Close Friends:
Rev. Leo J. Larrivee, S.S.
Pastor of Our Lady of the Angels
and
Rev. Renato J. Lopez
Faculty, St. Mary's Seminary & University