O'Connor, Father Thomas Everett
1984, July 11
Date of Birth: 1909, June 5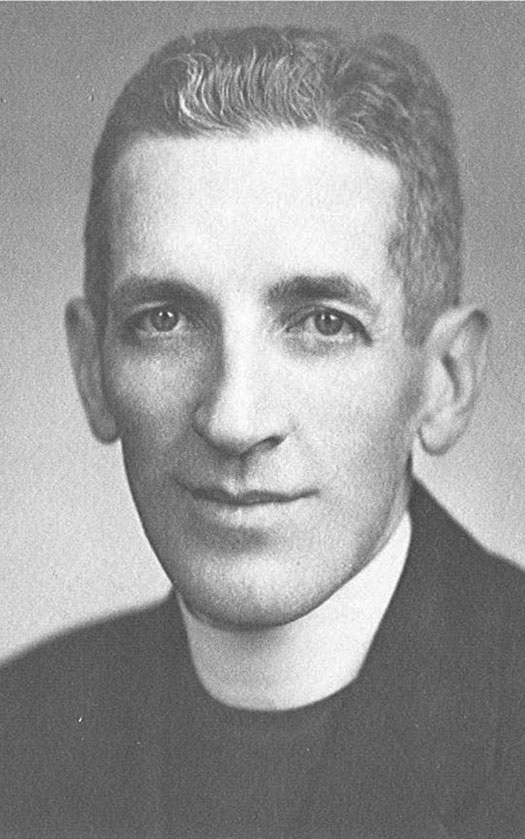 August 20, 1984
Dear Confrere:
Only through suffering, it has been said, does one become truly wise. Perhaps we have seen that confirmed in the life and suffering of our confrere, Thomas Everett O'Connor, who died on July 11 at St. Charles Villa in Catonsville. He was buried from the chapel of St. Martin's Home, where he had celebrated hardly two months earlier the fiftieth anniversary of his ordination to the priesthood. Archbishop William D. Borders was principal celebrant of the funeral Mass on July 16. The homilist was the Rev. James H. Brennan, S.S., who had been rector of the Seattle seminary during part of Father O'Connor's tenure on its faculty. Mrs. James M. (Irene) Gratto, of Largo, FL, his sister, survives, as do his sister-in-law, Mrs. James L. O'Connor, and his niece, Mrs. Charles W. Carnell, both of Massachusetts. Two brothers, Ernest and James, preceded him in death.
Thomas O'Connor was born on June 5, 1909, in Johnville, New Brunswick, Canada, the son of Charles J. and Mary Agnes (nee Foley) O'Connor. Moving soon with his family to Maine, he received his early education in Belfast and Portland. In 1926, he entered Holy Cross College, Worcester, MA, and two years later transferred to St. Mary's Seminary, Baltimore, where he earned B.A. and S.T.B. degrees. Ordained a priest in Portland on May 26, 1934, Father O'Connor kept a strong affection for his diocese throughout his life, even while dedicating himself to the service of the Society of St. Sulpice, of which he became a member in 1937. He did graduate studies in English and preaching at The Catholic University, Washington, and did further study at Rutgers University.
Father O'Connor's first teaching assignments were at old St. Mary's Seminary on Paca Street, Baltimore, and St. Charles College, Catonsville. From the beginning he specialized in music and public speaking, and then preaching. He was also a person who liked order, and thus very early he began to develop many files as a preacher's resource bank. He also wanted tools and instruments in good working order, and his skilled hands repaired many in his lifetime. At St. Mary's he assembled a highly useful organist's manual of Sunday and feast-day music, which also made easier his work as choir director.
From 1941 to 1953, Father O'Connor was a member of the faculty of St. Edward's Seminary in Seattle. During that time, he also earned wide acceptance as a director of retreats for seminarians, priests, and women religious. It was, however, immediately after one of those retreats in the West, when he and one of his confreres had accepted an automobile ride to the East coast, that both were seriously and permanently injured in an accident, in which the driver, one of the retreatants, was killed.
Those injuries not only partially crippled him but wracked his body with pain for the rest of his life. But that Fall he was back in his seminary job, despite his obvious suffering.
Following a brief sick leave in 1954, Father O'Connor joined the formation faculty of Theological College in Washington, where he was also choir director and taught sacred eloquence at The Catholic University. In 1958, he was assigned to St. Mary's Seminary, Roland Park, with similar duties, which he fulfilled until 1968.
By then, seminary ministry was changing dramatically. Without a clear focus on what other ministry he might take up, Father O'Connor asked to be relieved of his seminary duties. Very soon afterward, Cardinal Shehan of Baltimore approached the Sulpicians in search of a Catholic chaplain for the huge Springfield State Hospital in Sykesville, and Father O'Connor volunteered to fill the vacancy. For the next ten years he devoted himself with great zeal to that apostolate, which he found fruitful and consoling, and also very taxing with its 1,600 patients in some thirty-two buildings.
Retiring from the chaplaincy in 1978, Father O'Connor took up residence in St. Charles Villa, where he continued to have many interests, assisting in parishes, directing retreats, counseling, and traveling often, usually to attend conferences and give talks. Much of this activity flowed from his profound commitment to helping people in desperate straits or suffering grievously. His own experience of suffering had led him into periodic episodes with alcohol, which gave him more and more difficulty, until he found no other recourse but to enter an extended period of therapy in the early 1960s. His dogged perseverance and deep priestly faith combined with the therapy to produce an extraordinary transformation of personality and behavior. He became very active in Alcoholics Anonymous, undertook many speaking engagements, and was widely sought out as a counselor and confidant by alcoholics. His contributions to this ministry were widely recognized and acclaimed.
Achieving the strength of character and personality to overcome constant and intense suffering, in others and in oneself, and, instead, to radiate a serene peace and joy, can also reveal the attainment of great wisdom and spiritual depth. Such were the qualities of Father O'Connor in his final illness of some eighteen months when cancer devastated his weakened body. His fiftieth ordination anniversary in May, at which he was surrounded by many of his family as well as his confreres, celebrated the joy of his priesthood and the gift of his life to helping others to find their God.
May Father O'Connor live forever in the joy of the Resurrection.
Sincerely yours in Christ,
William J. Lee, S.S.
Provincial Secretary