Morris, Father William Stephen, S.S.
2005, November 22
Date of Birth: 1905, October 28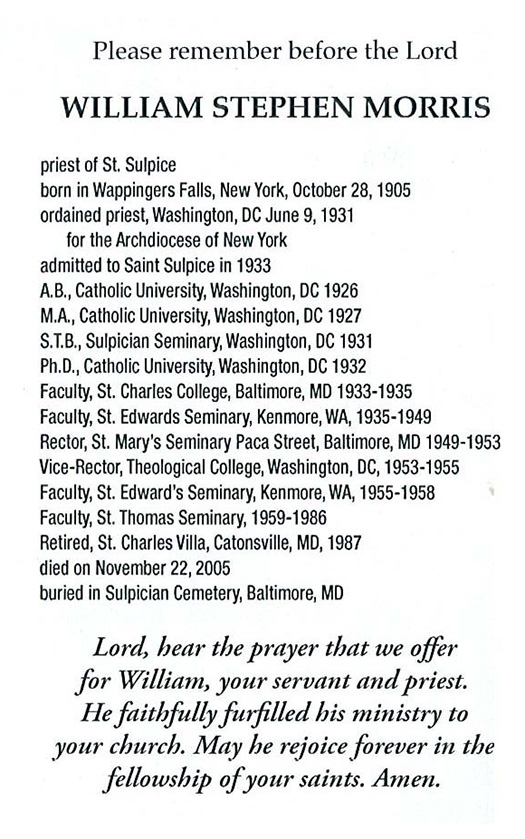 William Stephen Morris celebrated his one hundredth birthday with family and friends in August, 2005. His health had been in decline for a year and on November 22, 2005 he died in peace at St. Martin's Home for the Aged in Catonsville, Maryland. Bill is survived by a nephew and grandniece.
He "believed in people, called forth their gifts in an empowering way, and modeled Jesus-like wisdom and behavior. He was also prayerful, preached relevant homilies, was reliable, well-read, and concerned about justice issues." He "never forgot the dignity and value of each person, nor did he exalt himself. He portrayed Christ for us through the beauty of his daily life." These comments about priests come from a survey, "Picturing the Perfect Priest" in the April, 2006, U. S. Catholic. Though Bill was not a perfect priest, the above descriptions capture well the essence of his life among us.
William Stephen Morris was born in Wappingers Falls, New York, the fourth son of William and Anna Morris, on October 28, 1905. He attended St. Mary's in Wappingers Falls and Poughkeepsie High School. During the spring of his third year in high school in 1921, he attended the first Mass of Fr. John Klug at St. Mary's, his parish church. "As young Father John held the Host over his head for the first time, words came to my heart, then lips. I heard myself say: 'Lord, yes, I will.' "
He entered St. Charles College, Catonsville, in 1921, attended the Basselin program at Catholic University in 1924, and studied theology at the Sulpician Seminary (now Theological College) in Washington, D.C. from 1927 to 1931. He was ordained to the priesthood on June 9, 1931, at the National Shrine by Bishop Shahan. He received a Ph.D. from The Catholic University in 1932, and became a definitive member of the Sulpicians in 1933 after completing his year of Solitude.
After two years at St. Charles College, Bill crossed the country to begin his love affair with the great Northwest. For almost fifty years, with a brief interlude of four years as Rector of St. Mary's, Paca Street, Baltimore, and two years as Vice-Rector of Theological College, Washington, he taught and ministered at St. Edward and St. Thomas Seminaries, Kenmore, Washington, and in the Seattle Archdiocese.
Like many Sulpicians of that time, he taught a variety of subjects, but education, economics, sociology, psychology, communications, catechetics, and church history predominated. Bill was a demanding and challenging teacher. One thing he loved about teaching was meeting his former students in later years when they had grown into men with interesting lives and careers.
In the days of the "old seminary," all priests, students, even the sisters, were most often referred to by their nicknames. Bill's was "Barney". He used to drive a tractor, as fast as it would go, around the grounds of the seminary.
The enterprising students named him for Barney Oldfield, a famous race-car driver of the era. Although he was a scholar and a deeply pious man, Bill was not above dirtying his hands, working hard in the fields and the woods. He was simple, unpretentious, and quiet in teaching the seminarians by example.
Two basic tenets permeated and guided his life: the necessity of a deep spiritual life and the importance of practical social action. He never tired of practicing them and urging them on others. He encouraged the seminarians to be both mystics and social activists. In his mind, a true mystic did not live with his head in the sky, nor did an authentic social activist scorn the inner life. Bill spoke comfortably and knowledgeably about social justice as well as about becoming one with God.
Bill struggled with some of the changes that came to the Church from Vatican II. Being totally committed to the Church, however, he accepted them, tried to learn more about them, and helped many other Catholics in their transition from pre to post Vatican II. At the same time he embraced enthusiastically the "new movements of the Spirit": Cursillo, Marriage Encounter, and the Charismatic Renewal. He served each of these as a spiritual director and an active participant.
Long before he was appointed Vicar for Religious of the Seattle Archdiocese, he devoted much of his time to them, especially after the Second Vatican Council. He generously gave his time to them, teaching classes, giving retreats and workshops, participating in informal sessions, always encouraging, sustaining, enlightening. Probably no group in the Seattle Archdiocese held him in higher regard than the Religious Sisters.
In 1987, Bill moved to the Sulpician Retirement Home at St. Charles Villa, Catonsville, Maryland. Older age and diminishing eyesight limited but did not curtail his activities. He visited the elderly residents at St. Martin's Home. He eventually moved to that Home and received love and attention from the Little Sisters and their staff. His commitment to the spiritual life never wavered. When no longer able to read, he listened to audio tapes of the spiritual masters.
On August 21, 2005, the Society of St. Sulpice, Province of the United States and the Little Sisters of the Poor held a festivity for the 100th birthday of Bill Morris and Jim Brennan, both of whom turned 100 in 2005. Members of the Morris and Brennan families attended the birthday celebration. In November 2005, he died in peace, and entered the new Jerusalem where God said "Well done, my good and faithful servant. Come; share your Master's joy!"
On November 30, 2005 at Our Lady of the Angels Chapel in Catonsville, Maryland, Very Rev. Ronald D. Witherup presided at the Funeral Liturgy. Rev. John A. Ward was the homilist. William Stephen Morris was buried in the Sulpician Cemetery in Catonsville, Maryland.
Rev. J. Michael Strange, S.S.