Lobo, Father Anthony Francis, S.S.
2001, September 24
Date of Birth: 1936, September 20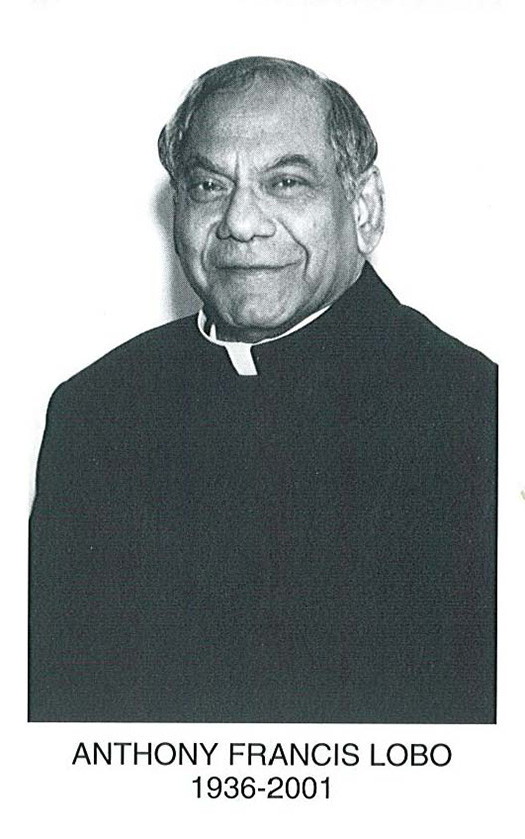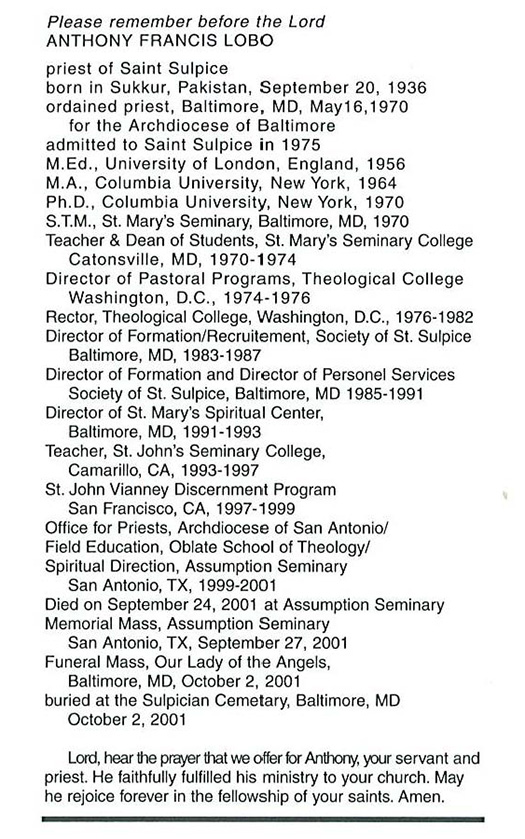 Anthony Francis Lobo passed into eternal life of an apparent heart attack at Assumption Seminary in San Antonio, Texas on September 24, 2001. Tony is survived by three sisters and a brother.
Born on September 20, 1936 in Sukkur, Pakistan, Tony was the son of Angelo and Winnifred Ann (Pereira) Lobo. His elementary and high school educations took place at St. Patrick's School in Karachi, Pakistan. Tony held many degrees including: an M.A. from the University of Karachi; an M.Ed. from the University of London in England in 1956; an M.A. from the University of Bonn in Germany and an M.A. in 1964 and Ph.D. in Education in 1970 from Columbia University, New York as well as an S.T.M. from St. Mary's Seminary in Baltimore, Maryland in 1970.
Tony was ordained a priest for the Archdiocese of Baltimore on May 16, 1970. He was admitted to the Society of St. Sulpice in 1975.
His first Sulpician assignment was at St. Mary's Seminary & University in Baltimore, Maryland, where he was a faculty member and Dean of Students from 1970-1974. Assigned to Theological College in Washington, D.C., he was Director of Pastoral Programs from 1974-1976 and then Rector from 1976-1982.
Tony was assigned as the Province's Director of Formation and Personnel Services in Baltimore, Maryland from 1983-1991. He held a two-year assignment as Director of St. Mary's Spiritual Center in Baltimore 1991-1993. He moved west as a faculty member at St. John's Seminary College in Camarillo, California from 1993-1997, and moved on to St. John Vianney's Discernment Program in San Francisco until 1999. His last assignment was multi-faceted: at the Office for Priests, Archdiocese of San Antonio; Field Education for Oblate School of Theology and Spiritual Direction at Assumption Seminary, all in San Antonio, Texas.
How does one summarize a life of 65 years, especially one that was so filled with diverse and exotic experiences as Tony's? He was an exacting person. He would say in his delightful Oxford laced Pakistani accent, "Make it very good and to the point --- or else...!"
The main details of his life are found in the opening paragraphs of this obituary. But in all honesty, Tony's life was so filled with variety – the number of degrees he earned, the number of positions held, the number of ministries he undertook – that it would take a small book to retell it all. In Tony's room at Assumption Seminary in San Antonio was a wall-hanging which defined friendship.
A friend is one who knows you as you are,
Understands where you've been,
Accepts who you've become,
And still invites you to grow.
Tony was that kind of friend who accepted people where they were and invited them to become more. With his colleagues Tony shared a vision of a very special priestly ministry, especially to seminarians and priests. His personal friends and family enjoyed the wry humor and generous affection of a man who loved life. His spiritual friends shared in the intimacy of counseling and spiritual direction. Tony was a friend to so many different people.
About one week before his death, a bishop, for whose priests Tony had directed a retreat, spoke of the great appreciation his priests had expressed for the wonderful retreat they had experienced. The bishop said, "Tony's genius was that he was extremely honest and direct and could point out the challenges of contemporary priestly life in a way that got into priests' minds and hearts; but he did it all without being threatening."
Tony had an incredible array of friends in a worldwide network of people of diverse ethnicity, language and way of life. He was very "catholic" in his approach and "open" to diversity. When he moved to San Antonio, he was at first quite hesitant and even resistant as he felt that at his age it was asking too much. 
After he arrived, he immediately felt at home, embraced the new challenge of that unique Latino setting, and even set out to learn at least enough Spanish to celebrate Mass. He loved his ministry there, he loved the vision of the local church, and in a relatively short time he affected the lives of many people. More than 240 people attended his memorial Mass there, among them some 45 priests and three bishops.
Even a cursory look at the many academic degrees and positions Tony held gives one a sense of the breadth of his human experience: rector, teacher, administrator, counselor, spiritual director (for seminarians, priests, bishops, religious and laity), mentor, formation and personnel director. His interest in the human psyche extended also to a broad appreciation of culture. He loved operas and symphonies and ballet. He read all kinds of novels and mysteries and plays, he visited many museums, cathedrals and historic sites, he saw all kinds of movies, theatre and Broadway shows. In all this seemingly human activity, Tony saw the opportunity to experience the divine. He recognized that God's grace touched us where we live, in the day in and day out of human existence. He knew, as many saints have known, that the arts and humanities call us to the deeper realities of human existence.
Anyone who knew Tony well would recognize this quality in his life. He loved to entertain and to be entertained. He loved to cook, he loved good food and drink and good fellowship. He loved chocolate so much that he had a small refrigerator dedicated to high quality chocolates (which he freely shared with his friends)! Tony's sense of hospitality conforms to that of Jesus, who according the Gospels, loved a good time, too. It is not incidental that the image of a lush banquet is one associated in Jesus' teaching with God's kingdom and is symbolized by the Eucharist he celebrated.
In recent years he was plagued by health problems and considerable physical pain (heart problems and back and leg problems). He could also be very stubborn, and he had a "prophetic impatience" especially with institutions and with administrators whom he didn't feel were being prophetic enough in their leadership styles. He prided himself in asking what he called "the hard questions."
In the end, Tony loved life and attempted to live it to the full. The richness of human experience that he believed put us in contact with God and God's vision of how the world could be different, could be better, expresses a truly incarnational theology that is very "Catholic" indeed. Tony exercised his ministry on so many occasions as priest and man of faith.
Tony would want us to continue the gusto in life that he had to the end. Let us take up this challenge. Let us resound with Paul's courage and strength: "If God is for us, who can be against?" Not even death can separate us from our friend and our brother. Tony was a good priest, a loyal Sulpician, and a faithful servant of God. Let us rejoice in the life that touched so many.
In addition, two Memorial Masses were offered for Tony in places he had served: on September 27th in the Chapel at Assumption Seminary, San Antonio, Texas and on October 1st at St. John the Evangelist Parish in San Francisco.
On Tuesday, October 2, 2001 at Our Lady of the Angels Chapel in Catonsville, Maryland, Most Rev. Francis Malooly, a classmate of Tony's, presided at the Funeral Liturgy. Very Rev. Ronald D. Witherup was the homilist. Anthony Francis Lobo was buried in the Sulpician Cemetery in Catonsville, Maryland.
Adapted from the Homily of
Very Rev. Ronald D. Witherup, S.S.
Provincial Superior