Lardner, Father Gerald Vincent, S.S.
2012, June 18
Date of Birth: 1941, October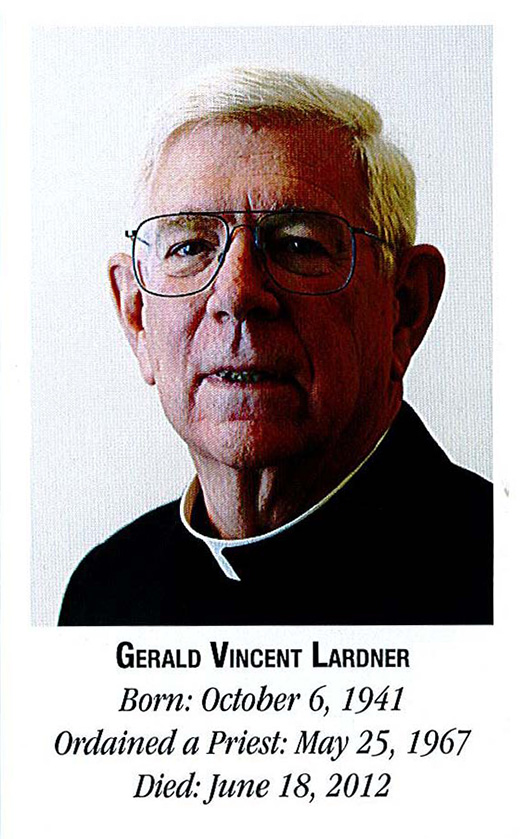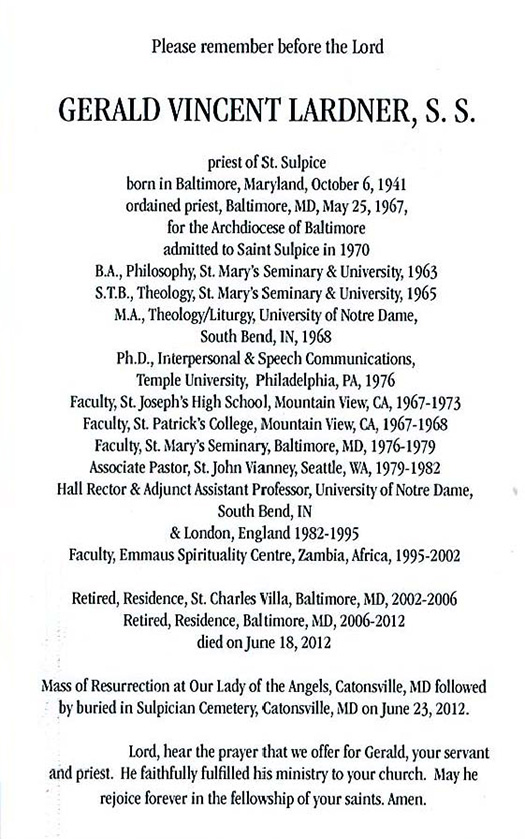 Father Gerald "Gerry" Vincent Lardner, S.S. will be remembered for his communication skills and advice to preachers: keep it short, mainly edit; say something, don't ramble; make a point, like Jesus, by telling a story.
Two stories told by his brother, Michael, capture the origins of Fr. Lardner's desire to be a Sulpician priest and his love of learning. Young Gerry was first exposed to the priesthood and the Society of St. Sulpice while visiting his uncle, Fr. John Lardner, S.S., Provincial Superior from 1943 – 1948. During his frequent trips to the Sulpician Provincial House, Baltimore, Maryland, Fr. Lardner would play fetch with his uncle's Irish setter, Rusty.
His love of learning can be traced to his very early years when the family doctor diagnosed Fr. Lardner with weak joints that would prevent him from ever being athletic. "Give him books," advised the doctor. This prescription for books may have been the best medical advice he was ever to receive, for it spawned Fr. Lardner's love of learning that became legend in his family, among his students, with his friends, and in the Sulpician community.
Fr. Lardner was born on October 6, 1941 to Frances (nee O'Brien) and Michael Lardner. He and his brother Michael were raised and educated in Baltimore. He entered St. Charles College in Catonsville as a 13-year-old high school student. He earned his bachelor's degree in philosophy (1963) and an S.T.B. in theology at St. Mary's Seminary & University in Roland Park (1965). He was ordained for the Archdiocese of Baltimore on May 25, 1967.
Following his uncle, Fr. John Lardner, Fr. Gerry Lardner asked to become a Sulpician. He was admitted into the Society of St. Sulpice in 1970. Fr. Lardner went on to earn a master's degree in liturgy at the University of Notre Dame in South Bend, IN (1974), and then a doctorate in communication from Temple University in Philadelphia (1980).
His first Sulpician assignment was at St. Joseph's High School Seminary in Mountain View, CA, where he taught social studies and religion and served as Dean of Students from 1967-1973. For one year during that time, he also taught systematic theology at St. Patrick's Seminary College in Mountain View, CA (1967-1968).
Fr. Lardner took his love of learning and his extroverted manner of engaging students in searching for wisdom to the faculty of St. Mary's Seminary where he taught homiletics and liturgy and served as Dean of Students from 1976 – 1979. For the next three years, Fr. Lardner was engaged in fulltime parish ministry as associate pastor of St. John Vianney Parish in Seattle, a parish that was administered by the Sulpicians and located on the campus of St. Thomas Seminary.
From the very beginning of his teaching career, Fr. Lardner showed signs of always looking for ways to make learning attractive, exciting and engaging in the classroom and outside. For him, the love of learning was intimately tied into the search for God. In fact, he saw learning not simply as a way to get along in the world, but especially as our way of journeying to God and participating in the wisdom of God. Fr. Lardner wanted his students to find God in the midst of their learning, for he believed that when we are open to wisdom wherever it is to be found, we are ultimately being led to God.
From 1983 - 1995, Fr. Lardner withdrew from the Sulpicians in order to join the faculty of the University of Notre Dame where he was Director of Research for the Center for Pastoral Liturgy, taught courses in preaching and theology, and conducted a writing seminar for freshman. He also served as the Rector of the large dormitory, Grace Hall. From 1992-1995, Fr. Lardner ran the housing program and taught public speaking and theology at Notre Dame University's international school in London.
In 1995, Fr. Lardner returned to the Society and volunteered to join the faculty of the Emmaus Spirituality Center, the mission seminary of the U.S. Province in Lusaka, Zambia, Central Africa, where he remained until his retirement in 2002. While living in Zambia, he remained thoroughly Irish. He enjoyed his dual Irish-American citizenship and managed to visit Ireland once a year. In Zambia, he joined an Irish expatriates group, the Wild Geese, and brought a troupe of river dancers to Lusaka, Zambia for St. Patrick's Day. Being a great extrovert and internationalist, Fr. Lardner developed friendships in Zambia with personnel in the State Department, the Central Intelligence Agency, and the Marines. He also learned one of the tribal languages of Zambia.
Fr. Lardner returned to Baltimore to retire at the Villa in 2002. During his retirement, he offered pastoral assistance in Baltimore parishes where people loved to hear him preach and where one pastor said of him, "He never wasted words and had absorbing messages." In 2006, he took up residence in an apartment in north Baltimore where he was able to nurture his love for learning by taking the occasional continuing education course in the Johns Hopkins University Odyssey program and at the Maryland Institute College of Art. He also continued his teaching by tutoring international graduate students in English at the University of Maryland.
Life was not always an easy path for Fr. Lardner. After receiving his diagnosis of metastatic melanoma in the spring of 2011, he continued on his journey to God surrounded by the support of family and friends. Fr. Lardner drew upon his experience of God and the wisdom acquired through his life's journey to make sense of what was happening to him right up to the end. He died on June 18, 2012.
On June 23, 2012 at Our Lady of the Angels Chapel, Very Rev. Thomas R. Ulshafer, Provincial, presided and Rev. Thomas R. Hurst was the homilist at Fr. Lardner's Mass of Resurrection. Our Lady of the Angels Chapel is the chapel where Fr. Lardner prayed as a young seminarian. He is buried nearby in the Sulpician Cemetery, Catonsville, MD.
As he instructed his students of preaching to use a story to make a point, so Fr. Lardner has instructed us with the story of his life. He made his point—we can search for God through our love of learning.
Richard M. Gula, S.S.
Director of Personnel