1976, June 29
Date of Birth: 1890, April 18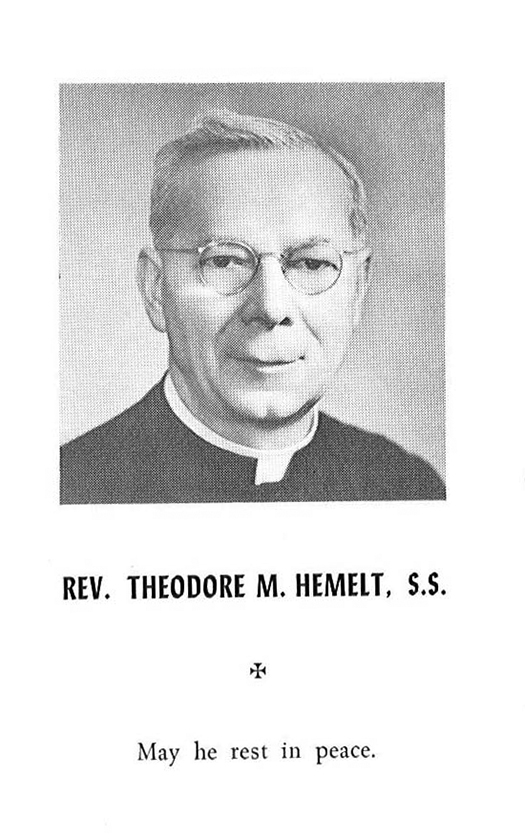 Theodore Hemelt was born in Baltimore, Maryland, on April 18, 1890. From 1896 to 1903 he attended St. Michael's Parochial School in Baltimore. Then he entered Loyola High School. Finishing there, after two years in the business world, he went on to Loyola College, where he obtained his B.A. in 1915. On entering St. Mary's Seminary, he earned his M.A. in 1916. After another year in the business world, he re-entered St. Mary's Seminary for his Theology in 1917. He achieved his S.T.B. in 1920 and was ordained as a priest of the Archdiocese of Baltimore on May 6, 1921.
Father Hemelt entered The Catholic University in Washington, D.C. in 1921. There he acted as Treasurer of the Sulpician Seminary (Theological College) while doing graduate work. He received his S.T.L. in 1922. He remained at the Sulpician Seminary until 1923 when he entered the Solitude in Catonsville, Maryland. During his Solitude year he was Treasurer at St. Charles College in Catonsville. He retained the treasurership of St. Charles College until 1926. In 1926-1927 Father Hemelt taught Philosophy at St. Mary's Seminary.
In 1927 he returned to the Sulpician Seminary in Washington, D.C. to be its Treasurer and to teach Moral Theology and Canon Law. In 1929 he was awarded his S.T.B. at The Catholic University of America. His doctrinal thesis was Final Moral Values in Sociology, a work which became a textbook in some seminaries. In 1934 Father Hemelt came back to St. Mary's Seminary, Paca Street, as Treasurer. He also taught History of Philosophy, Sociology, and Political Science. He moved in 1937 to the Roland Park seminary as its Treasurer. In 1949 Father Hemelt became Treasurer of the American Province of St. Sulpice. For some time, he had assisted his predecessor, and now he moved from the seminary to the Provincial House situated on the seminary grounds. He retired in 1966 and took up residence once again in the Roland Park seminary. When the Sulpician Retirement Home, St. Charles Villa, opened in Catonsville in 1971, Father Hemelt moved there. He died on June 29, 1976.
Adapted from Father Hemelt's "Personal Data" sheet and from The Voice.