Gorey, Father Michael
1928, April 24
Date of Birth: 1897, March 17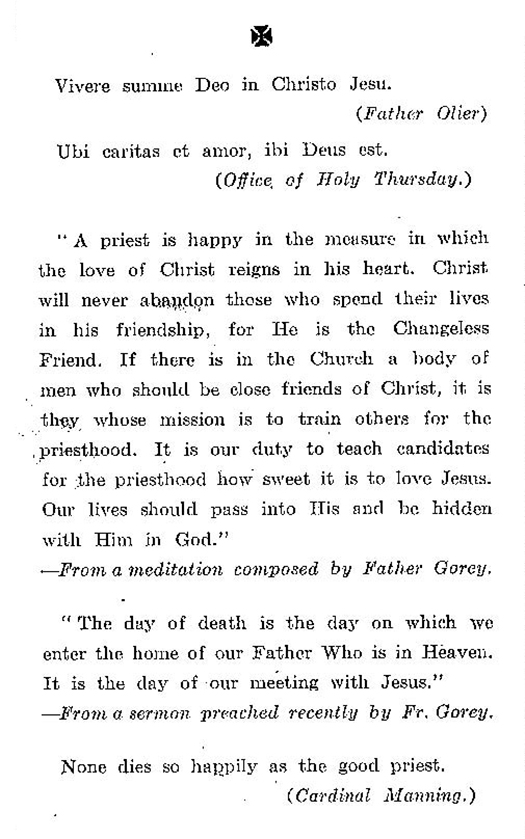 Michael Joseph Gorey was born on March 17, 1897, in Czechoslovakia. In 1912 he came with his family to Raritan, New Jersey. Between 1915 and 1919, he studied for the Redemptorists at their preparatory school in North East, Pennsylvania. In 1919, he entered St. Procopius College in Lisle, Illinois. In February of the following year, he transferred to Notre Dame College in Indiana.
From Notre Dame, Michael Gorey wrote to Father Edward Dyer, Superior of the American Sulpicians, seeking adoption as a Sulpician candidate. Father Dyer directed him to St. Charles College. He spent his sophomore college year there before entering St. Mary's Seminary in September 1921. He was later incardinated into the Archdiocese of Baltimore. He was ordained to the priesthood in June 1927. In September of the same year he began his Solitude in Catonsville, Maryland.
On Easter Sunday of 1928, having vested, he was stricken before he could begin Mass. Taken to Bon Secours Hospital in Baltimore, he died two days later on Tuesday, April 24, 1928. Because he died before finishing Solitude, he was never officially inscribed as a member of St. Sulpice in the "Golden Book" kept by the Superior General in Paris. But he has been regarded in this province as a Sulpician priest.
Condensed from his personal file in the Sulpician Archives, Baltimore.