Fives, Father Daniel Christopher
1990, November 2
Date of Birth: 1905, June 25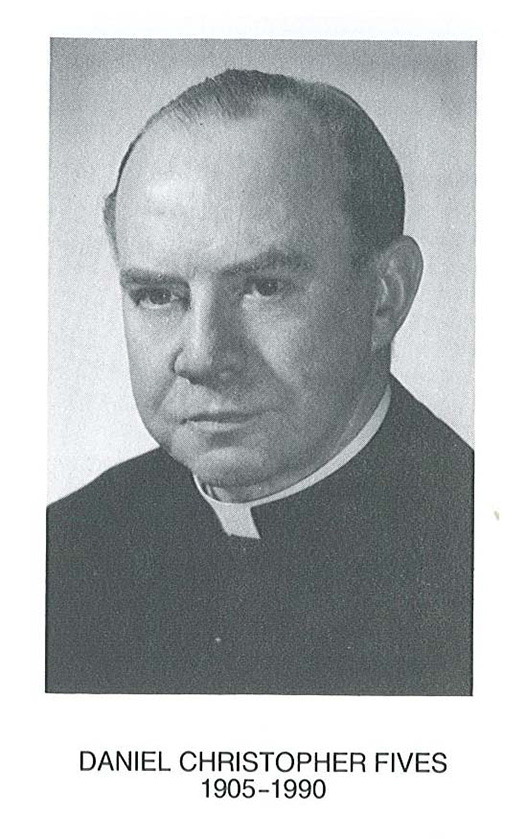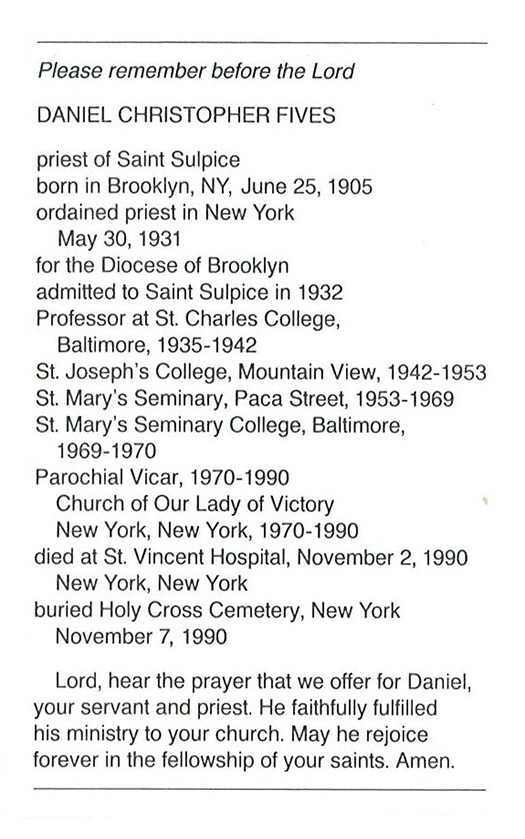 September 28, 1994
The death of Father Daniel Christopher Fives, S.S. occurred on November 2, 1990, the Feast of All Souls. He died at St. Vincent's Hospital in New York City at the age of 85 years. He had been living at Our Lady of Victory Church in lower Manhattan. Father Fives died of pneumonia, following a stroke and heart attack, suffered two weeks earlier. He was buried from Our Lady of Victory Church and his interment was at Holy Cross Cemetery, New York City.
Born in Brooklyn in the parish of St. Veronica on June 25, 1905, he was the son of James Fives and Catherine Farley Fives. He received his early education at St. Veronica's and St. Bernard's Schools, New York City. He then moved on to continue his education at Cathedral College, the preparatory seminary of the New York Archdiocese. In 1925, he entered the philosophy department of St. Mary's Seminary in Baltimore, Maryland. He then entered the theology department to complete his studies for the priesthood. He was ordained at St. Patrick's Cathedral in New York City on May 30, 1931 by Cardinal Hayes.
While at St. Mary's Seminary he expressed a desire to join the Sulpician Fathers and was accepted into the Society after a year of Solitude at St. Charles College in Catonsville. Father Fives immediately began post-graduate studies at Catholic University of America in Washington, D.C. where he received his Masters of Arts degree in 1933. He immediately began his doctoral studies at Catholic University and then upon the completion of his work he received his Ph.D. with a specialization in Patrology in 1937.
Father Fives began his teaching career at St. Charles College in Catonsville in September 1935. He taught Latin, Greek, and German until June 1942. At this point his assignment in September found him teaching Latin, Greek, Civics, Religion, History of Philosophy and French I & II at St. Joseph's College in Mountain View, California, the preparatory seminary of the Archdiocese of San Francisco. He remained there until 1953 when he returned to Baltimore to teach at St. Mary's Seminary, Paca Street. His duties there included serving as Dean of Studies. He variously taught First Philosophy, Epistemology, Ethics, and Second Philosophy, History of Modem Philosophy and Latin. As if this was not enough, during the years 1960-1962 he was Professor of Sacred Eloquence at St. Mary's, Roland Park, while living at Paca Street.
St. Mary's on Paca Street merged with St. Charles College in Catonsville in 1969. In 1970 Father Fives taught there for a year while continuing his residence at Paca Street. His teaching assignment was New Testament Greek.
It is at this point that the teaching career of Father Fives came to a conclusion in the Sulpician work of formation of seminarians. After thirty-five years, he returned to full time parochial ministry in the Archdiocese of New York. This was a field that he was not unfamiliar with from the beginning of his priesthood and on through his life. While he was teaching in the seminary, he spent his summers and holidays in parish work, first at St. Jerome's Parish in the Bronx and then at Our Lady of Victory Church in Lower Manhattan, New York City.
So it was in 1970 he became a parochial Vicar there until his retirement. Even after that he continued to help out and live at Our Lady of Victory until his final illness took him to the hospital where he died.
In his role of parish priest, he touched many lives and made many friends. His friendship was treasured by the priests he worked with there. His pastor, Monsignor Edward J. Mitty said of him: "He was greatly respected by the Wall Street Community because of his exceptional dedication to the Mass, to hearing confessions and to all his pastoral duties. The people of Our Lady of Victory appreciated his homilies which reflected his deep scholarship." His death brought to a close a long life of service to seminary training and to the people of God in the New York Archdiocese.
As a teacher he was very conscientious and demanding of himself and his students. He challenged them to give their very best. Everyone was in admiration of his mind and intellectual accomplishments. The challenge to himself was the variety and number of courses that he was called upon to teach; often they were not in the field of his studies. Whatever he taught was well done. Again, he was respected for his ability to make clear to his students the task before them.
Socially, he was fine to be with. The faculties at the various seminaries found his humor and ability to make people laugh a real pleasure. Father Fives was the master of the witty quip that summed up the personal characteristics of individual students and confreres alike. He will long be remembered for some of his evaluations in council meetings, sharp and to the point usually good natured and valued for their incisiveness. Frequently, his remarks were acerbic but always taken and given in good humor.
Father Fives surely took with him, in parochial ministry, many of the gifts he showed in his teaching career. A learned man, who could attract by his intelligence many of the people of the business world of finance and stock market. He felt comfortable in counseling those who sought him out. His preaching manifested the same sort of learned approach that he exhibited in his teaching life. He was a priest of strong conviction and dedicated to the church that he served so well during his fifty-nine years of active ministry. Even in retirement he did his part in the life of Our Lady of Victory. He will be long remembered there and by his students and fellow faculty members.
His funeral at Our Lady of Victory was well attended. Auxiliary Bishop Austin B. Vaughn, vicar of Orange County, New York, was principal celebrant and homilist at a Mass for Father Fives on November 6th. The following day, Bishop Edwin B. Broderick, former Bishop of Albany, was principal celebrant of the Mass of Christian Burial with Father James Halligan of St. Peter's Church, Manhattan, as homilist.
Father Fives was survived by a niece, Joan McLean of Westhampton Beach, and four nephews, Dr. James McLean of Wyomissing Hills, Pennsylvania; Richard McLean of Grosse Pointe, Michigan; William Fives of Westwood, New Jersey and James Fives of Seattle.
May Father Daniel Fives rest in peace.
William T. O'Keeffe, S.S.