Fenn, Father Lyman Alphonse
1985, July 20
Date of Birth: 1901, July 2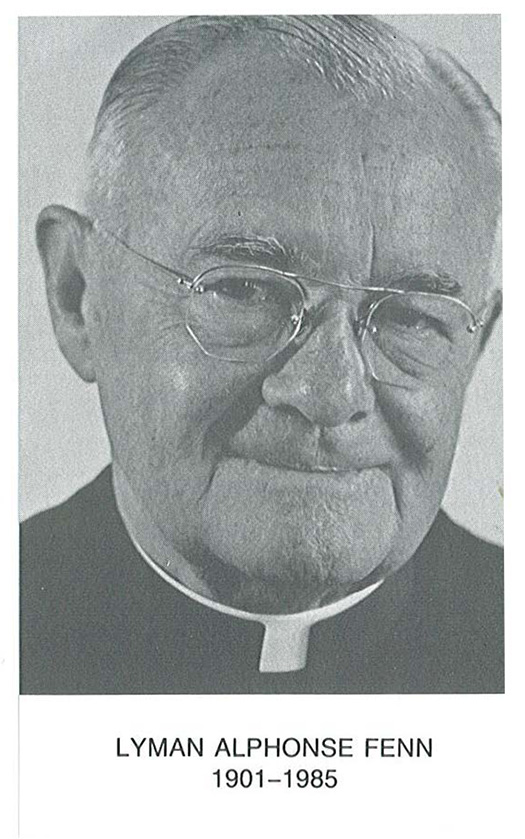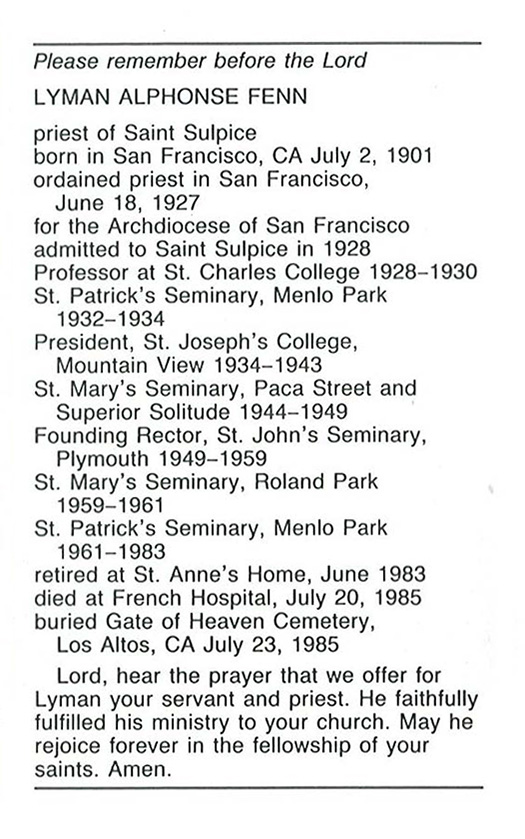 Dear Confrere:
On Saturday evening, July 20, 1985, our Sulpician brother, Lyman A. Fenn, died peacefully in French Hospital, San Francisco, at the age of 84. In the annals of the United States Province, his long life of distinguished priestly ministry will be a truly significant highlight.
Lyman Alphonse Fenn was born on July 2, 1901, in San Francisco to Lyman J. and Jane (nee Briody) Fenn. His elementary and high school education was received at Star of the Sea School from 1907 to 1919. He then entered the college department of St. Patrick's Seminary, Menlo Park, where he received a B.A. degree in 1923 and began theological studies for the priesthood. On June 18, 1927, he was ordained a priest of the Archdiocese of San Francisco for service with the Society of St. Sulpice.
That fall Father Fenn began his year of Sulpician formation in Baltimore at St. Charles College, where he taught a course in Greek and completed requirements for his S.T.B. at St. Mary's Seminary, the degree being awarded in 1928. The following two years were busy ones for him at St. Charles, with English, Latin, and religion added to his teaching duties, plus serving as a spiritual director, a dormitory prefect, and director of athletics. That last position was indicative of his life-long love of sports as an avid participant and fan in activities ranging from fishing and golf to handball, skiing, and swimming.
In the fall of 1930, shortly after the death of his mother, Father Fenn entered the Collegium Angelicum in Rome, and there received his S.T.D. in June 1932. For two months of the summer of 1931, he had vacationed at the Sulpician seminary at Issy-les-Moulineaux in the company of his confrere and fellow Roman student, Edward Wagner, improving his facility in French and familiarity with Paris.
To his great delight, Father Fenn was then assigned to St. Patrick's Seminary to teach philosophy, which he accepted as an opportunity to deepen his background for teaching dogmatic theology, his chosen field and one he never did get a chance to teach.
Only two years later, at the age of 33, he was asked by the Sulpician provincial council to accept the presidency of St. Joseph's College, Mountain View, the minor seminary of San Francisco, which also served many of the Western dioceses. For nine years he gave it vigorous leadership, including a very strong athletic program, while serving also as vocation director for the Archdiocese and recruiting students for the College.
In 1943, recognizing a personal need to move into some other field, the same year in which he received an honorary LL.D. from St. Mary's College, Moraga, CA, he became the first Sulpician to take a sabbatical and spent a year at The Catholic University in Washington studying moral theology and canon law, which he saw as areas that would make him more useful to parish priests. Philosophy, however, would again be his teaching field from 1944 to 1949 at St. Mary's Seminary, Baltimore. Underlying that appointment was the wish of the provincial council that he become the director of the Sulpician year of Formation, the "Solitude," when it resumed in 1945. It had been moved to Paca Street from St. Charles College in 1941. Again, his facility in working with priests was evident, as were his strong leadership qualities and community instincts. In February 1945, he also suffered the loss of his father, who died before Father Fenn could reach his bedside. It was also at this period of his life that he moved more actively into directing priests' retreats throughout the country. Directing over forty such retreats he regarded as having been the greatest privilege of his own priesthood.
During the 1948-1949 school year, Father Fenn was appointed the first rector of St. John's Provincial Seminary, which opened in 1949 in Plymouth under the sponsorship of the bishops of Michigan. When Father John J. Lardner died suddenly in October 1948, Father Fenn had to assume in his place the additional responsibility of working with Father George Ott, S.S., who had already moved to Michigan, in representing the Sulpicians in the final construction stages. For the next ten years Father Fenn laid a strong foundation of formation in the new seminary, even though privately he sometimes expressed his weariness of administration. He also taught moral theology at St. John's, while enjoying the golf course, which surrounded the Seminary, and the other sports amenities of St. John's.
The same year in which he went to St. John's he was also elected a member of the Sulpician provincial council, a position he held for eighteen years, in a time of rapid growth of seminaries, Sulpician expansion, and a correspondingly difficult personnel squeeze. His term on the council coincided with the term of Father Lloyd P. McDonald as provincial superior, for whom he was a close and trusted advisor.
Once again Father Fenn insisted, in 1959, that for his own good and that of the province, he should move out of the administrator's role, despite the objections of many of his colleagues. The council granted his wish and assigned him to Baltimore for two years as a spiritual director and professor of moral theology at St. Mary's Seminary. During this period, he published a volume of Particular Examens for Seminarians and Priests, issued by St. Mary's in 1960.
In 1961, the death of a confrere left a vacancy in moral theology and canon law at St. Patrick's Seminary, which Father Fenn was enthusiastically ready to fill because it would take him back to his beloved native area. But he also had to accept the vice-rector's office, which in the spring of 1964 required him to serve as acting rector for several months following the death from cancer of his life-long friend, Father Edward Wagner, who was rector of St. Patrick's at the time of his death. Father Fenn surrendered the office of vice-rector in 1966 but continued to be in charge of the Sulpician vestry at St. Patrick's, a financial position he had also inherited on returning to Menlo Park, and he continued to administer that Sulpician fund until 1973.
In 1967, he also retired from teaching, acknowledging that he had lost interest in trying to keep up with the rapid changes in theology and seminary formation. Nevertheless, he had shown more adaptability than many during those turbulent years and had participated actively in modifying the rule of life at St. Patrick's, which, he stated, had definitely become out-moded. In retirement, which his good friend, Archbishop Joseph McGucken, insisted that he spend at St. Patrick's, Father Fenn continued for some time to offer spiritual direction to seminarians, to give courses to the religious sisters at St. Patrick's, and to gather and register the ordination documents, which he liked to do because it gave him contact with all the seminarians. For a time, he also continued to serve as a censor of books for the Archbishop and as a judge of the matrimonial court. In the judgment of all who knew him, those retirement years were lived with a special joy and grace and were a delight for his colleagues at the seminary, for his friends and his family.
His strong physique, however, began to weaken under the ravages of Parkinson's disease, the same illness that had attacked his closest friend, Father John F. Linn, S.S., some years earlier. In June 1983, he moved to St. Anne's Home in San Francisco, where the Little Sisters of the Poor provided the devoted care he needed in his illness. A broken hip in 1984, cataracts, and then infections further weakened him, so that he was again admitted to the hospital where he died four days later.
After a Christian wake service at St. Anne's Home on July 22, led by Father Gerald D. Coleman, S.S., a Mass of Christian Burial was offered the following morning in the chapel of St. Patrick's Seminary, with Archbishop John R. Quinn as principal celebrant. The rector of St. Patrick's, Father Howard P. Bleichner, S.S., delivered the homily. Burial was in Gate of Heaven Cemetery, Cupertino. Father Thomas R. Hurst, S.S., provincial consultor, represented the Eastern Sulpicians at the final rites. Father Fenn's two sisters, to whom he was deeply devoted, survive, Miss Gertrude Fenn of San Francisco and Mrs. Loretta (Charles T.) Ledden of Sacramento.
May Father Lyman Fenn live forever in the joy of the Resurrection.
Sincerely yours in Christ,
William J. Lee, S.S.
Provincial Secretary