Du Bois, Bishop Jean
1842, December 20
Date of Birth:  1764, August 24
Jean Du Bois was born in Paris on August 24, 1764. After doing brilliantly at the College Louis le Grand (where Robespierre was one of his fellow students), he entered the Seminary of St. Magloire, where he was a fellow student of the future Cardinal Cheverus. He was ordained to the priesthood on September 22, 1787. Hounded from France in 1791 because of his refusal of the oath of the Civil Constitution of the Clergy, he went to Le Havre and thence to the United States. When he reached Norfolk in July of 1791, he received faculties from Bishop Carroll to function there and in Richmond. With the help of a letter of recommendation from General Lafayette, he was welcomed by several eminent persons, among them James Monroe, future President of the United States, and the noted orator, Patrick Henry, from whom he received some lessons in English. Having learned enough English to manage, Father Du Bois was assigned by Bishop Carroll to Frederick in Maryland. From 1794 to 1808 he was constantly on the go from one mission station to another, preaching, administering the sacraments, and instructing the young. It is due to his efforts that Frederick owed its first church. It was from there that once each month he visited the church in Emmitsburg and a chapel at the foot of the mountain
At his own request and with Father Emery's consent he was admitted to the Society of St. Sulpice on November 6, 1808. Shortly before that he had opened a little school at Emmitsburg. On receiving Father Du Bois into the Society, the Sulpicians took over that institution; they decided to transfer there their minor seminary from Pigeon Hill in Pennsylvania and to join it to that of Father Du Bois, who would remain in charge. Under his management, this minor seminary became quite well attended. Its site on the slope of a wooded hill, in clean air and far from the noise of cities, drew there many young who were not intending to go on to the priesthood and who were nevertheless accepted because the income of their board helped to keep the place going. It soon ceased to be a minor seminary and became an ordinary college. That, and the huge debts contracted by Father Du Bois, influenced the Baltimore Sulpicians to give up this house. It continued, however, to flourish under the management of Fathers Du Bois and Bruté and was one of the best attended colleges in the United States.
From the time of the separation in 1824, Father Du Bois ceased to be considered a member of the Society. At the same time as he was involved in operating his college, he was directing the newly established Sisters of Charity, founded by Mrs. Seton, to whom he was of great help. In 1826 he was named Bishop of New York; he was consecrated on October 29th, the Sunday before All Saints Day of that year by Archbishop Maréchal in the Baltimore Cathedral. He took possession of his see on All Saints Day.
The Diocese of New York included the states of New York and New Jersey. Its population was 150,000 Catholics with eight churches served by six priests. Unhappily, the laity was meddling in the administration of the churches. Bishop Du Bois withstood their abuse; and the courage, energy, and zeal which he displayed revived the nickname, "Little Napoleon," which had been his at his college. But the acrimony of the struggle in which he was engaged wore him down. On January 9, 1838, he consecrated his coadjutor and successor, Bishop Hughes, one of his former students at Emmitsburg. Four years later, exhausted by his labors, he died on December 20, 1842.
Translated and adapted from Bibliothèque Sulpicienne, Volume III, pp. 257-259.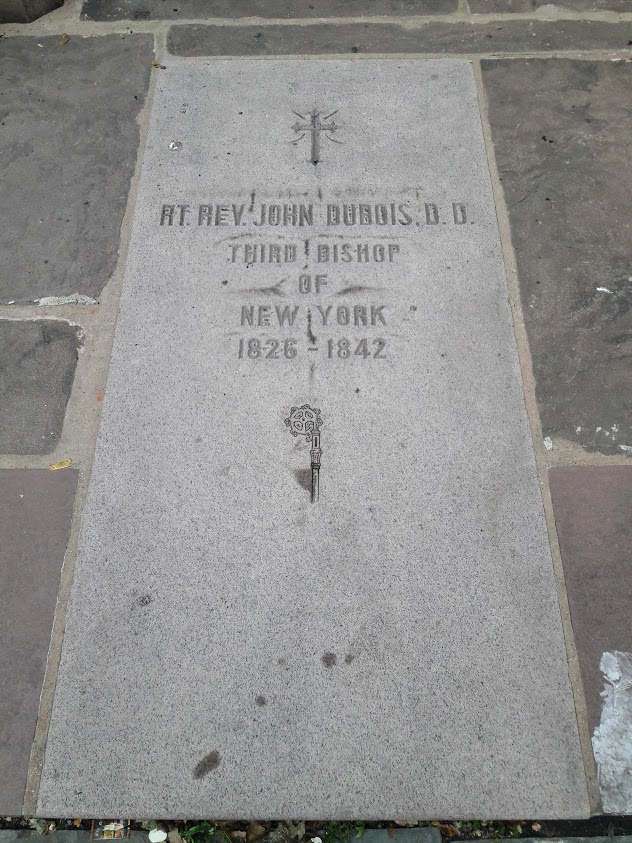 The grave of Bishop John Dubois near the Mott Street entrance to the Basilica of Saint Patrick's Old Cathedral in Manhattan, New York City. Photo taken 6 October 2019 by Wikimedia contributor Farragutful.