1932, March 6
Date of Birth: 1891, August 23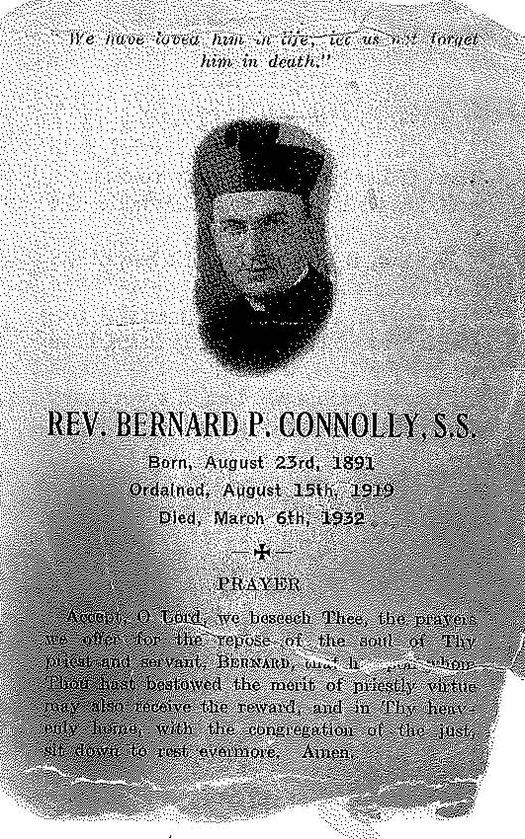 Issy
May 2, 1932
Fathers and Dear Confreres:
Last March 6th, the Sulpician Province of the United States was sadly smitten by the death of one of its own. It was a still young confrere, Father Connolly, whom – almost without warning – God had called to Himself. In a special way his death saddened the minor seminary of St. Charles where he fulfilled for ten years a much-appreciated ministry and where he was very much loved. His students in the United States and all our confreres will find comfort in recalling the essential traits of his makeup, quite appealing, and the highlights of his life.
Bernard Patrick Connolly was born on August 23, 1891, in Fall River, Massachusetts. His was a very religious family. One of his brothers, younger than he, would follow him on the road to priesthood. After receiving his doctorate in Philosophy at the University of Louvain, he would become – and still is – Professor of Ascetical Theology and of History of Philosophy at the Seminary of St. Paul.
While still a boy, Bernard Connolly entered the grade school of his parish in Fall River. From there he went to Providence to continue his studies at the Christian Brothers' school. He stayed through first year high. He always had a deep gratitude for his Providence teachers and always showed them respect and affection. In 1912, he entered the minor seminary of St. Charles in Baltimore. From the beginning he was among the first in his class, and proved to be one of the best students in every sense of the word. "He had the innocence and the openness of a child." Correct in his speech, pure in his heart, sure in his vocation, he seemed perfectly happy, for he had found what he came to look for. He applied himself to his work, and even more to his prayers. He was highly thought of and liked by his teachers and his fellow-students. One of his former teachers remembers that his innocence, his piety, and his fervor called to mind the words of the psalm: Quis ascendet in montem Domini …?  Innocens manifus et mundo corde. [Who shall go up to the Lord's mountain?  The innocent of hands and the clean of heart.] 
"What he was at St. Charles, he remained at St. Mary's in Baltiomre and at the Sulpician Seminary in Washington."
On August 15, 1919, Father Bernard Connolly received priesthood in the Cathedral at Fall River to the satisfaction and joy of all who were present.
As a priest, how was he going to spend his life?  No doubt Father Connolly had dreamed of parochial ministry. During his vacations, the pastoral care, the zeal, the work, the apostolic success of his pastor – today Bishop and Apostolic Administrator of Fall River – had impressed him, edified him, and was such as to attract him. In a parish, Father Connolly would have wonderfully displayed all the qualities of nature and grace which were his. And it is likely that our future confrere had more than once dreamed that his life as a priest would be spent in his own diocese, not far from his widowed mother for whom he had a child's love.
But he heard a more clamorous call, and there passed before his eyes a vision which captured his heart. He would use up his life outside his diocese, far from his mother. That life would be hidden in God with Christ. He would dedicate his life to forming other priests. To that end he would joyfully consent to leaving his family, depriving himself – in a sense – of the freedom and the satisfactions inherent in parochial ministry. To be a Sulpician, to remain all his life as a seminarian, can seem pretty monotonous, boring and drab. For Father Connolly, Sulpician life was full of interest and attractiveness. He loved aspirants to the priesthood, and he wanted to dedicate himself to them entirely.
And so, as the 1919 school year started, he returned to St. Charles where he worked for two years before beginning his Solitude. He made that during the 1921-1922 school year.
At the beginning of the next school year, Father Connolly again took up all his duties at the minor seminary. After being appointed to teach Latin, English, and History, he taught mainly Greek and Mathematics. In 1924, he was named Secretary of the Council and he was to remain so until he died.
"Whether teaching Greek, English, or Mathematics; whether hearing confessions or directing penitents; whether joining students in recreation or accompanying them on long walks, Father Connolly knew precisely that he was dealing with future priests. He was quite adept in making them happy and in helping them in every way to prepare for priesthood." Involving himself in all the details of our vocation was not a burden for him but a fine occasion of doing good for our students and a signal privilege of being able to contribute to their formation.
The fact is that Father Connolly was Sulpician through and through. He lived in the highest degree of our great devotions. The worship of the Blessed Sacrament loomed large in his life. During Solitude he had often meditated on Father Olier's words in the Pietas Seminarii: "Christum ad hoc vivere in Eucharistiae sacramento, ut memoriam faciat mirablium suorum, ut  haec omnia det in escam, vitamque propriam et virtutem largiatur"  [Christ lives in the Eucharist for this: to constitute a memorial of his works, to give all those things as food, and to share His own life and virtue.]  So he often visited Our Lord in the Tabernacle in the course of the day after greeting Him in the morning. He never failed to be at morning prayers. And when, in May, Benediction of the Blessed Sacrament was not given at St. Charles, he went to attend It in the chapel of the Dominican Sisters. On Holy Thursdays he loved to take a group of students with him to visit several churches to adore Our Lord on the altar of Reposition. And since he knew the date of the Forty Hours Devotion in the different parishes of the area, he made use of that knowledge to lead his students to those churches on walk-days.
His devotion to Mary was as tender as his worship of the Blessed Sacrament was intense. Ordained priest, as someone put it, on Assumption Day, Father Connolly had thereafter shown a deep joy and had conceived a great trust in regard to the Blessed Virgin. His ordination card gave evidence of that: on one side was a picture of Mary; and on the other, with dates and names, these simple words: "Hail, Mary, my Mother and my Hope." He always remained faithful to this very Sulpician devotion. Following the example of our Fathers, he loved to celebrate Mass in honor of the Blessed Virgin. Did he have some important decisions to make?  Was there for the community a particular favor to obtain?  He asked his students to begin a novena leading up to one of Mary's feasts so that, on that day, the decisions in question could be made or the fruit of the prayers garnered. It was to her that he instinctively turned in his sorrows, when restlessness troubled his soul, or when he was held up by some unexpected obstacle in the exercise of his ministry.
After that, why should it be surprising that Father Connolly had a special devotion to Father Olier, Mary's apostle, and a very touching attachment to our little Society which has always paid her fervent worship. Without hesitation he prayed to our founder and called upon him in his difficulties. Recruitment to St. Sulpice was dear to him. He was very much interested in it, made it the intention of his sacrifices and prayers, and extended himself for it even more in his life than in his words in order to win interest and dedication to our Sulpician family. Some of our fine American confreres and aspirants began thinking of St. Sulpice through observing Father Connolly and talking to him.
This Sulpician who showed so much attachment to his spiritual family, remained deeply bound to his natural family, and especially to his mother whom he loved tenderly. Inasmuch as he was giving himself completely to his Sulpician work during the school year, so much was he faithful in returning to be near his mother when he was free to do so. During the Christmas vacation and the long summer break, Father Connolly never failed to return to Fall River. He held long conversations with his mother. He did everything he could for her, prayed with her, and – touching detail – sang her the songs she had taught him in his childhood.
This last item concludes the limning of the very delicate soul of Father Connolly and lets us understand the place he held at St. Charles, especially through his qualities, religious and moral, as a priest very faithful to his vocation and very devoted to his students.
So it was to everyone's consternation that they learned on Sunday, March 6th, that Father Connolly had been stricken with a raging meningitis. The illness was identified only that same day at about six o'clock in the morning. And that evening, a little before midnight, Father Connolly gave his soul to God.
A first Solemn Requiem Mass was celebrated at St. Charles for the deceased on Wednesday, March 9th, by his brother, Father James Connolly, Professor at St. Paul's Seminary. Present were many friends of St. Sulpice and of the deceased, among them: Monsignor Stickney, pastor of Sacred Heart; Monsignor Smith, editor in chief of the Baltimore Catholic Review; Monsignor Mackessy, Chancellor of the Archdiocese; Monsignor Quinn, Rector of the Cathedral. At the Mass, our confrere, Father Viéban, went over the life of the dear departed.
Father Bernard Patrick Connolly's body was afterwards brought to Fall River where the burial was to take place. There, two Masses were sung for the repose of his soul. His Excellency, Bishop Cassidy, Titular of Ibora and Apostolic Administrator of the diocese, readily consented to pontificate at the second one and to give the absolution. Following custom, our confrere, Father Eugene Harrigan, Superior of the minor seminary of St. Charles, preached the eulogy.
Father Bernard Connolly's body was buried in St. Patrick's Cemetery in Fall River in the family plot. A large number of priests, religious, former students of the deceased, and friends attended.
Our confrere's memory will live long with them and with us. His students especially, whom his death so deeply stunned, will keep it faithfully. And it will be for them very much a blessing, this memory of a priest whom they loved so much, of a teacher who had their complete respect, and of a friend who was entirely devoted to them.
In recommending to your charitable prayers the soul of Father Connolly, I beg you, Fathers and dear confreres, to accept the expression of my respectful and fraternal affection in Our Lord.
P. Boisard
Vice-Superior-General of St. Sulpice