1908, October 10
Date of Birth:  1859, March 14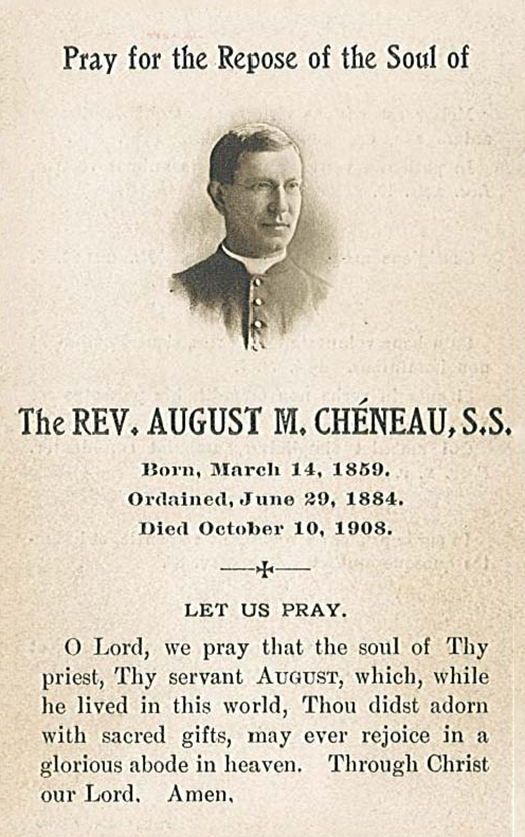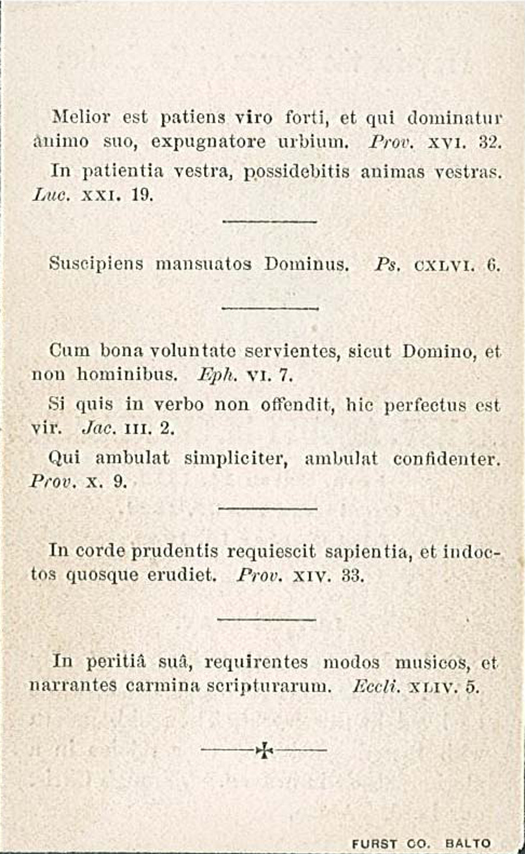 Paris
November 30, 1908
Fathers and Very Dear in Our Lord:
Father Chéneau's name recalls to those who knew him a sweet and good nature, a calm and judicious spirit, an amiable and very obliging character. On this base, which grace had embellished, he had also made grow a great piety and the other solid virtues which constitute the good Sulpician. Add to that a quite long business experience, acquired simultaneously in the offices of house-treasurer and community bursar, and you can judge what a loss for the Baltimore seminary is the absence, at the age of forty-nine, of one who was at the time cherished for so many qualities and so many services.
Father August Marie Joseph Chéneau was born on March 14, 1859, at Boussày, a little town in the Diocese of Nantes, where his very Christian family held an honorable place. For his first studies, he was sent to the choristers' school of Nantes, from which he went on for (the study of) the humanities to the same city's minor seminary which also took in the young students of Chauvé, Chateaubriand, and Couëts. In a scholarly population so varied, August Chéneau distinguished himself as an excellent student, serious and conscientious rather than brilliant, succeeding in all the branches of his studies, but in none more so than in Algebra and Geometry. Moreover, no one was more pious, and his fellow graduates on one of their last free days came up with the notion of having a voice vote on the vocations of each one. All the votes but one indicated that Auguste Cheneau would be a priest. The single negative vote was generally scorned. But it was that of the one friend who knew the real intention of the "nominee."
Providence was waiting for August at the seminary of Philosophy where, according to the arrangement set up by Father de Courson, were enrolled young men – whether or not aspirants to the priesthood – who would agree to finish their studies under a seminary regime.
The impressive seriousness of this new life soon gripped the generous soul of Father Chéneau; he gave himself to it like the most fervent novice, and he never let go. When the Month of Mary came, when – according to the custom of the house – everyone was expected to enter into the study of his vocation, Father Chéneau, in the course of the month, said one day to his friends:  "Say a lot of prayers for me. I came here to get a bachelor's degree, dreaming only of becoming a doctor. For some time now, I am aware of other attractions, and I am asking myself if I would not be better off by becoming a doctor of souls."
He did not rush, nor did he neglect any means of learning the will of God and of getting the courage to follow it. His friend knew that the idea of the priesthood was growing in him, seen as "the best use to make of his life to contribute as much as possible in getting from earth to heaven."  Finally, Father Chéneau, beaming with peace and joy, came up to his trusted friend to tell him:  "I have made my decision!  My director has told me that the good God wants me to be a priest."
Without having to change his way of living, he went on from that day with a new vigor along the path which led to priesthood. The year 1879/80, his first in the seminary, was capped by his baccalaureate examination; during the second, with a certain elevation of spirit, he followed with docile faith the directives recently laid down by the Holy Father in regard to Philosophy in Catholic schools. From 1881 to 1885, at the theological seminary the love of the sacred science grew in him, principally under the influence of one of his professors; and it became, it is said, the seed of his second vocation, his vocation to St. Sulpice, which would have been endorsed by many "ayes" if, like the first, it had been put to a voice vote.
It was in the major seminary also that a love developed in him for Gregorian Chant, the spread of which much later was to hold an important place in monasteries. It was especially encouraged on the occasion of a visit from Dom Pothier, whom Father Lecoq had invited to Nantes. As with Scholastic Philosophy, the Gregorian melodies were then the object of heated discussions; and Father Chéneau, in his capacity as choir director, knew how to keep within the bounds that authority was laying down for him.
At the time of his death, a Baltimore Catholic paper was able to say:  "It was the teaching of Church music that was his chief work. Few teachers better knew how to, and did, appreciate the merits of Gregorian Chant. As director of the seminary choir, he took a prominent part in our big Church solemnities, and the excellence of their music was due to him. In this regard, he will be very hard to replace."
When Father Chéneau finished his Theology at Nantes, he was ordained priest on June 29, 1884. At the next school-opening he came to St. Sulpice, and for two years he followed courses given by the Catholic faculty. Only then did he enter the Solitude. To these different settings, his innate happiness adapted itself effortlessly; and his exemplary conduct, his amiable piety, were especially a source of edification to his confreres. But only at the end of his novitiate was seen what strong virtue was hidden beneath his gentle exterior.
Without Father Chéneau's ever having imagined a third vocation, Father Icard declared his intention of sending him to America. It was not at all usual to send there those who had not spontaneously offered to go; and perhaps the venerable Superior was unaware of the situation of Father Chéneau's family – he was, it is true, fatherless, but still very close and very attached to his fine mother. After a moment's surprise the mother and the son generously assented to the Superior's wish as an expression of God's will. 
So, in September 1887, Father Chéneau arrived in Baltimore and was appointed to St. Charles College. After spending two years there learning English while teaching Latin and French, he was called to the major seminary, where, from 1889 to 1894, he again made the Moral course. In 1894, he switched from that assignment to Canon Law and Liturgy, to which he added a course in Hebrew, the teaching of Plain Chant, and the functions of assistant bursar. Later he succeeded Father Dyer as bursar, then he succeeded Father Rothereau as treasurer; but he always remained in charge of Chant, in which, we have been told, he seemed indispensable.
Father Chéneau was always equal to these varied functions, and that is his finest eulogy:  always acting under the influence of the supernatural outlooks of faith and zeal, always busy with the details of his duties, always generous and accommodating to those who sought out his service or his good offices. That was the impression so well brought out by Father Graham, teacher at St. Mary's, in a sermon preached at his Funeral Mass.
Little trials are not unheard of for the treasurer of a large community. Father Chéneau had his, which – in one case at least – made him doubtful that he could continue to do a job so thorny. He went thereupon to his Superior to offer his resignation. The Superior told him that such action was not in the spirit of the Society. That was enough for Father Chéneau who backed off, protesting that he wanted one thing only: to do the right thing by being obedient.
If he was devoted to his absorbing duties, he retained a lively attachment to his family and came back to them each time he was allowed to spend vacations at Boussày. Then he seldom left his family except to visit the families of some of his confreres bound for America. They were not only touched by his courtesy; they often remarked on what an example it was for them to see Father Chéneau always go back to the (to them) hidden station where he worked and to which he was dedicated. They were in a position to know, better than others, what a high place, satisfying and sweet to his heart, he could have arranged for himself if he had wanted to stay in his diocese and near to his own.
There was no forewarning that the busy and useful career was nearing its end, when on Friday, September 25th, while he was saying Holy Mass, Father Chéneau felt himself so uncomfortable as hardly to be able to finish. The previous evening, he had been well and had eaten heartily. He thought he was suffering from a violent migraine headache such as he had sometimes experienced; but some hours later he was having chills and a very high fever which soon disquieted the doctor and made him suspect appendicitis. The next day the sick man was carried to the hospital so that there he could be looked after more closely. The absence of pain in the area of the appendix served to suppress the first suspicion. The suspicion of typhoid fever was put aside after blood tests. During a week some quiet periods alternated with new episodes of fever and with chills which became more frequent. Various signs seemed to indicate a liver abscess, and an operation was deemed necessary to provide him with an outside drain. On the evening of October 9th, the day before the agreed-on date (for the operation), Father Chéneau in full consciousness and with great calm received the last sacraments from the hands of Father Urique. The operation on the liver did not uncover the root of the illness and brought the doctors back to the idea of appendicitis in spite of contrary symptoms. The danger was imminent; a second operation was done on the spot. It showed a suppurating condition and also a slight perforation of the appendix along with a dislocation of that organ, which explained the absence of pain when the area was touched.
The evening of the double operation and nearly all the next night were so good that hope was reviving when, on October 10th, between half past five and six o'clock in the morning, the end came quite suddenly. An intern was present, and a priest who had just said Mass in the hospital was able to give the dying man a last absolution.
In the afternoon of the same Saturday, the mortal remains were brought to the seminary and laid out in a mortuary chapel until the time of the funeral. That took place on Tuesday morning in the seminary chapel and in the little nearby cemetery. During all the wake-period, day and night, priests and seminarians kept vigil near the body, praying for the deceased.
His Eminence, Cardinal Gibbons, was one of those who came. Moreover, he consented to preside at the funeral and to give the absolution. The Bishop of Wilmington also attended; he said the last prayers.
We may, in our turn, pray for our dear confrere with great trust that God has received him. May he help us to secure for the needs of our works in America more than one vocation as generous and as staunch as his own!
I renew to you, Fathers and dear confreres, the expression of my sentiments in Our Lord.
H. Garriguet
Superior of St. Sulpice