1909, January 30
Date of Birth: 1839, December 7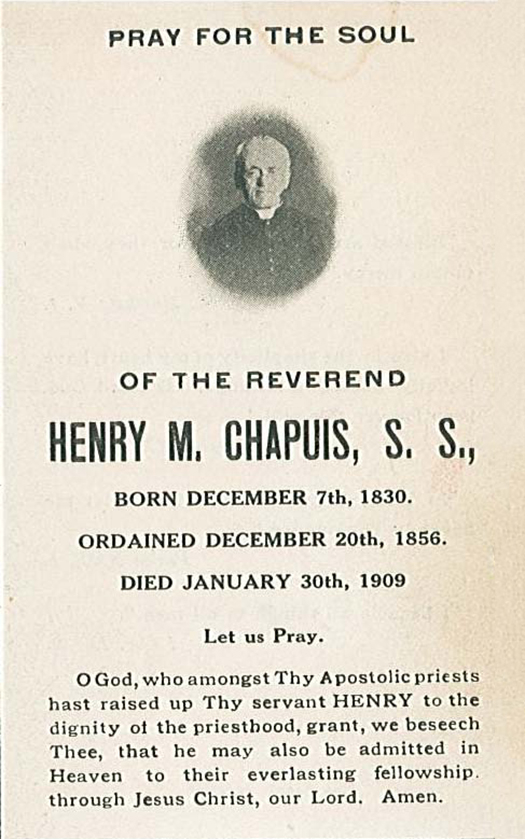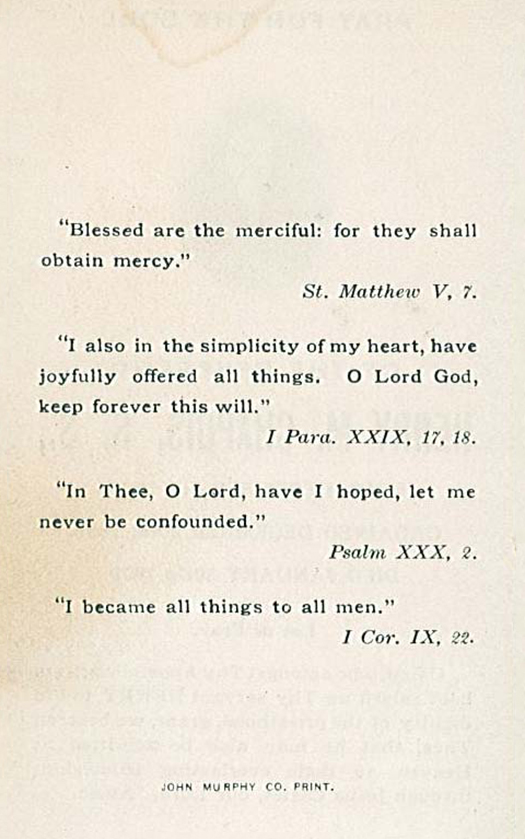 Paris
March 15, 1909
Fathers and Very Dear in Our Lord:
During Father Judge's brief illness, Father Chapuis surrounded him with care and heard his last confession. As early as the day of Father Judge's death, he had sent to San Francisco a fairly long letter about it; he also offered himself to the Superior of St. Charles to take, if need be, a Greek class left open by Father Judge's death. The next day, January 29th, he had helped out with the scheduled oral examinations; then in the evening he was stricken with an attack of angina which for twenty-four hours caused him terrible pain. On Saturday, the 30th, at half past eight, he gave his soul to God.
Father Henri Oscar Marie Chapuis was born on December 7, 1839, at Annonay in the Diocese of Viviers. His father was a notary and associated with the most prominent people of the town; the Christian spirit reigned in his home. Young Henri Oscar began his studies there, then was sent, in the beginning of 1844, to the Basilian Fathers who ran a well-known college in the same town. Ending his Philosophy course in 1850, he spent the following year with his family, receiving his Bachelor of Arts degree in November 1850, and his Bachelor of Science degree in April 1851. He always kept a taste for scientific studies, and his last teaching assignment, at nearly eighty years of age, was that of Astronomy.
But the attraction of a vocation higher than what the world offered made him think about his soul. In October 1851, he entered the major seminary of Viviers. His fine education, his character full of openness and trust, caused him to find great charm in the family life of the seminary, charm in the relationships it offered him, not only with his fellow-seminarians, but also with his directors. When in 1855 he left for Paris, it was with the intention of giving himself to the Society of St. Sulpice. In fact, he entered the Solitude in October 1856, and was ordained priest there on the following December 20th.
The sacrifices he accepted for himself and for his family were going to become even more generous; for in coming to know of our works in America, he felt burning in him the desire of dedicating himself to them. At that time, when voyages were still hard, leaving for Baltimore was, more so than today, bidding an almost final goodbye to one's own and one's country. Father Chapuis had lost his mother; his father was old; his brother and sister were very dear to him, and he never stopped proving that to them. As heart-rending as was to be the separation, he did not hesitate to respond to the heavenly summons endorsed by his superiors, went to spend some days at Annonay, and left from there without saying goodbye. His mind was made up, and the sacrifice accepted by all in a Christian manner.
For the voyage to Baltimore, Father Chapuis joined Father Dissez who was also going to Baltimore for the first time and who was more experienced in the path of holiness than in the sea-lanes of the globe. It turned out that the funds of the two travelling companions could not take them beyond Philadelphia; to finish the last leg of their journey they were forced to have recourse to the Bishop and to ask him for a loan; without hesitation, Bishop Wood, who as Coadjutor was administering the diocese, accommodated them. He was a bit amused at their misadventure and hoped that it would get them the advantage of a saint's blessing; the saint was the ordinary, Bishop Neumann, a Polish [sic] Redemptorist, then living in retirement. His coming beatification [as of the date of this letter] is now certain. Father Chapuis, sent last year to the celebration of Philadelphia's centenary, was happy to come upon there the grave of the venerable servant of God, near which he said Mass.
The minor seminary of St. Charles, open only a few years, was the first appointment of Father Chapuis' and that of his whole life except for an eight year stay in Washington from 1897 to 1905. Both by nature and grace he seemed made for that house. As outstanding as were his intellectual and practical abilities, as serious as was the cast of his mind, there was strongly marked in him – at Viviers, at Paris, at the Solitude – a certain innocent openness which was predetermining him to settle himself effortlessly on the level of young students; by the goodness of his heart and the ardor of his zeal getting others, it so happened, through him, to make acceptable to the young the advice, the reprimands, even the need of correction, as paternal lessons. No one left to the St. Charles alumni a more affectionate memory and no one inspired them with more filial trust.
A necessary condition for the ministry he had to fill was the study of English. A very serious old man undertook to teach it to him, but his method little fitted in with Father Chapuis' lively and light-hearted nature. The volubility of his speech did not take readily to pronunciation exercises. His teacher came around to telling him that he would have done better to stay in France and never learn English. Father Chapuis was not so quickly discouraged and decided that henceforth all the boys would be his teachers. By that less trodden path, he came rapidly to his goal. It is true that he always spoke English with an accent all his own, but one which made him all the more acceptable to those around him.
Father Chapuis had been only two years in teaching and was much interested when Father Faillon, in ending his visitation at St. Charles, asked him to take over the treasurership of the house because the venerable Father Randanne, weak from age, was no longer in a condition to continue. It was a new sacrifice but one which could not daunt one who had just given up his country and his family. Father Chapuis gave himself generously to his new job, and he worked as treasurer, an initial period, for ten years from 1859 to 1869; then he alternated:  teacher up to 1880, treasurer from 1880 to 1892, teacher up to 1897. It was then that he was asked to accept the treasurership of the Washington seminary [i.e., the Divinity College of the Catholic University] where special and delicate services were called for. In 1905 he came back to St. Charles to finish out his days in a very active retirement; for he resumed in turn the teaching of Greek, then of French, of Botany, and finally, of Astronomy.
The treasurership of St. Charles is all the more difficult because the house is isolated in the countryside, two leagues [c. five miles] from the town of Ellicott City, and so far from Baltimore that it takes a day each way for the treasurer to travel there. The treasurer's job includes, moreover, the operation of a large farm which Father Chapuis did quite a lot to enlarge and to develop its crops. Finally, the house itself and its outbuildings, at the beginning of its functioning, were far from complete:  its heating, its lighting, and its other facilities were in an undeveloped state. The scientific knowledge of the new treasurer, abetting his desire of improvement, helped him to make things better physically. In fact, each of the times he was treasurer was noted for important progress; the finances of the college also prospered in his hands, although as a result of his great efforts, a let-up period was sometimes necessary.
But it was not only the firming up of the college and its finances that he was largely responsible for; his moral influence in the neighborhood, as well as on the college and on the priests who came out of it, has always been important. His relationships with laymen of every kind, from the Carroll family down to the lowliest servants, was marked by good nature and sincere good will which brought him acceptance from everyone. He was, in the best sense of the word, a popular man; and he caused that popularity to reflect on the college.
These moral qualities paid off in the assignment which brought him to the University at Washington. His affability and his expertise in the work there were, according to the statement of a thoughtful witness: "like oil applied to the gears of a complicated machine." He was regarded as the "necessary man." However, the time came when age and the erosion of his strength demanded more rest. He did not request it, but when he had occasion to take it up with his superiors, he let it be known with a sincerity, a simplicity, a spirit of faith and of abandonment to obedience which made it perfectly clear to them and which put them at ease.
Having returned to St. Charles in 1905, the little teaching he did could not satisfy his appetite for activity. Two projects struck him as desirable, and – backed by authority – he took them in hand without delay. A first undertaking, involving the hygiene and recreations of the students, was the opening of a large swimming pool near the college building. The other, involving piety, was the erection of a beautiful Lourdes grotto. Father Chapuis did not live long enough to bring these two projects to completion, but they will not go unfinished. The necessary funds to cover expenses flowed into his hands, coming especially from former St. Charles students, priests for the most part and some laymen. These funds were especially abundant on the occasion of his golden jubilee, an occasion which brought him the most touching signs of affection. A very positive measure of that affection was the foundation of a burse at the college, dedicated, so to speak, to his memory.
Our fine confrere was not under any illusion about the state of his health and about the constant danger held suspended over his head on account of the angina which he had been afflicted by for five years. But he found in his faith the mainstay of his serenity as well as of his watchfulness. On last January 4th, writing to a friend, he said: "I must tell you a little about my health. I find myself forced to stay indoors whenever the weather is cold. I frequently suffer chest pains which absolutely keep me from moving; these pains, which I have been experiencing for three years, have become very frequent this winter. I expect to be gone one fine morning, like Father Fonteneau. I am trying to hold myself ready."
Two weeks later, in the course of a quite severe and prolonged attack of his illness, he thought his last hour had come, asked for and received the last sacraments, but after a two-day rest, came back to his normal state and resumed his mode of living. "I bought my ticket," he said, "but I missed the train."
As I said at the beginning of this letter, it was the day after Father Judge's death that the worst attack occurred. For a whole day, Father Chapuis underwent terrible suffering. To sustain his courage and patience, he had a picture of Jesus Cruicified placed before him. It was thus on the evening of January 29th that he gave his beautiful soul to his Savior. Quite different in temperament and character from the confrere who had just preceded him, he truly resembled him in the simplicity of his faith and in his openness of soul which, up to their last day, they both kept.
Their funerals resembled each other also in their atmosphere of intimacy. That of Father Chapuis was set for February 2nd, the day when the Blessing of Candles kept to their parishes most of the priests who would have shown their affection and veneration for the dear deceased. Bishop O'Connell, who had been present at Father Judge's funeral, was good enough to return for Father Chapuis', which was sung by another bishop, Bishop Monaghan of Wilmington. His Eminence, Cardinal Gibbons, consented to be there and to give the absolution.
Let us remember, Fathers and dear confreres, the example of our holy deceased confreres and the gaps they leave to be filled. Let us beg God to give them His glory and through them to send successors, and please believe me always,
Yours very heartily devoted in Our Lord.
H. Garriguet
Superior of St. Sulpice