Canfield, Father John Joseph
1993, March 16
Date of Birth: 1915, June 2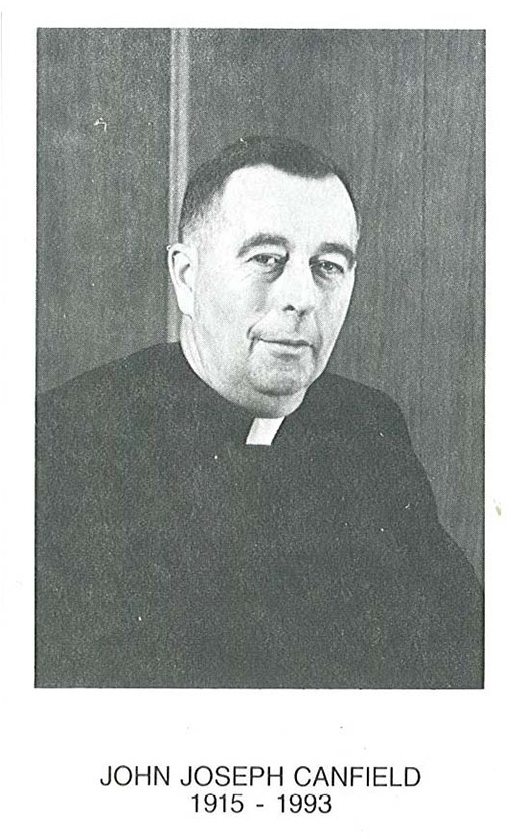 February 15, 1994
John Joseph Canfield will long be remembered as a Sulpician priest who gave St. Mary's Seminary and University outstanding loyalty and service. His special contribution was to the alumni, which, in turn, benefitted the institution enormously.
Born on June 2, 1915, in Waterbury, Connecticut, to James Francis and Mary Ellen (nee Claffey) Canfield, John grew up with brothers: Edward and James, and sisters: Marie and Margaret, in a strongly Catholic environment. An excellent student, he entered Holy Cross College in 1933, spent a few months in a Jesuit novitiate, followed by a year at Boston College, and two years at St. Thomas Seminary, Bloomfield, Connecticut. In 1940, he came to St. Mary's Seminary, Baltimore, where he earned the B.A. and S.T.L. degrees.
Father Canfield was ordained a priest for the diocese of Hartford on December 22, 1945, for service with the Society of St. Sulpice, with the Archbishop's permission given as early as 1944. He taught courses at St. Charles College, Baltimore, for a semester and then at St. Mary's Seminary on Paca Street while completing the year of Sulpician formation. He was admitted to the Society in 1948 and earned an M.A. in Latin and Greek at the Catholic University of America in 1949.
His teaching career began in earnest that fall at St. Joseph's College, Mountain View, California, where he first taught the classical languages and then philosophy, while also taking on the responsibility of prefect of discipline from 1953 to 1958. Declining an offer to study for a doctorate in philosophy in Rome, he chose instead to return to St. Mary's Seminary for an S.T.D., awarded him in 1961 for a dissertation on the Mystical Body of Christ. There he taught courses in dogmatic theology and the Eucharist.
As a seminarian John demonstrated writing skills that led to a staff position with The Voice, the Seminary's monthly alumni magazine, and then, as editor the year prior to his ordination. After completing doctoral studies, he was appointed faculty moderator of the magazine and contributed numerous book reviews, articles, and alumni information. The job afforded a great opportunity to develop his growing respect for Seminary alumni, also evident in his strong friendships with many classmates and Baltimore priests.
Always a hard worker, his occasional holidays were usually spent at the ocean or in his boat on the Bay, in New England with priest friends, or in briefer visits with an aunt and a cousin in the Washington area. Another cousin owned an automobile dealership, where, as a seminarian, he learned about repair and maintenance of cars which provided a diversion through most of his years as a priest. His friendship with Sulpician Father Raymond Brown led to a very large jointly owned library of mystery paperbacks.
By the time the Second Vatican Council ended, Father Canfield was vice rector of the Seminary. The changes in priestly formation mandated by the Council and the National Conference of Catholic Bishops had a great impact on St. Mary's.
The successful transition at the Roland Park campus was largely attributed to Father Canfield, who was given the major responsibility for engineering it. His reverence for church authority and a lively sense of humor were useful assets in meeting the challenge.
A new structure in 1968 at St. Mary's placed the rectors of the College, the School of Philosophy, and the School of Theology, scattered on three campuses, under the administrative leadership of the president, and Father Canfield succeeded to the rectorship of the Roland Park campus. Already struggling with a spinal injury and high blood pressure, he quickly found the new responsibility too stressful. Following surgery in late 1969, he saw no choice but to resign the office.
After several months of rest and indecision, he was persuaded to accept an offer of the president, Father John Dede, to reactivate the seminary's alumni association and make it the foundation stone for institutional development. No one was so well qualified to undertake the task. His only condition was that there be no in‑house duties attached to the new position. While that stance created considerable isolation from the seminary community and no doubt contributed to turning Father Canfield almost into a recluse much of the time, it proved a notable blessing for the school.
He often complained that the job had no end, was boring, tedious, and thankless, which he did only because of his conviction that it was crucial for the seminary's stability as an institution owned by a community of diocesan priests. Meanwhile he was making his job a model of organization and information, developing the St. Mary's Alumni Magazine into an effective instrument of public relations and a comprehensive source of alumni news. He orchestrated annual alumni days and developed regional alumni gatherings to reassure the audience that St. Mary's Seminary, different as it had become under new statutes and circumstances, still had a vision of its important mission in the post-Vatican II church. His contribution to the difficult task was priceless and won wide approval.
Father Canfield's reading of over a hundred newspapers a week to keep track of some 10,000 priest alumni came to the attention of the Apostolic Delegate in Washington, who asked for his help in keeping him abreast of local church activities, a task that continued from 1975 to 1990 with the grateful appreciation of the Delegate and later the Pro‑Nuncio.
Health problems, however, became an increasing burden, especially the blood pressure which aggravated an embarrassing loss of balance. Travel had to be curtailed after 1980, and, in 1986, Father Canfield reluctantly left his seminary quarters and moved with his devoted cat to St. Charles Villa, the Sulpician retirement community. He gave up the editorship of the magazine but continued to edit its alumni news until the last months of his life.
Following a stroke that severely weakened him, Father Canfield died peacefully in the infirmary of St. Martin's Home on March 16, 1993. A Mass of Christian Burial was celebrated in the chapel of St. Mary's Seminary on March 23, with the Most Reverend Daniel A. Cronin, Archbishop of Hartford, principal celebrant. Retired Archbishop William D. Borders represented Archbishop William H. Keeler of Baltimore at the altar. The Reverend Raymond E. Brown, S.S., delivered the homily. Burial followed in the Sulpician cemetery.
Survivors include a sister, Mrs. Bernard T. King, and a brother James.
William J. Lee, S.S.
St. Charles Villa