1933, August 26
Date of Birth: 1866, April 18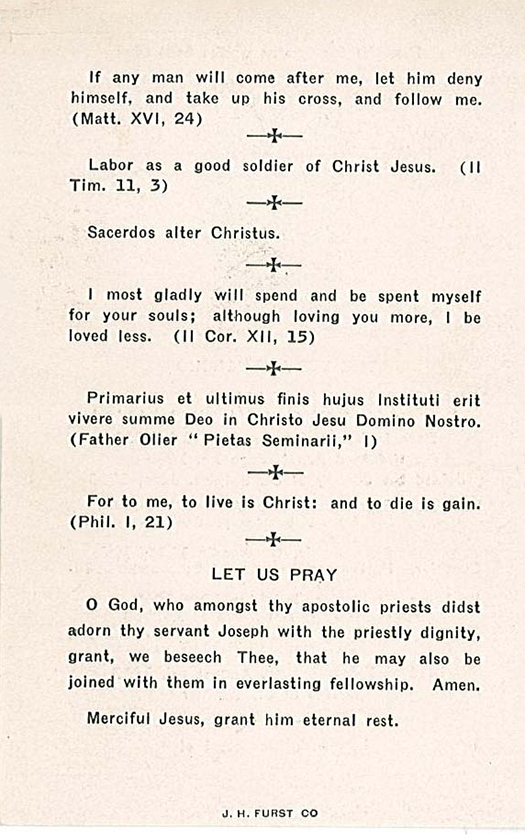 Issy
December 3, 1933
Fathers and Dear Confreres:
Even several years back, the health of Father Bruneau, Superior of Philosophy in the Baltimore seminary, was very uncertain. More than once, his American confreres and we ourselves thought we were about to lose him. But great worker that he was, Father Bruneau seemed to regard his illness as just about nothing. And seeing him hang in, even though he had been ailing for such a long time, we hoped that God would let him still continue to devote himself to the clergy of the United States, where he was so well known and so much loved. Divine Providence decided otherwise. God called Father Bruneau to Himself just when the good servant was getting ready to recross the ocean once more to work in the field which his Master had entrusted to him.
Joseph Marie Alexandre Bruneau was born on April 18, 1866, at St. Galmier in the Diocese of Lyon. His fine, very religious family was to give to the Church two other priests: Monsignor Jean Bruneau, pastor of Notre Dame at Nice, and the Abbé Henri Bruneau, pastor of Firminy (Loire), and also a Carmelite nun at the Carmel of Notre Dame de Liesse. After God, he owed his vocation to his parents – and more especially to his mother, a woman of deep piety, who (a rare thing at that time!) was a daily communicant.
After some years spent at the school of St. Galmier, Joseph Bruneau entered the minor seminary of St. Jodard to take up his secondary studies. He made his Philosophy at the seminary in Aix. At the major seminary of Lyon, he had as his director, Father Fillion, who gave him his taste for Holy Scripture. Theology – which he began there – he finished at St. Sulpice. While still working at that, he began at the same time, at the Catholic Institute of Paris, the study of Oriental Languages. There he came to know Father Henri Binet, future Cardinal Archbishop of Besançon, with whom he established a lasting friendship.
On June 15, 1889, he was ordained priest by Cardinal Richard, and the following October he entered the Solitude.
His novitiate finished, Father Icard gave him his first assignment. It was to the major seminary of Autun. There, from 1890 to 1894, he taught fundamental theology, both dogmatic and moral. In the last months of his stay, he was made Treasurer. His stay at Autun was thus quite brief, but the memory that he left behind was not forgotten. His students of the time still recall the teacher citing documents, lively, full of suggestions, smiling – as he was even then – and the large amount of work which he laid on them and the example that he gave them in pursuing a life of intense study, of deep piety, and perfect regularity. Hence, he was loved by these young men, who desired nothing so much as to learn. The solid and brilliant instruction of the teacher charmed them. The likeableness and the conversation of the priest attracted them, and the unpretentious welcome and the untiring devotion of the director won them over. So Father Bruneau expected to remain at Autun for many years.
But God willed that he go to the new world for the greater part of his life. In the vacation period of 1894, Father Icard asked Father Bruneau to go to the United States. Father Bruneau obeyed. He received his new assignment for Baltimore, where he was successively teacher of fundamental moral theology in 1894-1895, and of the introduction to the study of Holy Scripture in 1895-1896.
Notwithstanding his age and his French background, Father Bruneau quickly and successfully adapted to American life. He attached himself wholeheartedly to the Church in the United States, gave himself without counting the cost to its clergy, and showed himself in every instance the very loyal son of the Society of St. Sulpice.
At Baltimore from the beginning, as during his short stay at Autun, he had no trouble in winning minds and hearts. His sparkling intelligence, a very special knack for being accepted, his goodness to all, the simplicity and readiness with which he sought to be helpful to the confreres and seminarians, enabled him to get along right from the start in the magnificent community into which God had called him to work.
In the vacation period of 1896, Father Bruneau was appointed to the major seminary of New York at Dunwoodie. Teacher of Holy Scripture, teacher of Dogma, Librarian of the seminary, Choirmaster, Moderator of the Propagation of the Faith, he took on everything with unbelievable activity, which roused the admiration of his confreres and students. Nothing seemed able to slow him down. When anyone suggested a project to him, when anyone asked a service of him, he was always ready to act. "If it is possible, consider it done;" he would say. "If it is impossible, it will take care of itself." His devotion knew no bounds. He gave himself to everyone: to his students as well as his penitents; to persons outside the seminary who sought his help as well as those inside. This accounts for so many friendships contracted in the Diocese of New York, so many memories left in its clergy, so many loyalties on the part of former penitents and students.
In 1904 Father Bruneau became Superior of Philosophy at Dunwoodie in the Diocese of New York. Probably he would long have continued to work in the service of the clergy of that diocese except for what happened in 1906. Because of directives directed to them by the Superior General of St. Sulpice, the Sulpicians of the New York seminary resigned from the Society. Father Bruneau dissociated himself from a movement he did not approve of and without hesitation separated himself from his confreres of yesterday to remain loyal to the Society. He came to Baltimore in order to put himself at the disposal of Father Dyer.
Father Dyer immediately gave him a new assignment. He appointed Father Bruneau Superior of Philosophy at the major seminary of Boston at Brighton. He replaced Father Havey who was named Superior of Theology. His influence in the Boston seminary was as profound as in the three houses he had previously been in. But that influence became even deeper, both among the clergy and the seminarians, in a way that had already evidence itself toward the end of Father Bruenau's stay in Baltimore.
At Boston he became the intimate friend of Father [James] Anthony Walsh, whose soul – on fire for the work of the missions – dreamed of giving to the Church a missionary society. With that in mind, Father Walsh founded a magazine, The Field Afar. Father Bruneau supported it and contributed to it. When it came to a question of establishing at Maryknoll the Society and the Seminary of the Foreign Missions, Father Bruneau suggested that its Superior was right at hand. Father Walsh, whose name he proposed, was accepted and hailed at a meeting of the St. John's Mission Society, which another Sulpician, Father Maher, had founded.
His regard for Father Walsh and his zeal for the Foreign Mission Society of Maryknoll never waned; it kept increasing.
Obviously, Father Bruneau was before all else a man of duty-of-state, and he put in first place his Sulpician duties. But he was always interested (and is not that in the tradition of Father Olier and Father Emery?) in the mission apostolate; and he strove to pour his love and spirit into his students.
In 1909, Father Brueneau returned to Baltimore. There he was appointed to teach Dogma and to be Superior of Philosophy. His influence there was chiefly what it had been: mainly, deep, and highly reflective of our traditions.
He thought, like Cardinal Manning and Father Dyer, that fervor consists, not in emotion, but in regularity, punctuality, and attention to particulars. So, in public as in private, he insisted – sometimes with vehemence and severity – on the details of the rule. But at the same time he strove to raise souls while reminding them of St. Paul's Quae sursum sunt quaerite [Seek the things that are above] and Father Olier's Vivere summe Deo in Christo Jesu Domino nostro [To live wholly to God in Christ Jesus, our Lord].
Some were prone to find him severe. And in certain students, he inspired a reverential fear. But even so, all loved him. He had so grand and elevated a mind. He knew how to show himself so loving and so devoted to his students. His talents for Litany, Church Music, Art, as well as the Ecclesiastical Sciences were so extensive and admired. He gave example of energy and self-sacrifice to so high a degree that all, priests and students, were in awe of his zeal, his courage, and his passion for work.
Of that passion for work he gave many proofs in the course of his Sulpician career. Without speaking of the many and varied teaching skills which he manifested, one can mention the responsibility, much loved but nonetheless very heavy, that brought to him the trust of priests anxious to confide the direction of their souls to him. Moreover, be it New York or Boston or Baltimore, he found time to write and publish many an article in periodicals and several very highly thought of books: among them, a synopsis of the Gospels, Harmony of the Gospels, N.Y., 1898; an explanation of the Pontifical, Our Priesthood, Baltimore, 1911; a commentary on the Pietas Seminarii Sancti Sulpitii, Our Priestly Life, Baltimore, 1928; not to mention translations of English or French works, as for example, Canon Sheehan's My New Curate, and Bishop Hedley's Retreat.
As active as he was, Father Bruneau finally could not help succumbing to fatigue. The fatigue showed itself in frequent headaches. He also suffered from rheumatism. The day came when his health broke down completely. His eyesight failed and he had to undergo two cataract operations. His arteries were in very bad condition. And he suffered from angina. He was aware of his condition. "I have," he said laughing, "three fatal diseases." And to someone who last year asked him how he felt, he replied, "As poorly as possible. Every morning I ask myself if I can get up; and, at times, I feel so weak and full of pain that I hesitate to begin Mass."
However, during 1933, a noticeable improvement took place. Father Bruneau seemed to recover his health. As his friend, Father [James] Anthony Walsh, Superior General of Maryknoll, had just been raised to the episcopacy, Father Bruneau asked and obtained permission to come to Europe to be present in Rome at the consecration of his friend. After a short stay in Paris, Father Bruneau went to Italy. On June 29th, he was present at the Episcopal consecration which His Eminence, Cardinal Fumasoni-Biondi, former Apostolic Delegate to the United States, conferred on Bishop Walsh in the chapel of the propaganda seminary. On August 8th he came to Issy, took part in our Sulpician retreat, and was present both in Notre Dame of Paris and the Church of St. Sulpice at the Mass and at the Pontifical Vespers celebrated by His Excellency, Bishop Sloskan, Apostolic Administrator of Mohilev and Minsk, with His Eminence, Cardinal Verdier presiding.
On the evening of August 15th, Father Bruneau left for Evian-les-Bains, where he was to spend some time. Two or three days later, his two brothers came to see him. They found him rather ill, but they did not anticipate his approaching death. However, Providence had decreed that it would be so.
On Saturday, August 26th, quite early in the morning, Father Bruenau went to the Evian church to say Mass. Fatigue overcame him on the way. In pain, he returned to his hotel, went to bed, and soon he breathed his last. The pastor of Evian, alerted immediately, hastened to give our confrere Extreme Unction in extremis.
Father Bruneau's retreat at Issy was his best preparation for death.
On Monday, August 28th, his body was brought from Evian to Firminy (Loire), where the youngest brother of the deceased, the Abbé Henri Bruneau, is pastor.
The next day the funeral took place. His Excellency, Bishop Delay, Auxiliary at St. Etienne of His Eminence, Cardinal Maurin, presided and gave the absolution. The body was moved and the Mass sung by Father Pourrat, Superior of the Solitude. Our confreres, Fathers Cimetier, Thibon, Durdilly, Delorme, and Bellot were present, as well as many other priests and a great number of the Firminy parishioners.
The burial was at St. Galmier (Loire) in the Bruneau family plot. Present there, as at the High Mass of Requiem which preceded, were Father Charles, delegate of His Eminence, Cardinal Verdier; Father Belmon, Superior of the major seminary of Clermot; Father Arbez of the university in Washington; and Father François, Chaplain of the Grey Nuns of Montreal.
As can be seen, Father Bruneau was led to his last resting place by the delegate of our Most Eminent Superior General and the representatives of our three provinces, French, American, and Canadian. This delicate attention of Providence was well owed him, for he was intimately involved in the life of our Society and had well honored it and served it.
In recommending the soul of Father Bruneau to your good prayers, I renew to you, Fathers and dear confreres, the expression of my fraternal respect in Our Lord.
P. Boisard
Vice-Superior General of St. Sulpice