1937, January 10
Date of Birth:   1883, February 25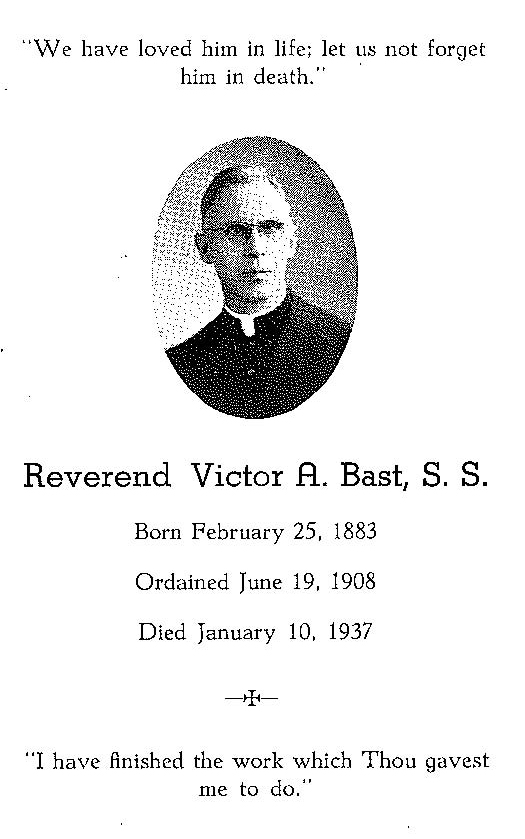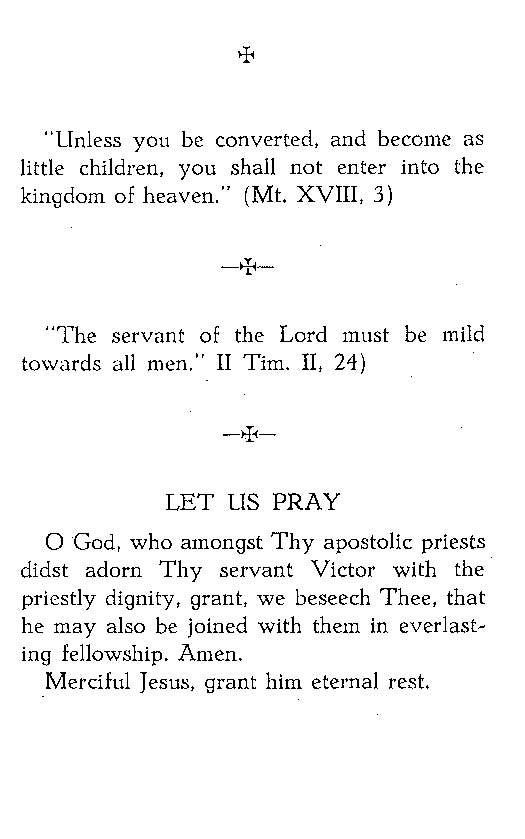 Issy
May 3, 1937
Fathers and Dear Confreres:
After France and Canada, the province of the United States was also sadly tried by death. A confrere still young, Father Bast, teacher of Chemistry at the minor seminary of St. Joseph at Mountain View in California, was called to God at the beginning of January.
Victor August Bast was born in Canton, Ohio, on February 25, 1883. His father, Michael Bast, and his mother, Henrietta Henrich, were fervent Christians, devoted and very loving parents, child-raisers with open minds, who had the happiest influence on their children. Victor Bast had the joy of keeping them for a long time. In 1925 they celebrated their golden wedding anniversary.
Our confrere's father was quite well off. His business was very successful. So he was able to assure a very good education to his son. The boy first attended the school of St. Peter's parish in Canton. From there he went to St. Jerome's College in Kitchener, Ontario. But he finished his secondary studies at Buffalo's Canisius College, run by the Jesuits.
In 1903 Father Bast entered St. Mary's Seminary in Baltimore to begin – with Philosophy – his strictly priestly formation. In June, 1908, he finished Theology. On the 19th of that month, Cardinal Gibbons ordained him priest in the Baltimore Cathedral. A few days later he celebrated his first Mass in St. Peter's in Canton, his home parish.
And he was getting ready to enter the Society of St. Sulpice. During his seminary course, Father Bast had expressed to Father Dyer his wish to do so. Father Dyer took his wish under consideration. Immediately after the ordination, he put Father Bast in a situation calculated to have his wish realized.
The young priest had a distinct bent for mathematics and the natural sciences. He was sent to the Catholic University in Washington. There, under the tutelage of Dr. John J. Griffin, he worked for three years, from 1908 to 1911, and gave himself over especially to the study of Chemistry. In 1911 he entered the Solitude.
But in the next year he again took up his studies. After five years of teaching at the minor seminary of St. Charles, Father Bast returned to Washington in order to pursue his scientific research and to prepare his thesis. In 1918 his labor was crowned with success: the Faculty of Sciences conferred the doctorate on him.
Father Bast was ready to take up the duties which the Society might wish to entrust to him. In fact, he had already begun his ministry. Was he not, at the minor seminary of St. Charles, teacher of Mathematics, German, and Catechism, and Prefect of the Juniors for five years?  But after receiving his doctorate in 1918, he was sent to St. Patrick's in California. In those days the minor seminary was in with the major seminary on the same grounds in Menlo Park. Father Bast was designated for the minor seminary. There he taught Mathematics and other sciences until the classes of the minor seminary were transferred to the new site of St. Joseph's in Mountain View. His duties there were pretty much the same as at Menlo Park. He taught Mathematics, Physics, and Chemistry there. For a number of years he was in charge of the vestry. As Moderator of the work of the Propagation of the Faith, he was also in charge of the Mission Crusade in which the students were enrolled. Moreover, with unflagging attention and sincere interest, he lent his support to a number of mission publications.
With interests in literature, music, social and political science, insofar as they affect the life of the Church, Father Bast made use of his scientific expertise and his knowledge of French to engage in a work of considerable import everywhere and especially in the United States: the translation of Les Origines, by Father L. Chincole [Guibert?], S.S. Out of this work was born Whence and How the Universe, which required of him a vast amount of time and labor, and whose usefulness and real merit was recognized in the United States.
His intellectual work and the preparation of his classes did not isolate Father Bast from the boys and young men who were his students. He put himself generously at their disposal, made sure he kept close to them, and remained deeply attached to them. That accounts for the numerous friends whom Father Bast left after him in San Francisco and the neighboring dioceses. Father Bast was a real Sulpician. Without counting the cost he gave himself to the Society. Never, in whole or in part, did he take anything of himself back. 
"He was a good confrere," wrote Father Fenlon, Provincial Superior of the United States, "simple and humble, very open and sincere, charitable, pious, and very regular in his Sulpician life. He had a great interest in the life of the first Sulpicians in America, and was happy to agree to the suggestion I made to him of calling him to Baltimore so that he could work in our archives."
The project, of which Father Fenlon speaks here, followed a breakdown which put Father Bast in danger last spring. His heart had suddenly weakened. He had had to be hospitalized at the O'Connor Sanatorium in San Jose, near Mountain View. But that was only a warning without immediate consequences. At the beginning of May, Father Bast resumed his place at the minor seminary in Mountain View. He had, however, been made aware of the risk; and he was to take care not to overtire himself needlessly. Yet last summer he was able to take a trip to Canton, his birthplace, and visit his confreres in the East. His health seemed very good at the time.
At the start of the school year, 1936-1937, he had been assigned – as previously – to teach Chemistry. At the same time he was also given a special Latin class. He appeared to perform his duties without fatigue. But at the end of the trimester he developed a heavy cold.
In spite of that indisposition, he wanted to take advantage of the Christmas vacation to go to visit his sisters and their families. On December 22nd, convincing himself that he was well enough to take the trip, he left for Pasadena.
When he arrived, no one in his family noticed anything amiss. The cold did not disappear. Father Bast's sisters, however, did notice that he was short of breath and that his breathing was labored.
On Christmas Day he said three Masses at St. Elizabeth's Church. On the following days, up to December 31st, he continued to say Mass. But on Sunday, January 3rd, feeling worse, he entered St. Luke's Hospital. He wired Father Fenn, his Superior, that he would be late in coming back. Father Fenn phoned Father Nevins, who was still in southern California at Eagle Rock, and told him the news he had received from Father Bast. Father Nevins visited Father Bast twice on Monday and did not find him too ill. Nevertheless, early in the morning on the following Friday, Father Bast had a weak spell. The hospital nurses were alarmed. Father Donald Strange, who was at St. Elizabeth's, came to see the patient and gave him the last sacraments on Friday afternoon. He informed Father Fenn by telegram.
Father Fenn immediately came to see his sick confrere. Saturday morning, Father Bast was still fully conscious. He inquired about the health of his students and asked if Father Linn, one of our confreres at St. Joseph's, had returned from Baltimore. He went on to apologize for having caused his superior any inconvenience. At seven o'clock in the evening, the patient's condition became worse. The prayers for the dying were begun. Fathers Nevins, Fenn, Strange, the hospital chaplain, Father Bast's two sisters, his nephews, and his niece were there. Father Bast clung to life until Sunday morning, January 10th. A little before six o'clock, he calmly gave his soul to God.
The next Tuesday, January 12th, Father Bast's funeral was held at St. Elizabeth's Church. Father Fenn sang the funeral Mass assisted by Fathers Twamley and Strange. St. Elizabeth's Church was filled with parishioners who for a long time had known the deceased. Our confreres, Fathers Nevins, Peltier, McDonough, Riddlemoser came from Menlo Park and Mountain View to be at the funeral. Fathers John McCarthy and Bernard Dolan of the Diocese of Los Angeles were present, as were the Very Reverend Father Ernest Mailhot, Superior of the minor seminary of Los Altos and a very great number of priests, former students of Father Bast. Our confrere, Father Sheehy, following custom, preached the eulogy over the dear departed.
In accord with his wish, Father Bast was buried in Calvary Cemetery in Los Angeles in the priests' plot. The Los Angeles clergy very readily agreed to give space to the mortal remains of this excellent Sulpician. Two of his sisters who live near there and his former students, today priests, will, no doubt, be happy to visit his grave and pray for him. From afar, we shall pray for him who always remained very devoted to the clergy and so attached to St. Sulpice.
P. Boisard
Vice-Superior General of St. Sulpice