1970, January 14
Date of Birth: 1879, November 10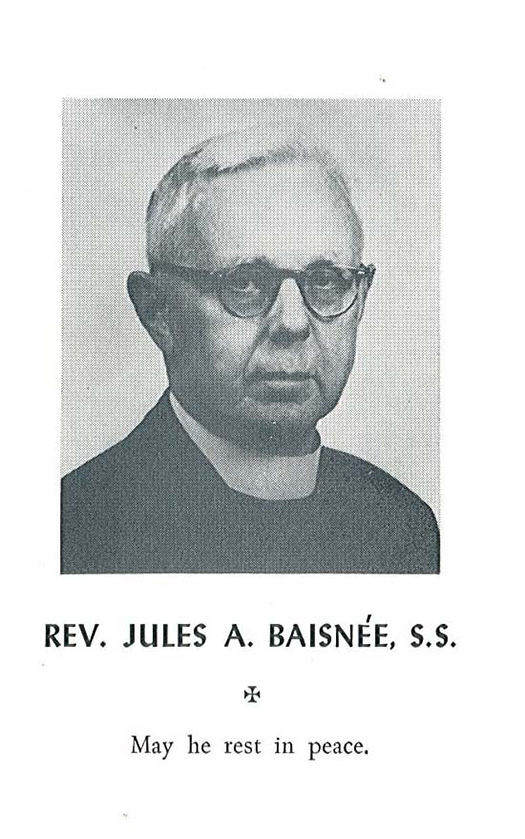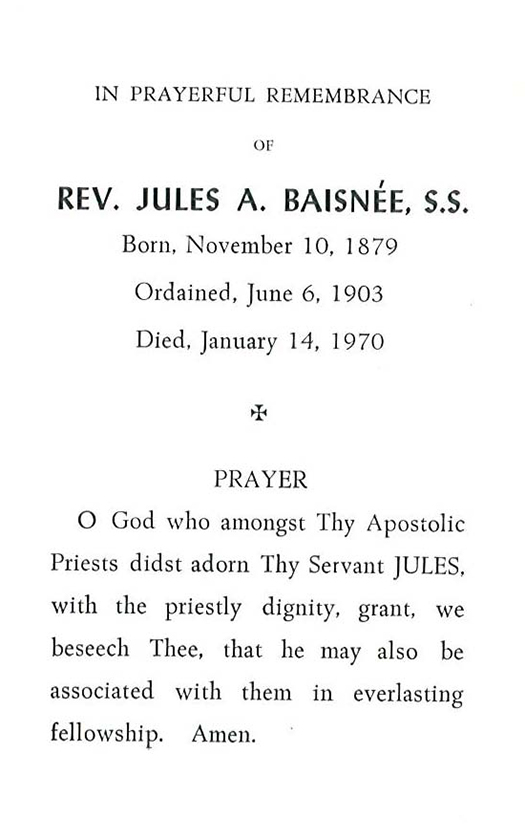 Jules Baisnée was born in France in the Diocese of Coutances at La Bloutieret in Normandy on November 10, 1879. He began his schooling in the public school of La Bloutieret from 1885 to 1890. From 1890 to 1895 he studied under his parish priests and then entered the minor seminary of Mortain. He obtained his bachelor's degree in Letters from the University of Rennes in 1897. In that same year he entered the major seminary of Coutances. In 1900-1901 he did his compulsory military service, then returned to the major seminary. In 1902 he obtained his bachelor's degree in Canon Law. He was ordained to the priesthood on June 6, 1903.
In 1903 he went to Rome where he entered the Minerva for graduate work in Theology. He received his licentiate in 1904 and doctorates in both Philosophy and Theology in 1905. In 1905-1906 he made his Solitude at Issy. Father Baisnée came to this country in 1906 and studied at The Catholic University of America in Washington, D.C. for a year. From 1907 to 1909 he taught Philosophy at St. John's Seminary in Boston, Massachusetts. For the next year at Ellicott City in Maryland he taught Latin and French at St. Charles College. From St. Charles he moved in 1910 to St. Mary's Seminary in Baltimore to teach Philosophy.
With the outbreak of World War I in 1914, Father Baisnée went to France to serve in the French army. He was seriously injured in the fall of 1914 in the Battle of Ypres. His left arm had to be amputated. In recognition of his bravery, Father Baisnée was awarded the Croix de Guerre and the Médaille Militaire.
Having returned to the United States, Father Baisnée resumed his classes at St. Mary's Seminary. In 1921 he moved to the Sulpician Seminary (now Theological College) at The Catholic University of America. He taught Dogmatic Theology until 1924. In 1923, when the Basselin Foundation was opened, he again took up the teaching of Philosophy there. At the Sulpician Seminary from 1925 to 1935 he taught Liturgy. In 1931 he became Librarian.
Father Baisnée was one of the founders of the Institut Français de Washington. Its purpose was to illustrate the importance of French culture in America. For his substantial contribution in this regard, Father Baisnée in 1930 was made a Knight of the Legion of Honor. The decoration was conferred by France's Ambassador to the United States, the poet and statesman, Paul Claudel. In 1933, while in France, Father Baisnée was awarded the Cross of Officer of the Legion of Honor. These decorations were in recognition of the work of the Institut and in appreciation of Father Baisnée's writings on Franco-American relations.
In 1937, when The Catholic University transferred the Basselin Philosophy classes to the university itself, Father Baisnée became Associate Professor in the Philosophy Department. He resigned in 1950. On his retirement, the Holy Father conferred on him the Bene Merenti medal. In 1953 Father Baisnée celebrated his golden jubilee as a priest. He continued his scholarly work up to the time of his death on January 14, 1970.
Adapted from Father Baisnée's "Personal Data" sheet and from The Voice.